Hey everyone,
Hello to you all from the plane this week; and crutch-free too! I set off on Wednesday from Miami to take the long trip to Sydney, via an overnight stay in Los Angeles. When I land, my first mission will be to get adjusted to the time difference as quickly as possible and fight off the inevitable jetlag. But I must say, I really can't believe how quickly time has flown by. It definitely doesn't seem like it was exactly one year ago when I was last in Australia.
As you know, last Friday I was in NYC doing a little side project. I was responsible for arranging the music at Chado Ralph Rucci's fashion show, as part of NYC's Fashion Week. It was very different for me to create music for walking instead of dancing. Fashion TV was there filming as well as a herd of snobby fashion reviewers with pen and paper in hand. I could only imagine the stress if while I was playing at a big gig, the entire audience had a pen and paper and wrote something after every track I play Come to think of it though, most tranceaddicts do that anyways with their cellphones!
After the Rucci show, I had some meetings to go to and then some shopping. I have this thing lately with old 70's and 80's NYC dance music. So I went looking for some old Loft CDs as well as some old Larry Levan mixes. On many occasions, I have been asked in interviews to name one or two people who I would describe as my biggest inspiration to pursue a career in this industry. Larry Levan was who I looked up to when I started DJing. I never heard him play live, but the stories I heard about how he worked the room and his sets inspired me greatly. Another one of my heroes, Danny Tenaglia, was also inspired by Larry Levan, so there was definitely something handed down from his years behind the decks of The Paradise Garage.
After a nice dinner in NYC, I decided to hit the clubs. It is not often that I have a night off in a city like New York. So why not head back to the scene of one of my best gigs in recent times, and head to Pacha. Jono and Paavo from Above & Beyond were playing. The guys are currently in the middle of their Anjunadeep tour, so it was a perfect time to check out some cool deeper music. It was incredibly fun being there in a clubbing capacity, and having the chance to hang out with some of the tranceaddicts that came to see me at the club last month.
On Saturday morning, I left New York and took the long flight down south to Medellin in Colombia. This was a gig I was really looking forward to, because my appearance at the Summer Dance Festival in Cartagena was cancelled back in early January. The Colmbians did not disappoint.
The club was packed and it was hot. I mean really hot. The combination of all the lights on the stage, as well as the heat from the equipment and the non-stop energy from the crowd, I was soaked by the end of my set. I don't even sweat that much when I go to the gym or play basketball.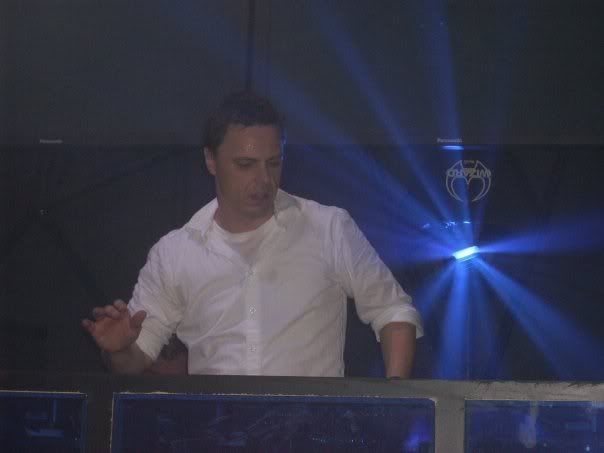 For me, the most impressive thing about the night was the crowd. They were so full of passion. There were no fights, no problems at all – just a great night of clubbing. Colombia gets such a bad rep from their past history, but I am telling you, if you ever get an opportunity to go there, you should grab it with both hands. It is a beautiful country with very nice people. I also discovered my new favorite fruit while I was there – Grenadilla. I asked Alexandra, who was taking care of me for this gig, to stop at a local market and pick up a bag of them for me. I finished them off before I left the next morning.
The drive from the city of Medellin to the airport is insane! You go straight up into the mountains, where you drive past waterfalls and huge cliffs. A stunning view, and a time where I was so sorry that I did not have my camera with me.
I got back to Miami late Sunday night, and started packing / preparing for 3 weeks away from home.
Monday and Tuesday were spent around the studio preparing as best as possible for the next couple of weeks on the road. The hard part for me is going to be the inability to lock myself in the studio during this time. But the flipside to that is, I can develop a lot of ideas in my head and get a framework for a track started. You may have noticed a trend with the names of some of the Dakota tracks I have made for the new album – Day Off in Lima was exactly that, I came up with the idea for it the day following my gig at Creamfields in Peru in November, and Sin City, which obviously was inspired from my last visit to Las Vegas in January.
I recorded all the liners for the next three Global DJ Broadcast shows (including yesterday's), because when you are doing the show away from home, you can't always guarantee that the microphone you use will give the best audio quality. That explains why my voice sometimes sounds a little different on the show from week to week.
We have a couple of really exciting Global DJ Broadcast shows over the next couple of weeks. Next Thursday, we will have a Toronto '09 release special, to celebrate the release of my latest compilation. I'm going to pick around 5 tracks that have not been played by anyone on radio before and give them their world premiere. The hard task will be choosing which 5! The majority of what you see on both CDs forms the Coldharbour Recordings schedule from now until the summertime. So hopefully there will be a few gems in there for people to enjoy.
Normally, the first Global DJ Broadcast of every month would feature the World Tour. But because of wanting to fit in the Toronto '09 Release Special, along with how my tour schedule worked out, we are temporarily moving the World Tour to the second show for March, when it will air on the 12th. I really wanted to represent Australia in the World Tour series this year, because of all the great memories from the Future Music Festival last year, and also, I wanted to record a set that will have the least amount of time transpiring before it airs on the radio, therefore keeping it fresh. So the recording will take place at the FMF Afterparty at Queensbridge in Melbourne on the 8th. It is a holiday weekend in the state of Victoria, so I am hoping that plenty of people are going to come out and make plenty of noise. This is their chance to show the world what Australian clubbing is all about!
During my flight to Sydney, I have been putting my answers together with your questions that you have posted over at my forum. Thanks again to everyone who takes the effort to come up with such interesting questions on a variety of things.
Here is this month's batch:
Does the Trinidad To Miami track have any special meaning behind the name? What does Trinidad mean to you?
That track I made on a flight home from a gig in Trinidad. It was a really cool gig and I wound up playing some really progressive tunes at the end of my set. I remember that I had just enough time to go to the hotel and get my bags and go to the airport after my set. So you can imagine I was still feeling the vibe when I boarded. The combination of the great crowd and vibe inspired me to create that on my flight home.
Like you, I've been using the HDJ-1000 since a long time now. 2 months ago, Pioneer revealed their new HDJ-2000 which look a lot different than the HDJ-1000. Are you going to upgrade or will you just stay with the HDJ-1000?
They just sent me the new HDJ-2000 to try out but it arrived the day after I left. when I get back home from this long tour I will try them first in the studio and then at a live gig. I will let you know how that goes.
I always love the flow of your live sets, so I wanted to know, when you're playing live, how far ahead do you think on what track you're going to play next? Do you just wing it from song to song? Or do you think of the next few songs you're going to play before you play them?
For me it is all about how you organize your music, so that you can be creative and spontaneous but in an organized way. I organize my music by the part of my set I would normally play a tune (early part of my set goes in the front of my CD book and the latter part of my set in the back) Within that I organize the tracks by harmonic key and BPM so that I can see easily which tracks will go well together.
Markus, according to your tour schedule you will almost a week between your gigs in Perth and Brisbane. Other than anything to do with music, do you plan on taking some time to explore the cities? You have been here twice before on tour so are there any favorite things you've experienced here before which you would like to do again?
Yes we usually take some tours or side trips when we have time off in Australia. I do not know yet where I will be going, but I hope to see some kangaroos and Koala bears.
How do you spend your time on a long flight e.g. from Europe to the US?
Sleeping or working. It is great because most airlines have power plugs in the seat nowdays so you can work the entire 8 hours. I also spend time gathering my thoughts and working towards the weekly blogs. 🙂
In April, you are going to play alongside Armin, Above & Beyond and DJ Shah in Montreal at Bal en Blanc… Because all of you usually play a few of the same songs in your sets, what do you do to avoid a track from being repeated?
That is a problem, but you try to be sensitive to each other person you play with. The number one rule is to not play anything that they have made or that is on their label. If we all play a track that is on a different label, well that happens but you try to respect each others' library. Of course whenever Armin and I play together, we usually spend a few minutes asking each other what tunes have already been played that may be on the playlist of the other.
Please keep your questions coming over at the forum. We have a great community building there right now, and I would like you to be part of it if you aren't already. I will answer another set of questions in the last blog next month.
The Future Music Festival is actually quite unique in its concept. It is almost the same lineup for every one of the events in the five cities across Australia. And the really cool thing is, all the DJs travel together throughout the 10 day period. You get to meet a lot of great people and share some interesting and intriguing stories with them. Also, because you are not jetting off to another country right away, it gives the opportunity to check out what other DJs are playing and mingle backstage. By the end of the tour, there is a real sense of bonding and friendship.
This Saturday, the first of the FMF series takes place in Sydney. On Sunday, we fly west to the Gold Coast, for the second FMF in Perth. I will stay west during the week, before playing at Brisbane the following Saturday, then returning east for a big day in Melbourne on Sunday, and finishing up with Adelaide on the Monday.
I'm so excited for this tour to begin. When I was at LAX yesterday morning before boarding my flight, I took a browse on the inthemix website and forum, which houses a lot of the Australian fans, and I can tell how enthusiastic they are ahead of these festivals. I'm going to try my very best and put on a great show for you all. I hope to see you there!
Next week, I'll check in with you guys to reflect on the events in Sydney and Perth, and look forward to the rest of the FMF shows, as well as the World Tour.
So have a great weekend, and I hope you enjoy the GDJB Toronto '09 Release Special next Thursday.
G'day,
Markus