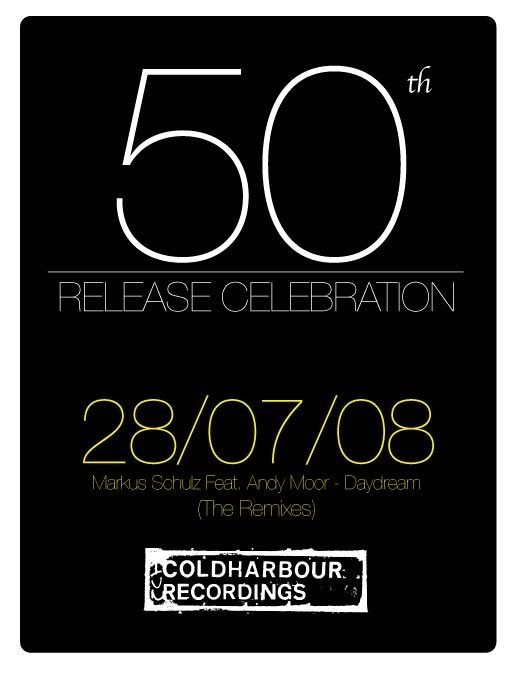 Release Label: Coldharbour Recordings
Release Code: CLHR050
Release Date: July 28th 2008
Original Mix
Benya Remix
Lemon & Einar K Progressive Remix
Lemon & Einar K Uplifting Remix
Ormatie Remix
Ronski Speed Remix
The fifth single release from Markus Schulz's album Progression, and the fiftieth release on Coldharbour Recordings, would be regarded by many as the most eagerly anticipated of them all.
When news broke that Markus had been working alongside Andy Moor in a production capacity, many regarded it as a match made in heaven. They were not disappointed, as Daydream dominated dancefloors across Ibiza and all the major summer festivals in 2007.
Daydream holds some memories of personal reflection, particularly for Andy Moor. The track was dedicated to his late uncle Douglas Hall, who sadly died of illness last year. Daydream will forever be dedicated to his memory, and therefore many people can claim a common rapport to the track in moments of sadness and sympathy.
With the remix package finally completed, it looks set to be the biggest release on Coldharbour Recordings to date.
The original mix is nicely complimented by an effort from two of Coldharbour's rising stars, Benya, and Ormatie. Already receiving support from Matt Darey, the talented Dane produces yet another masterpiece in manipulating melody in his own unique style, and is sure to have a great appeal among regular Global DJ Broadcast listeners. Russian Ormatie's take will resonate with the more down-tempo and progressive minded of listeners, ideal for any afterhours set.
However, with the big room clubs in mind, Markus brought in some heavyweights to deliver the knockout effect. Step up German Ronski Speed, who delivers a tough, pounding tech style atmosphere which has proved popular with DJs such as Paul van Dyk and Armin van Buuren.
Lastly, but by no means least, Norwegian duo Lemon & Einar K provide two interpretations of Daydream. So impressed was Markus of their track Anticipation, he asked them to produce a Progressive Mix and an Uplifting Mix. The Progressive Mix has already been supported hugely by Andy Moor himself, with plays on his live sets and podcast.
The Uplifting Remix has been hammered by Dutch master Ferry Corsten at every live gig in the past four months. Markus himself unleashed it to the Winter Music Conference audience in Miami, and has become his most requested track in any of his live gig and festival appearances throughout the summer. Listeners to Global DJ Broadcast have awarded the accolade of Global Selection winner to the remix on both occasions Markus gave it a spin on his World Tour series.
It is somewhat appropriate that Daydream signifies the landmark of Coldharbour Recordings celebrating 50 releases. Daydream allows us to reflect on the past, think about the presents, and look forward to the future.