Hey everyone!
Checking in with you all again from chilly Miami ahead of another weekend on the road, although last weekend was definitely one I will not forget for a long time.
When I signed off last Friday, my first port of call was the Yalta Club in Sofia. It's a beautiful venue, with a ton of history and significance in the country, and the people were so nice there. When I read the forums for feedback on Global DJ Broadcast each week, it amazes me how many of the regular listeners are from Bulgaria. They are very knowledgable and up to date with all the latest tracks I play, and they really got into the groove on Friday night. I love playing extended sets, because I can really take the crowd down the rabbit hole. I'm definitely looking forward to coming back there soon.
My Saturday began with an early breakfast and an unexpected phone call, but one of those unexpected phone calls you love to get. It was from BBC Radio 1, and they have asked me to perform on their world famous Essential Mix show in December.
When I got the news, I was so incredibly excited. I mean, this show is synonymous with dance music everywhere – so many DJs have achieved significant career milestones by appearing on it. As most of you will remember, I was at the BBC studios in London a few weeks ago to co-host Judge Jules' show, and even sitting there in one of the studios, knowing the calibre of names who have been there in the past, particuarly for the Essential Mix, gave me goosebumps.
I remember especially when I lived in London at the start of the decade, on a Saturday night I would leave the studio on Coldharbour Lane and make sure I got home so I could listen to the Essential Mix and take inspiration from all the DJs that were on there. Whether it be the epic journeys Paul Oakenfold used to take the listener on, or Carl Cox with his enigmatic techno, or Aphrodite throwing down some nasty drum n' bass, it all shaped the creative process to what has influenced my productions and DJ sets today.
So for the next couple of weeks I am going to be in the studio working harder than ever with any spare moment I have. I know that a lot of you will think "great, a 2 hour set, but why is it going to be any different from any of your GDJB sets Markus?". This ultimately is my challenge for the next few weeks. I want to be creative in the studio, make new edits, new mashups and new big room reconstructions – study tracks where you can concentrate on little parts here and there and make them more significant. I have a remix of one of the tracks we signed to Coldharbour almost done and I will debut it on the EM. Hopefully the hard work will be worthwhile, and come late Friday night / early Saturday morning on December 5th, you will all enjoy it.
After getting that news, I felt that I probably could have walked from Sofia to Prague on air, but I had to regain focus on what would be one of the most significant gigs I had in all of 2008.
The big day in Prague had arrived, and it was time for Transmission, and the theme of The New World. I mentioned to you guys last week that I would have some news with regards to a release date, and I can now tell you that the full release, with the Original Mix and my Return To Coldharbour Remix, will be available from November 24th. I couldn't wait to get there and play it at the arena.
I knew from previous experiences of playing at Transmission that the levels of production would be amazing, but my goodness they raised the bar even higher this time round! The visuals, the lasers, the soundsystem, everything was absolutely phenomenal. When the time came for me to go on stage and I saw the sheer volume of the crowd, I had to pause and draw breath, it really was a sight to behold.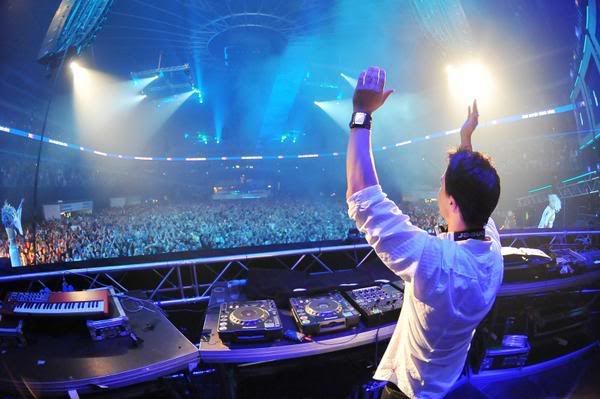 It was an incredible two hours playing in that setting, although it was difficult not to get distracted with how good the visual production was! When I got done, I did some interviews with the United Music team and took photos with the fans, and generally chilled out. I got to hang out with Ferry Corsten after he finished his set and catch up with him. I hadn't seen Ferry since Creamfields in Romania at the beginning of August, and since then he has become a dad for the very first time. He couldn't hide his happiness when he started talking about his little daughter Gabriella. Ferry is a great guy and someone I have a lot of time for. I am sure our paths with across again very soon.
On Sunday it was time to take the long flight back home to Miami and reflect over the events of the weekend. I was really happy with how everything had gone, the fans in Sofia and Prague were amazing, thank you so much to everyone for making me feel so welcome in each city. I really hope that I can do a GDJB World Tour show from both places in 2009. You definitely deserve it from last weekend's efforts alone!
This week was pretty busy in the studio, beginning preparations for the Essential Mix, and also working on both Global DJ Broadcast and Evolution as usual. I leave here early on Saturday and head down to Lima in Peru for Creamfields, another gig I am really looking forward to. The South American scene is growing each day and I am looking forward to experiencing it once again.
Don't forget to shoot me your questions over at the forum. Hopefully I will be able to spend some time answering your questions next week. I would like to use some of my weekly blogs as Q&A sessions from time to time.
So until next week, take care and enjoy your weekend!
Ciao,
Markus