Hey everyone!
Hello to you all once again from the plane, from 36,000 feet somewhere over Australia. Apologies for not getting the blog up on Friday as usual, but hopefully this will be some nice Sunday reading for you. I am on my way to Melbourne having spent the last few days in Perth and then Brisbane, enjoying a little bit of sunshine. I decided to sit out by the pool the otehr day, figuring that 30 mins in the sun would be pretty harmless. Unfortunately, nobody told me about the hole in the Ozone layer over Australia, I so was burnt pretty good after only 30 minutes.
This week I will talk about my experiences of Sydney and Perth, because I am sure everyone wants to know how the tour is going to far. It kicked off last Saturday in Sydney. After landing in the morning and posting up last week's blog, I rested all day. This would be the third occasion I would play at the Sublime Stage in Sydney, but the previous two occasions have occurred during the daytime. This year, I closed the show with a 3 hour set from 7pm till 10pm. The vibe is totally different at night – there is an added ambiance due to the lights and lasers.
The Sydney fans were very loud and energetic, and that made it a very fun night for me. but I must say….damn it was HOT!! Between the gig in Medellin and this gig in Sydney, I don't think I have ever sweated so much. The lights on stage, which are usually off during the daytime, were on full blast after the sun went down, and they radiated so much heat that by the end of my set I was completely drenched.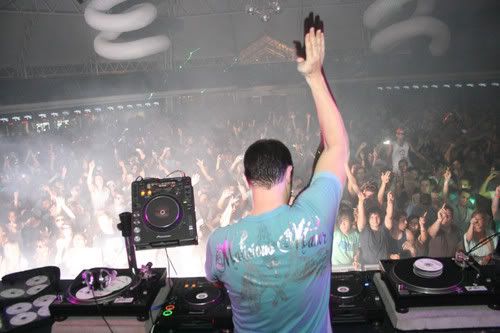 During my set, there were a couple of guys who handed me an Australian soccerroos jersey, with my name on the back of it. I thought they just wanted me to sign it to give back to them, but it turned out that they bought it specifically for me! A lovely little memento to take home with me from my Australian trip. Thank you to the guys who went to the trouble of doing that. As you can see from the picture above, a fresh and clean t-shirt was just what was needed by the end of the night.
On Sunday morning I got up early and took the plane to Perth. This day would turn out to be one of the most memorable in recent times, and I will explain why.
I suppose that no matter who you are or what you aspire to being in life, everyone has their heroes. Your favorite actor, your favorite sports personality, your favorite singer – everyone dreams that one day, they will be able to meet one of their heroes.
When I was a teenager and my musical tastes were developing, my biggest influences came from the Bronx. I mentioned last week about Larry Levan and his Paradise Garage story being a huge inspiration for me, another person who I immensely looked up to was Grandmaster Flash. My earliest DJ sets and breakdancing parties would be filled with his music. He was one of the pioneers who figured out that DJing with two turntables and a mixer was a pretty cool idea.
Actually, even before I started DJing, Grandmaster Flash was the soundtrack to many of my breakdancing battles. There are so many fond memories of whenever I heard Scorpio come on at the local roller rink I used to frequent. My friends and I would take over the middle area and do our thing.
I was very excited when I heard the news that Grandmaster Flash was also on this tour. I met him in Sydney in the artist catering area and had a little chat. I did not tell him what a hero to me he was, because I didn't want to be nerdy or freak him out. But I was completely surprised when I saw that the sets had been changed in Perth and I would be playing after Flash. I got to the stage with plenty of spare time because I wanted to watch him perform. I think what was really incredible was the sheer number of other DJs that were all hanging out watching him as well – Richie Hawtin, Sander Kleinenberg, Tocadisco, Super8 & Tab, and even Paul Oakenfold came by to catch a glimpse of the great man. I have to say, he was INCREDIBLE. I got goodbumps when he played Rapture. And when Scorpio came on, I almost cried. WOW, what an amazing moment!
10 minutes before I was to go on, it suddenly hit me….oh crap, I have to try to follow him now. What could you possibly play after he ended his set with White Lines and It's Tricky by Run DMC?
Another huge highlight was when he grabbed the mic and introduced me to the crowd. My hero brought me up on stage and introduced me to the crowd!!! AMAZING. This was a night that is going to inspire me for such a long time. I have been working on this track for my Dakota album called "Roxy 84" which is inspired by the old breakdance vibe. I can't wait to get back into the studio and finish it now.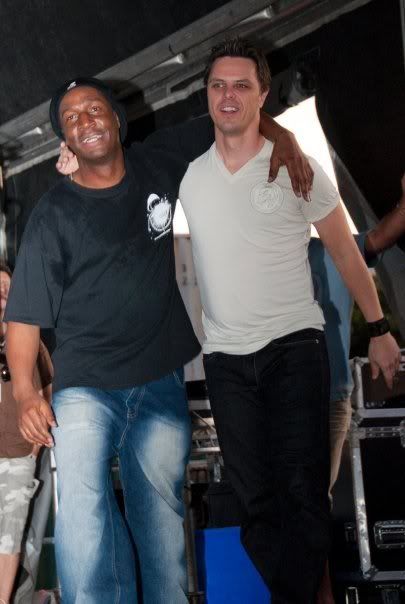 On Tuesday, we all flew to Brisbane and had some time off. For me it was time to work on the radio shows. This week was the "Toronto 09" release special on GDJB, where I debuted some of the tracks from my new compilation. I also included some older tunes that were highlights in some of my previous compilations (Ibiza '06 and Amsterdam '08). I had a lot of fun putting the show together. It's always cool to sometimes go back and find tunes that were an integral part of your DJ sets or compilations and give them a spin once again. The key component to every compilation I have done is that when looking back, people can view it as a snapshot of how Global DJ Broadcast or my live sets sounded at that time. I will be looking forward to reading the reviews of the Toronto CD on the message boards over the coming weeks. A lot of you will probably find yourselves listening to the first half of Disc 1 in a loop on recovery Sundays.
Some of the tracks I have been testing out in my live sets. For instance, The Sound of Flight track sounded amazing in Medellin, and the crowd were going absolutely crazy for it. Mr. Pit's tune Besides Words completely ripped the soundsystem at Ministry of Sound in London, and Tim Grube's remix of Tenishia's Everything was one of the closing tracks in the final half hour of my 6 hour set at Pacha in New York. A few of you were sending emails during the week asking if there would be an unmixed digital package for Toronto '09. I can confirm that there will indeed be one, I think it'll have around 10 of the tracks and it's coming out in a couple of weeks. Any tracks that aren't included in that package will get fully released with remixes on Coldharbour.
This weekend is a hectic one for sure. Last night the tour recommenced in Brisbane and continues later today in Melbourne. We will be landing soon and immediately after checking in to the hotel, I'll be heading straight to Queensbridge to setup the equipment to record my set for the next World Tour show. I'm playing a 3 hour set at the Future Music Festival itself, and then a 4 hour set at the afterparty. Finally, we bring the FMF series to a close tomorrow (Monday), with the final leg in Adelaide.
Next week, I'll check in with you guys from Barcelona. I will spend some time giving an overall review of my Australian experience and the entire Future Music Festivals, along with looking forward to a night in Catalonia, and also a quick return to Ireland and a big night at Lush in Portrush, which will be my first gig there in nearly 4 years.
Until then, take care and hope you all having a great weekend.
G'day,
Markus