Hey everyone!
I hope this finds you well. It has been an incredibly tiring week for yours truly, making my way from Australia to central Europe. The Australian tour is in the books, so this week I am going to look back on last weekend's activites, reflect on the tour as a whole, and begin to look forward to what is in store between now and the end of March.
My weekend began last Saturday with the restart of the Future Music Festival series, the first stop being Brisbane. After the excitement of Sydney and Perth the previous weekend, I couldn't wait to get going again.
The first gig this week was in Brisbane. I got there a bit early to catch a bit of Oakey and about 15 minutes of Grandmaster Flash before heading over to my stage where Tocadisco was rockin' it. The stage was along a long corridor of a horse racing track, right by the grandstand. I was warmly greeted by the crowd and settled into a 3 hour set.
Brisbane is one of the cities in Australia that I feel has come a long way oin the last 4 years. When I first did this tour a couple of years ago, the vibe was totally different to what it feels like now. The kids were really up for it and seemed very knowledgeable. One of the highlights of the set for me was when I looked up in the grandstand, which was really full and seeing everybody screaming when I played one of my Dakota tracks, Sin City. Like I said, Brisbane has come a long way.
On Sunday morning I began preparing for what was going to be a very hectic day and night. I spent the flight between Brisbane and Melbourne finishing up last week's blog for you guys. After landing, I was delayed 1 hour getting to the hotel because of the airport freeway being closed due to a traffic accident. Once I finally got to the hotel I thought I had some time to relax and gather myself, but between the time change between Brisbane and Melbourne (flying from west to east) and the delay getting to the hotel, I realized that I did not have any time and had to leave straight away.
Melbourne has always been really good to me, but on this tour they were just incredible. Once again I was warmly greeted by the crowd, and got just as warm of a greeting from Christopher Lawrence who was playing before me. It was nice to play with him on the same stage because the night before in Brisbane, he was on a different stage and our set times competed against each other. I have known CL for almost 10 years so a lot has changed over that time for both of us. He now lives in Melbourne and really seems happy and at peace with himself.
I opened my set by addressing the crowd on the mic. Knowing that I was going to be playing a total 7 hours between the festival and the afterparty, I wanted them to know I was going to take my time and build the set, and not just bang it our from the very beginning. Everybody stayed right on pace with me as I built the set up from some dark proggy trance to more banging techy stuff. Before I knew it I was in the middle of my set with the sun going down and a full crowd going absolutely crazy. Highlight for me was all the signs and banners with my name on it. That is always so cool to see.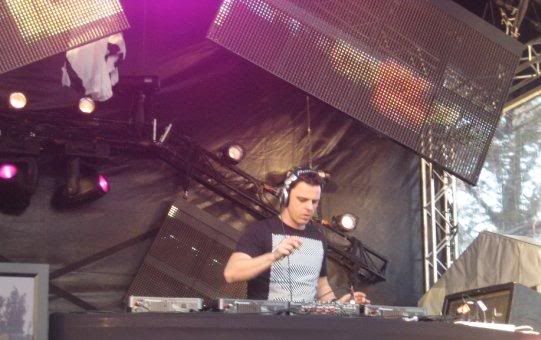 After my set I was quickly rushed out of the festival and back to my hotel for a quick change and then to the afterparty. As soon as I arrived I had a quick meeting with the sound tech guys and they took all my gear to the stage and set it up for the World Tour recording. In the meantime, I sat in the backstage room speaking with people and at one oint the manager came up to me and told me they were going going to have to close down the street in front of the club because of all the people. This was great news to me, because I was not sure how everyone was going to feel after being at a festival all day, Usually people tire out and plans change from going to an afterparty to going home and passing out. Super8 and Tab were banging their tunes as I was pumping myself up for another 4 hours. As they started bringing the music down a bit the stage manager came and got me. Showtime was imminent.
I have to say, that one of the things I love about the world tour shows is the competition that the fans seem to have with each other. It seems like each city wants to be louder than the other cities, The microphones usually stand right at the end of the stage capturing the vibe of the crowd and some cities are just electric. Budapest and Athens were some of the loudest crowds yet for a world tour recording. Melbourne definitely wanted to show they were up for it and the moment I stepped on stage they were loud and relentless.
The set went great and I was able to really take everyone on a good journey. The most fun I had was once I knew the 2 hours for the World Tour broadcast were recorded, and I was able to go down the rabbit hole a bit. In long sets I love to have certain parts of the set were people just jack. I don't think you see that very often in trance DJs' sets – where you just play some really wicked grooves and let the crowd go off for a bit before you build it back into some melodies.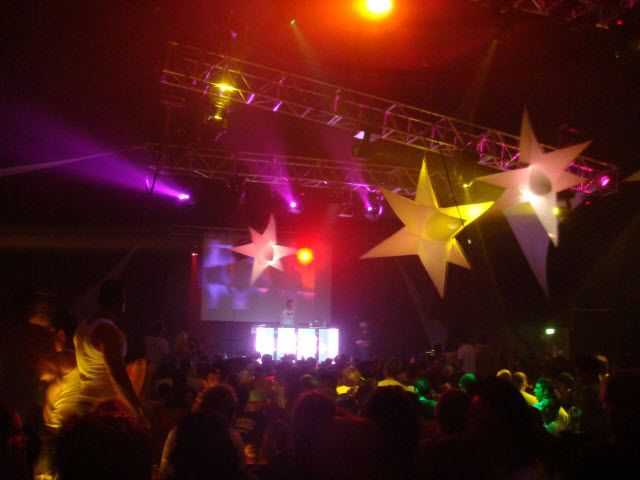 It was so nice to see the other DJs from the tour come and and support me. Tocadisco, Oakenfold, a couple of the guys from N.E.R.D. as well as Super8 and Tab all hung out and partied with me. An amazing gig that I will remember for a long time.
After a short rest, I had to take the flight to Adelaide, for the final stop on the Future Music Festival series. Man I was tired. But at the same time, I was determined to end this tour on a high and give the Adelaide people something to remember. Adelaide is where Brisbane was many years ago. You can feel the scene developing and growing, and I am very happy to invest my time doing so. This year the crowd was even better than last, and I was so amazed how everyone responded when I played The New World. Definitely the tune of my set as far as crowd response goes! After the set was over, I headed to the artist area, where the official end of tour afterparty was in full swing. Not much that I should write about, but I can assure you it was wild and crazy. Everyone was letting loose after an amazing tour. We continued the afterparty at a club called Electric Circus (or something like that). Everything gets a bit foggy from there on out.
Celebrating the end of a tour is always bittersweet. You are glad you made it through, because it is very demanding physically and mentally, but there is also an element of sadness having to say goodbye to everyone. The nice thing is that most of the people on the tour said are coming to Miami for WMC, so I'll get to see and catch up with them again.
We were all like a mini-family, sharing some great stories along the way. You all know the obvious highlight for me already, meeting Grandmaster Flash. That is a memory I will cherish forever. But I also want to make mention of the amazing fans that attended every edition of the festival. They showed that the Coldharbour community is strong in Australia, and I hope that many of you who came to see me will join the guys on the forum and contribute your stories over there. It was an incredibly rewarding experience, and it was a great privilege to be able to be part of the festival for two years in a row. I hope that it will not be too long before I can get back. Maybe we'll get to do another World Tour recording from one of the other cities, who knows. 🙂
I had Tuesday off before I headed out, so I spent the day sleeping in, going to the gym and then going to Adelaide's big shopping area. As I was walking through I couldn't beleive my eyes. I have been looking for a pair of original Adidas Top 10's for years and years. I got a pair for Christmas, but they were all white. The very original ones were red, white and blue.
When I was a kid I had always wanted a pair but never could afford them. There were only a handful of kids in school who had a pair and these kids were obviously the popular kids. You know the ones, the captain of the football team, the homecoming king…etc. You could not find a pair in the city of Pirmasens in Germany, where I lived. You had to drive to Kaiserslautern and they had them occasionally at the bowling alley where they were sold.
Well as I was walking… There they were! A pair of Top Ten's, original colors!! I was so excited that I immediately pulled them out of the box when I got back to my hotel room and just stared at them. It's like, "How ya like me now Pirmasens! I finally got my top 10's!!"
Content with the FMF tour, I boarded the plane from Adelaide to take me to Hong Kong on Wednesday for the start of a 30 hour journey back to Europe. When I landed in Hong Kong, I listened back to the recording from Queensbridge and got it prepared for Global DJ Broadcast, along with our World Tour broadcast affiliates. Wednesday was spent working on a few Dakota-related things and mixing the latest Evolution for Sirius XM. Being in Hong Kong brought back memories of one of my favorite gigs of last year. My tour schedule in May is almost exclusively dedicated to gigs in Asia, so my mind has already started thinking about what to prepare. An overnight stay at in Hong Kong and I continued my trip to my second home.
Yesterday I landed in Berlin, where I have my apartment for staying in between gigs that fall on consecutive weekends in Europe. I have not been there since the end of the summer, so I was very curious about what I was going to find. All my plants are usually dead and my neighbors wonder where the heck I have been. My brother Holger came to visit me for a few hours before I headed off to the airport again to catch a flight to Barcelona.
Tonight is my first opportunity to play a gig in this beautiful city of Barcelona. I am normally here a few times during the year, but it is primarily for overnight stays when flying from a gig somewhere in Europe to get back to Miami.
Tomorrow night I am back in Ireland to play at Lush in Portrush, for the first time in almost 5 years. Playing there brings back some great memories. The club itself is up there in the rankings as one of the best worldwide, although I don't know if the reason people liked it so much was because of the giant 15-foot bra they used to have erected above the bar. Since Christmas it has been refurbished so I'm looking forward to seeing how it looks now. With it being St. Patrick's Day on Tuesday, a lot of people will begin their celebrations early this weekend, so it should be a real party atmosphere. I'm obviously hoping that the crowd will be full of people who are there for the music and the right reasons, and I am confident that they will.
Once the weekend's clubbing activities are complete, I'll finally be on the way home and get the chance to sleep in the comfort of my own bed. As anyone who have read the Jules Verne book will know, Phileas Fog became famous for making it round the world in 80 days, but I'll manage to do it in just 19! Next week will be a busy one in the studio however, because of the two massive weekends coming up before March ends – first with the official Toronto '09 Release Party at The Guvernment, and then Winter Music Conference week in Miami. So I want to work on a few surprises to have for these sets.
Because my WMC week is going to be so hectic, I will answer another batch of your questions one week earlier than usual this month. So if you guys have anything you would like to ask me, please post your questions over at my forum, and I'll do my best to answer them next week.
Alright guys, I'm going to start getting myself prepared for tonight's gig. Hope you all have a fantastic weekend, and to all my Irish friends and fans, a Happy St. Patrick's Day to you all for Tuesday. Go easy on the green Guinness!
Hasta luego,
Markus