Hey everyone,
Checking in with you on what will be my final morning at home for a little while. Later today I head off to New York for my gig at Pacha, and then on to Israel for a 3-date tour next week, in Tel Aviv and Jerusalem.
As I signed off last Wednesday, my focus of attention was the next World Tour recording, at Body English in Las Vegas. I had a great time in Vegas, and managed to get out of there without having to pawn off my laptop. For those who don't know, Body English is located in the Hard Rock Hotel – the same place that hosts "Rehab" during the summer months. Rehab has become a huge party known all over the US and has even spun off its own reality TV show. Right now it is closed for the winter and undergoing some renovations; so for next season. it looks to be even bigger and better than the last.
Having heard all about Rehab at the Hard Rock Hotel, I was really looking forward to playing at their club "Body English". The place is beautiful and it looked like the celebrities and hipsters were out in force. Champagne and bottles were flowing and the VIP area was sold out. As you can imagine, with such a "Bling-Bling" crowd as I like to call it, the crowd noise was a bit subdued. Definitely not the crazy mayhem that you would expect to hear on the World Tour recordings from some of the past World Tour cities, but Las Vegas is fun in a different way. I got to play a more progressive set, and didn't have to bang it out.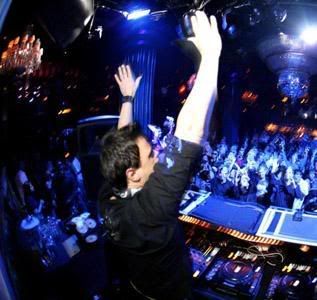 The set will air the first week of the month on Global DJ Broadcast and also on Sirius XM Satellite Radio for those of you in the US.
On Thursday, I flew back to Miami for some more studio work. I can tell you that I have been working on a really exciting project, but I can't yet reveal what it is just yet. I will let you know all about when the time is right. It has taken up all my free time, but the results of this project so far have been really promising.
Onto the weekend and on Sunday afternoon, I made a point of turning off all phones and invited some friends over to watch the NFL Conference Championships. My once beloved Arizona Cardinals were playing the Philadelphia Eagles. Even though my allegiances are now with the Miami Dolphins, I still love the Cardinals as well since I lived in Arizona for so many years.
To give you a bit of background information if you are not familiar with US sports – the Cardinals are historically terrible. I can remember going to Sun Devil Stadium when the Cardinals played there, and walked right in to see the game for free after the 3rd quarter, because nobody ever went to the games. Over the past couple of years however they have been building a foundation under new coach Ken Whisenhunt, and a new stadium.
They managed to win their division this season, an achievement in itself, but their form coming into the playoffs was very poor. Every analyst and critic said they would be one and done in the postseason. They had not won a championship since 1947! To put that into context, they have the second longest drought in professional sports (behind the Chicago Cubs, who have not won a World Series since 1908). And ironically, when they won the NFL Championship in 1947, the team was based in Chicago. Somehow, over the past few weeks, somehow they have just been on a tear. Beating Atlanta and Carolina and now hosting the NFC championship in the University of Phoenix Stadium.
They got off to a great start on Sunday, but by the beginning of the 4th quarter the wheels started coming off and they fell behind, and I began thinking that it was going to end in disappointment. But they came back and deservedly won the game in dramatic fashion. We were literally dancing around on the couch when the game finally ended. What an incredible day. Quarterback Kurt Warner surely has to be a major contender for the Hall of Fame ballot in the future. They now go into the biggest game of all, the Superbowl, against big favorites the Pittsburgh Steelers, and they will be the underdog once again. I hope they can do it, and I will be rooting for them come February 1st.
Another highlight this week was watching the dawn of a new era unfold before all of our eyes on Tuesday, as President Obama was inaugurated. It was a moment that will etch in history forever; he made a wonderful speech and I think that he can fill all of us with hope, not just US citizens, but citizens of the world. Hopefully, it will be a day that America looks back on with great pride, and will mark a turning point, for the better.
When I was on the plane home from Las Vegas on Thursday, I sat next to a lovely lady who told me her daughter was in Barcelona when Obama won the election, and she said people were dancing in the streets with joy. I have travelled all over the globe during the Bush years, and at all times feeling that I had to hide my US passport because of the negativity he represented throughout the world. When was the last time you heard about people dancing in the streets in other countries for the US?
Incredible time we are in right now. I have to admit that I have been captivated and have been watching MSNBC and CNN all week. Of course the fact that I got sick and spent a couple of days in bed with this flu bug that seems to have gotten everyone might have had a little something to do with it.
After spending several hours in the studio on Wednesday, along with taking care of this week's Global DJ Broadcast and Evolution shows, my attention began to shift towards my next adventure in the Big Apple.
Over the past few years, my gigs in New York have been real signature moments that I will forever look back on with such fondness. When you are in the studio working on a new production and remix, you think about the best cities and venues to roadtest your latest piece of work. Ideally, you want to debut a track somewhere where you know the crowd give a tough yet honest assessment.
Therefore, when I reflect on gigs of the past, one of the first that springs to mind is the night I performed at Spirit (the old Twilo) in New York, back in July 2005. If you cast your mind back to that period, the title track of my first artist album, Without You Near, was in heavy rotation among all the big DJs, and it was receiving a lot of attention on many radio shows back then. However, all the DJs were playing the Gabriel & Dresden mix, and many assumed that it was the original and only version.
Little did anyone know, I had been working on my own Coldharbour mix, and I knew that when I landed that Friday, the time was right to unveil it to New York, and to a listening audience worldwide; as the night was being broadcast live around the web. The feeling I got when I played it for the first time was indescribable. For weeks afterwards, I had so many people emailing me, who had either been there on the night or listened to it live online, saying how that moment inspired them, and how they became fans of me and my sound ever since, because of that one moment. On any occasion I have played Without You Near around the world, my mind always stretches back to that night, and it explains so easily why New York is one of those special cities that can motivate you to be the very best at what you do.
For Pacha itself, many of you will have experienced the atmosphere it brings through the World Tour broadcast we did last June. I have not been back since, so I really cannot wait to get to the club and go down the rabbit hole once again. One of the guys from my booking agency emailed me on Monday last week, asking if I would be up for playing a 6 hour set. My response was two words long, "yes" and "awesome"! It is going to be such a fun night, and it will be great to see so many familiar faces in the crowd. I wish I could be at the gig right this second!
But first, and as promised, I owe you the answers to some of the questions you have been posting over at the forum for me. So without further ado…
What is your favorite time of the day to play? Would you rather play in the sun at a summer festival or at night, when the lasers look fantastic?
Both can are a lot of fun, but yes at night, when you can really see the lights and lasers there is some extra confidence that comes with it. Knowing that during massive parts of the songs that the lights can be seen all the way across the festivals is really cool.
How does one become a DJ? Where do you learn techniques and how do you start getting gigs?
It all starts in the bedroom. This is where you dream and fantasize. That is the way that I did it. I can remember making my cousins sit and listen to me mix all the time. I can remember calling my mom to my room to hear something that I had just figured out. There really are no short cuts to being creative. You just have to keep dreaming. To this day, I lie in bed and make up tracks and compose sets in my head.
What are your thoughts on putting on a Markus Schulz & Friends / Coldharbour full production (similar to Full on Ferry or Armin Only) in the near future?
We have had many discussions on this in-house over the last few years. My goal is to build the World Tour shows into stadium shows. I have many great ideas that when the time is right I want to do; everything from bringing in some of the artists that I have collaborated with in the past, to other producers that work with today. This is definitely a goal that we are building towards. But I only want to do it when the time is right.
Can you tell us anything about your Dakota tracks, which featured on your Essential Mix in December?
Well, if I said that my time spent in the studio last Thursday might answer the question, what would you think? 😉
If Global DJ Broadcast shows were numbered each week – what number would we be on?
Wow, I think TigerClaw would probably be able to answer that question. He has been listening and archiving all the shows since the very first one during WMC 2002. I would guess that we are around 350 or so. I know that a lot of people number their episodes, but I have always just used the date in labelling the shows. This goes back to the days when I worked in FM radio in Arizona.
Will you be back in The Netherlands in the coming months for some gigs? And if you are, would you do a World Tour show from here?
I have plans to represent Netherlands in a World Tour in 2009. As you know I usually play many times per year. so one of my sets this year will definitely be a World Tour show.
Currently, what are the 5 most regularly played tunes on your iPod?
You will be surprised! I have a playlist that I call "Markus' detox tunes". I listen to that all the time.
It is over 100 songs long and it consists of stuff like: Steve Miller Band – Fly Like an Eagle, Supertramp – The Logical Song, Manfred Man – Blinded By the Light, plus some weird stuff like Alexander Robotnik – Problems D'Amore, Yellow Magic Orchestra – Computer Games, Man Parish – Boogie Down Bronx. Lots of random old tunes!
I also have a playlist of various Global Underground compilations that are great for afterparties when there is an iHome available.
Thanks again for your questions. If you would like to ask anything, please register over at https://www.markusschulz.com/forums and leave your requests. I will answer another batch next month.
Next week, I will check in with you all from Israel, where I haven't played for some 2.5 years. I'm really looking forward to that, along with New York of course. I hope you all have a wonderful weekend, and I'll catch you next week!
Take care,
Markus