* Written on Wednesday January 14th 2009 *
Hey everyone!
Hello to you all from Las Vegas. It is Wednesday and while it is very unusual to have a gig on this day, I am really pumped up and can't wait for the night to get here. But before I look ahead to tonight, let's rewind back to last weekend and my triangle of gigs in Southern California.
My weekend officially started last Thursday night in Anaheim. Some of the LA Tranceaddicts had arranged a little meetup at a bar beforehand, so I joined in and got to catch up with a few people I hadn't seen since Monster Massive back in October. They are special to me because they have travelled the entire length of the west coast to see me for years, and show up at practically every gig, front and center, and are always there for support. People that I greatly appreciate.
Soon however, it was time to focus and prepare for my set at Heat Ultra Lounge. It was an intimate show in a very beautiful new club, and boy was it packed! I played for 2.5 hours and time felt like it flew by.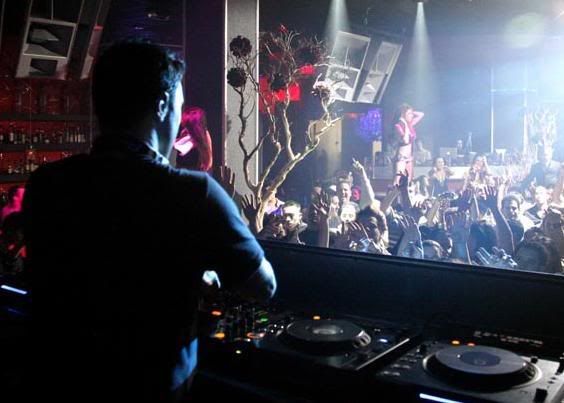 (Photo courtesy of http://www.mikeymcnulty.com)
I even had some surprise visitors in the crowd from New York, Washington DC, and some fellow LA producers as well. It is little things like that which make the intimate gigs so enjoyable. And you know, it is a common misconception that DJs only enjoy the marquee stadium events and playing to huge crowds in their thousands. For me, I just love doing what I do – it doesn't matter if I am playing to 20 people or 20 thousand, I love the challenge of entertaining and interacting with everyone who makes the effort to come out and see me.
On Friday, we took the 2 hour drive down to San Diego, to play at Spin. It was almost exactly one calendar year since I had the opportunity to play in the city, and it was also going to be my first time playing at the venue. The night went very well. Riley Warren did a great job before I got on and the crowd really got into my set from the beginning. I hope that I don't have to wait so long before I return to SD again.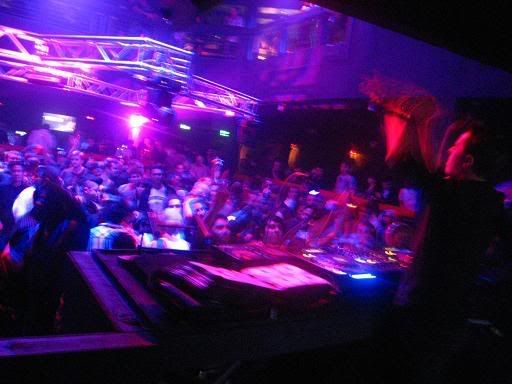 (Photo courtesy of http://www.sweetcandy-girl.com)
Saturday was back to Los Angeles for the main event of this Southern California tour at Vanguard, and Giant's 9th Anniversary. One aspect of this gig that I was really looking forward to was playing alongside Gareth Emery. I have been a big fan of Gareth's music for a long time and it was great to see and play with him for this special show. I got there an hour early and hid backstage so I could catch some of his set, and just as expected, he was fantastic.
There was one very funny moment that happened in the middle of my set. As you guys know well from following my live sets over the past year, I made a mashup using the track Gareth did with Lange, Another You, Another Me, and chopped it up with the percussion from Bart Claessen's remix of Signalrunners – Aria Epica, as well as adding some of my own parts. So here I am in the middle of my set and I drop the mashup. Gareth is on stage hanging out, and when he heard the track coming in, we both shared a wonderful moment as the crowd went crazy!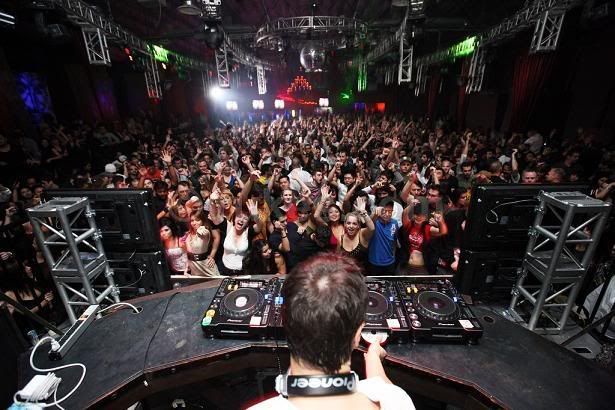 (Photo courtesy of http://www.rukes.com)
The crowd was the best I can recall whilst performing at Vanguard, and I can't wait to go back. I spent a good while afterwards taking photos and hanging out with everyone until security kicked us all out.
Overall, I had a great weekend in SoCal. Every gig was thoroughly enjoyable and I really appreciated everyone who came out to each one, and, in some cases, all three of them. I had quite a few people come up to me on Saturday night asking the same question, "Please Markus, when are you going to do a World Tour show from here?" After this weekend, I feel that it will only be a matter of time before LA joins the World Tour map. When the time is right, then it will definitely happen. The entire state of California is fantastic for dance music followers; every city is special in their own unique way. I get a great feeling when I look at my tour itinerary and see that I am heading out there, because I know the crowds are always going to be amazing and up for a party.
On my flight back home to Miami on Sunday, I felt that I really wanted the next World Tour to be from a North American city, in order to be fair and spread them out geographically, and since the last two were done in Europe, in Budapest and Athens. So in the end, the next World Tour show will be emanating from right here in Las Vegas, where I will be recording the set tonight. Vegas is one of those cities that has a mystique factor about it; everyone has heard the name no matter where you are from.
Whilst most people can imagine that Vegas is famed for its casinos and gambling, it actually has quite a healthy following when it comes to the clubs. Sure, Vegas is all about VIPs and bling-bling, but those kind of gigs can be a nice way to change up your sets from time to time. I guess you could make comparisons between Las Vegas and Ibiza with respect to the tourist element. So it makes for a nice mix when it comes to atmosphere. I'm really looking forward to seeing how tonight pans out, from GodsKitchen's Wednesday residency at Body English, and you will be able to hear it on the World Tour shows next month. Wish me luck!
Before I sign off, I would like to mention and thank everyone who voted in The Gallery's Best of 2008 Awards. The members voted me as the Best International Resident, and when I found out the news, I was completely speechless. My love affair with the Ministry of Sound venue started minutes after walking through its doors for the first time last May, and every time I play there, I am counting down the days until I can come back. I would encourage everyone who can make it to London on February 13th to cancel all prior plans and get down to the club; it is going to be a blast!
Next week I will check in with you guys from home, where I will be looking forward to a trip to Israel and a massive weekend at Pacha in New York. I will also take some time to answer some of your recent questions you have been posting. If you would like to ask anything, please log on to my forum and I will post my answers to a batch in the blog next week.
I am so excited about all of the gigs I have coming up over the next while, and the fun starts right here in Las Vegas tonight!
Ciao,
Markus