Hey everyone!
Good morning to you all from Amsterdam. I have been here for the best part of this week, recovering from my trip to Asia last weekend, and preparing for the upcoming activites in London and Athens. In a couple of hours I will be boarding a flight to London, but for now, it is time to reflect on the past 7 days.
So let's go back to last Friday, and my return to Club Volume in Seoul. As I had mentioned last week, I had previously played there in April. The crowd was really good, and the afterparty was was crazy. Koreans party hard, that's for sure!
On Saturday, I travelled to beautiful Shanghai, for my gig at Club G Plus. I'm sure many of you remember my last appearance there, as it was the first edition of the Global DJ Broadcast World Tour. If you have never seen pictures of clubs in Asia you should Google it. The layout of Club G Plus is amazing. They are just so hi-tech with the entire production. I played a banging 3 and a half hour set. A lot of fun!
After every trip to Asia, I tend to reflect a lot on how much the scene is continually growing there. It has been one of the major plus points of the internet and message boards over the years – no longer is anyone in any country behind with their knowledge of the latest tracks or the biggest tunes in my sets and on Global DJ Broadcast. The agency which books me for all of my gigs in China are launching their own edition of DJ Mag early next year, so I can only see the momentum of the scene growing even further. It is very satisfying to know that this growth will keep the industry alive and vibrant for many years to come. Who knows, maybe we will see someone from China or Korea having a release on Coldharbour in the near future.
Due to the long flights and many hours travelling, I had to spend a day or two this week here in Amsterdam readjusting my body clock to the European time zone. It is one of those things you just have to accept and workaround when you are travelling regularly. When I got back into my routine, I worked on this week's GDJB and Evolution shows, and began my two-week long preparations for our year-end Classics Showcase.
I have taken some of the suggestions from the forums and started compiling them in a folder, and searched through the online download portals to see if they are available digitally. I will really get into the meat of things next week, when I get my reconstruction tools out and start chopping up a few tracks to fit the set. It's going to be very enjoyable, and it will bring back a lot of memories along the way.
Tonight I am back at my residency with The Gallery at Ministry of Sound in London. The memories of this city for me have been very surreal over the past year. Everyone was so sad to see Turnmills close its doors for the final time in March, with the venue's legacy cemented in dance music folklore forever.
When I played at Turnmills for the last time in February, I left the club thinking that it could be a while before I would be able to return to the city again. Thankfully however, The Gallery moved their nights over to Ministry of Sound, and I got the opportunity to play there for the first time in May.
There were many occasions backstage at various festivals where I had heard the experiences of other DJs playing at MOS and how enthusiastic they were in sharing their memories. When I arrived at the venue for the first time, I just spent the first 30 minutes walking around and surveying the atmosphere, and it was everything I imagined. In many ways, it reminded me of Stereo in Montreal, which had been my favorite club to play for years.
Looking back to that night, and when I put in the first CD of my set to play (which was my Coldharbour Intro Mix mashed up with Duderstadt's remix of Mr. Pit – Shana), it hit me right there and then that this could be the start of something really special. The soundsystem in that room is mindblowing – I have described the feeling in previous interviews as "basslines which eat your brain", and with the style of heavy and dark trance that I play, the Coldharbour sound is really allowed to blossom to its full potential.
Fast forward one month and I was sitting in Ibiza, preparing for the opening night of my residency at Amnesia. Whilst having a meal with some of the Armada staff, my phone rings, and I receive news of The Gallery offering the opportunity of the residency to me. Honestly, I couldn't get the word "yes" out of my mouth quickly enough. And now, every time I have returned to play there, I have enjoyed it even more than the last.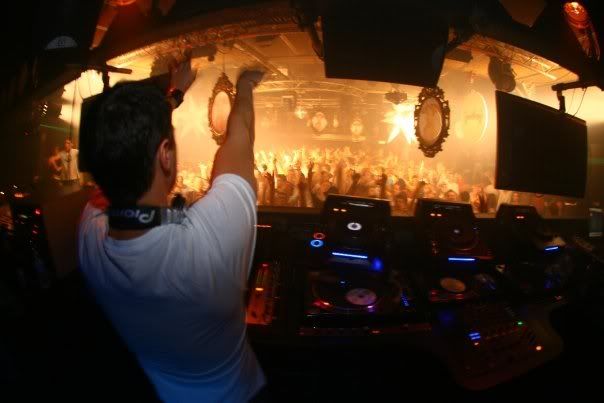 Tonight, I am hoping the trend continues. It is The Gallery's Christmas party, and I am playing along with Armin, for what will probably be the last time for a little while due to our schedules taking us to differing parts of the world. So we are both definitely going to make the most of it.
Once my set is over, my attention will immediately turn to preparing for the next GDJB World Tour recording, which takes place tomorrow night in Athens. It is going to be very cool to chronicle my experience at the birthplace of the Olympics. The fans there are already excited, and I hope I can deliver a set they can take into the holiday season and enjoy. You will all be able to listen to the night as Athens kicks off the GDJB World Tour in 2009.
Next week I will be back with my last blog entry of the year, where I will be looking back on a memorable 2008, ahead of a very busy Christmas and New Year's schedule. Before that though, you will be able to catch a 1 hour mix I did for Afterhours FM's End of Year Countdown celebrations this Tuesday, beginning at 2pm EST / 7pm UK / 8pm CET. On Christmas Day, we will relive the most popular World Tour show of 2008, so be sure to vote for your favorite set if you haven't already.
I can't wait to see everyone in London and Athens, it's going to be a very exciting weekend. I hope you all enjoy yours.
Ciao,
Markus