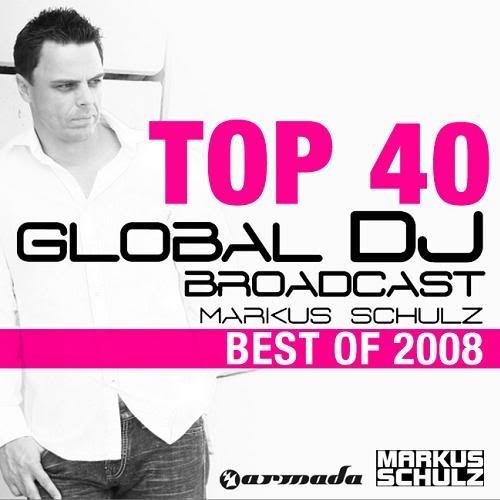 Release Label: Armada Music
Release Code: ARDI958
Release Date: December 29th 2008
It has been a momentus and incredible year for Markus Schulz, and for his weekly radio show, Global DJ Broadcast. Now on over 20 FM and online stations worldwide, millions flock to their radios and computers each week to listen to Markus' unique interpretation and vision of trance.
To celebrate the end of 2008, Markus has compiled a personal Top 40 chart, featuring all the tracks that were huge on his World Tour performances, and many approved by the fans themselves through weekly Global Selection voting.
The chart is a reflection of the success of the Coldharbour Recordings label in 2008, with monster smashes by Arnej, Mr. Pit, Tritonal and Agnelli & Nelson featuring prominently.
Many of the championed heroes of trance in 2008 also feature, with tracks and remixes by the likes of Lemon & Einar K, Duderstadt, Stoneface & Terminal, Mike Koglin, Funabashi and Kyau & Albert giving the chart an undeniable quality and resonation.
These are the tracks which we will look back on with fond memories, because it was the fans, as well as Markus, who helped decide the outcome of this chart through their weekly Global Selection picks.
In summary, the Global DJ Broadcast Top 40 for 2008 is:
01. Mr. Pit – Shana (Duderstadt Progressive Dub)
02. Arnej – They Always Come Back (Original Mix)
03. Dirty Dot – Heart of Pain (Monogato's Funk n' Trance Mix)
04. Cressida – 6am (Kyau & Albert Remix)
05. Majai – Phoria (Elevation Remix)
06. Sunlounger feat. Zara – Lost (Club Mix)
07. Lemon & Einar K – Anticipation
08. Alex M.O.R.P.H. & Woody Van Eyden feat. Michelle Citrin – Turn it On (Funabashi Remix)
09. Hammer & Herbick feat. Boytronic – You (Dyor's Big Room Remix)
10. Orkidea – Metaverse (Gareth Emery Remix)
11. Ronski Speed feat. Sir Adrian vs. Rex Mundi – The Perspective Space (Markus Schulz Mashup)
12. Tritonal feat. Cristina Soto – Walk With Me (Original Mix)
12. Marc Marberg with Kyau & Albert – Neo Love (TE Intro Mix)
14. Duderstadt & Kirsty Hawkshaw – Beatitude (Duderstadt Uplifting Mashup)
15. Sequentia presents Sunshade – Vertigo (Mike Koglin Remix)
16. DJ Eco – Tonight is Forever (Martin Roth Edit)
17. Arnej – The Ones That Get Away (Minimal Drum Dub)
18. Adam Van Baker – Tigra (Michael Angelo & Jim Electro Tech Mix)
19. Ali Wilson – Shakedown (Original Mix)
20. tyDi – Russia (Melodic Mix)
21. Vengeance – Temptation (Denga & Manus Remix)
22. Agnelli & Nelson present The A&N Project – Sleeping in Airports (Original Mix)
23. Mr. Pit – Love You More
24. Nick Larson & Mike Koglin – United (Part 1)
25. Element One – A World Away
26. Funabashi Presents Saltwater – The Legacy 2.0 (Alex M.O.R.P.H.'s Big Drop Mix)
27. Stoneface & Terminal – Blueprint (Club Mix)
28. Evgeny Bardyuzha – Bali (Original Mix)
29. Mike Saint-Jules – Sunlit Clouds (Arnej's Open Air Mix)
30. Ronski Speed – Overfloat
31. C-Systems – Close My Eyes (Lemon & Einar K Remix)
32. Mr. Pit feat. Vicky Fee – Back For More (Funabashi Remix)
33. Andrelli & Blue feat. Hila – Transparent (Tritonal's Air Up There Remix)
34. Element One – Guanacaste (Mat Zo Remix)
35. Martin Roth & Alex Bartlett – Off The World (Super8 & Tab Remix)
36. Musetta – Red Star (Michael Cassette Remix)
37. Dyor – Emotions (Second Emotion Mix)
38. Marco V & Sander Van Doorn – Organic (Original Mix)
39. Anton Firtich – Rain Over The Ocean (Original Mix)
40. Heatbeat – Geek Love (Thr3shold Remix)
You can purchase this Top 40 from iTunes at one of the following links below:
United States and Canada: Click Here
Rest of the World: Click Here
Alternatively, simply open the iTunes Store and search for "Global DJ Broadcast"
Global DJ Broadcast, providing the soundtrack for Coldharbour Citizens worldwide in 2008.