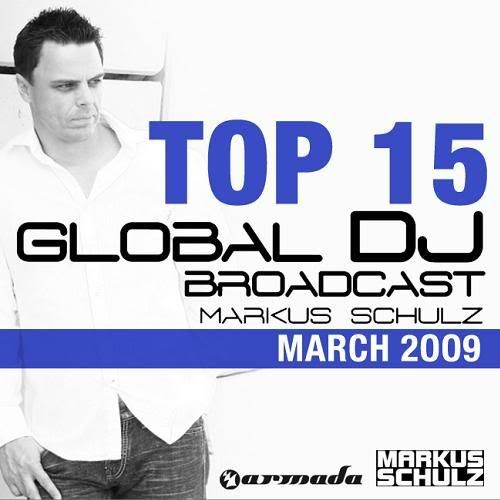 Release Label: Armada Music
Release Code: ARDI1037
Release Date: March 2nd 2009
The month of March 2009 will be one of the busiest and momentful for Markus Schulz. Currently on tour in Australia as part of the Future Music Festival series, and with the imminent release of his latest compilation, "Toronto '09", Markus selects 15 new tracks which have been championed on his Global DJ Broadcast radio show and live sets, presented in their full unmixed versions.
Taking top spot this month is a producer who has taken 2009 by storm, New York's DJ Eco. His track Tonight is Forever proved to be a GDJB anthem last year, and he began 2009 with the release of American Blues, winning the Global Selection award in its first attempt.
With Trance Energy in the Netherlands fast approaching, the 2009 theme is included in the compilation, with dutch legends Rank 1 providing the sounds of L.E.D. There Be Light. The track was one of the highlights of Markus' GDJB World Tour set from Athens in January.
At Sensation White in Riga last year, Markus debuted the monster smash Vegas by Slovakian Robert Burian. Immediately signing the track to Coldharbour Recordings, Markus acquired the services of Gleave to put his unique blend of tech and funk to the track, and it has become one of the most popular tracks in his live sets since. From Vegas to Las Vegas, and Dennis de Laat's anthemed Every Breath featured on the last World Tour stop in Sin City.
As Markus is currently in Australia, it is somewhat appropriate that the country's breakthrough star features twice. Brisbane's Tyson Illingworth, better knwon to many as tyDi, delivers two remixes in the top 15, both heavily supported by Markus over the past 8 months.
One of the most talked about tracks recently on Global DJ Broadcast has been Harrier, by Englishman Ashley Wallbridge. The tune has been gathering momentum throughout all of January and February, and already has placed itself as a contender for one of the big GDJB tunes of 2009.
With further tunes from GDJB regulars Element One, M.I.K.E., Moonbeam, Sied van Riel, Sequentia and Rex Mundi, along with Coldharbour tunes from Dyor 2 Dyor and LightFlow feat. Ken Spector, the Top 15 for March 2009 has plenty on offer for everyone.
In summary, the Top 15 for March is:
01. DJ Eco – American Blues (DJ Eco & Martin Roth Edit)
02. Rank 1 – L.E.D. There Be Light (Extended Mix)
03. Robert Burian – Vegas (Gleave Remix)
04. D:Folt feat. Marcie – I Come Running (tyDi Dub)
05. Element One – Meadows
06. Dennis de Laat – Every Breath (Anthem Instrumental Mix)
07. M.I.K.E. pres. Caromax – Logic
08. Adam K & Soha – Long Distance (tyDi Remix)
09. Moonbeam feat. Blackfeel Wite – Your Wind is in My Hands (Original Mix)
10. Dyor 2 Dyor – Vision (Hard Emotion Mix)
11. Sied van Riel – M.M.E.
12. Ashley Wallbridge – Harrier
13. Lightflow feat. Ken Spector – Alone (Benya Remix)
14. Sequentia – Infinite Horizon (Maarten Hercules Remix)
15. Rex Mundi – Leaving Paradise
You can purchase this Top 15 from iTunes at one of the following links below:
United States and Canada: Click Here
Rest of the World: Click Here
Alternatively, simply open the iTunes Store and search for "Global DJ Broadcast"
The Top 15 is also available at digital download portals Beatport, Trackitdown, Juno Download and Audiojelly, and is also available through all Amazon digital download services.