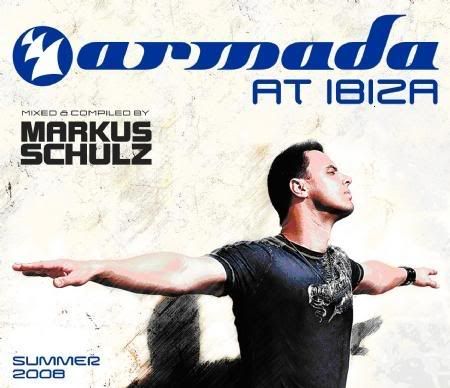 2008 will mark Armada Music's fourth year as having a major presence among dance music's juggernauts in Ibiza. Attendances at the Armada nights, held every Tuesday from June through September at the legendary Amnesia nightclub, have increased year-on-year. It is no surprise that this year will mark their biggest yet, with more appearances from our own Markus Schulz, playing at no fewer than twelve dates.
To commence proceedings in a grand matter, Armada have asked Markus to compile a CD release, where he was presented with the task of selecting the tunes he believes will guarantee maximum damage on Ibiza floors this summer.
The CD contains a mixture of tracks, which have struck a rapport with regular Global DJ Broadcast listeners, alongside some massive unknown tracks, which Markus has deliberately held back especially for this release.
With brand new tracks from championed Coldharbour names such as Mr. Pit and Elevation, it all shapes up to be another must have collection for any Markus Schulz fan.
You can find the tracklist of the CD below. It will be available for purchase in all good record stores and download portals from Monday July 21st.
01. Mr. Pit feat. Vicky Fee – Back For More
02. DJ Eco – Song of Innocence (Martin Roth & Paris Nova Remix)
03. tyDi – Russia (Melodic Mix)
04. Canyon Boulevard – Kimchi
05. Arnej – They Always Come Back
06. Wippenberg pres. Sphaera – Back
07. Element One – Guanacaste
08. Mr. Pit – Shana (Duderstadt Progressive Dub Mix)
09. Elevation – Biscayne
10. Tritonal feat. Christine Soto – Walk With Me
11. Majai – Phoria (Elevation Big Room Remix)
12. Cramp – Deadline
13. Sequentia pres. Sunshade – Vertigo (Mike Koglin Remix)