Amsterdam Dance Event: Armada Night Live From Paradiso – October 22nd 2008
This coming Wednesday, Armada Music opens proceedings for the 2008 edition of Amsterdam Dance Event. Held at the Paradiso venue, Afterhours.fm have teamed up with Dancefoundation.nl to bring live audio and video from the event.
The broadcast will feature our very own Markus Schulz, alongside Armada alumni Armin Van Buuren, Blake Jarrell, Glenn MOrrison and DJ Remy.
The timetable is set as follows (Times in CET):
22:00 – 23:30: Blake Jarrell
23:30 – 00:30: Glenn Morrison
00:30 – 02:30: Armin Van Buuren
02:30 – 04:00: Markus Schulz
04:00 – 05:00: Remy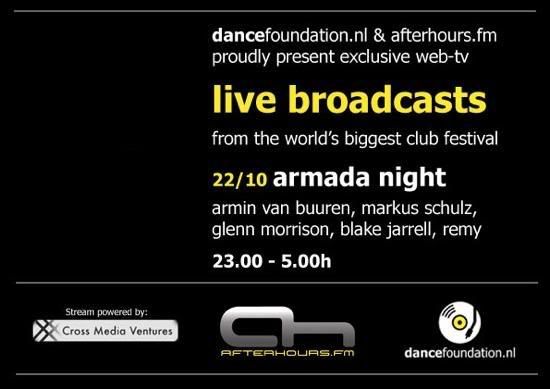 Time: Click here to find out what time ADE 2008 begins in your area
How to tune in to Amsterdam Dance Event
This special event is broadcast on Afterhours.fm. Click on one of the streams below to tune in when the show starts:
192k: http://www.ah.fm/192k.m3u
96k: http://www.ah.fm/96k.m3u
48k: http://www.ah.fm/48k.m3u
Tracklist of the event will be posted live on the forums. Hope you can join us.
Useful Links:
www.armadamusic.com
www.amsterdam.dance.event.nl
www.afterhours.fm
www.dancefoundation.tv