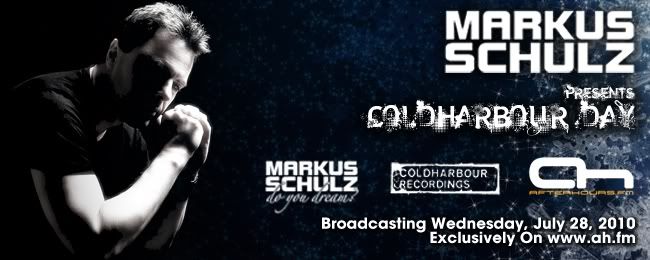 July 28th – the day Coldharbour Citizens worldwide unite for a unique and special celebration.
And on July 28th 2010, Markus Schulz and Coldharbour Recordings reach a significant milestone – the label's 100th release.
As part of our Summer of Schulz 2010 strand of events, Markus gives back to the fans by presenting an entire day of sets mixed by a selection of the best Coldharbour DJs, producers, and those who have greatly contributed to one of the most innovative and popular labels at the forefront of trance today.
In assocation with GDJB broadcast partner and our friends at Afterhours FM, Coldharbour Day will be highlighted by an exclusive 4 hour set from Markus himself, where he will showcase the hottest Coldharbour sounds under past, present and future guises.
Mark your calendars for Wednesday July 28th 2010, as we unite as one for our special day.
Coldharbour Day – a celebration for the DJs, for the producers, and most importantly of all, for the fans.
Scheduled times are below:
02:00 EST | 07:00 UK | 08:00 CET: tyDi
03:00 EST | 08:00 UK | 09:00 CET: Mr. Pit
04:00 EST | 09:00 UK | 10:00 CET: Tenishia
05:00 EST | 10:00 UK | 11:00 CET: Mike Foyle
06:00 EST | 11:00 UK | 12:00 CET: Skytech
07:00 EST | 12:00 UK | 13:00 CET: Tucandeo
08:00 EST | 13:00 UK | 14:00 CET: Barnes & Heatcliff
09:00 EST | 14:00 UK | 15:00 CET: Estiva
10:00 EST | 15:00 UK | 16:00 CET: Darren McNally
12:00 EST | 17:00 UK | 18:00 CET: Phynn
13:00 EST | 18:00 UK | 19:00 CET: Markus Schulz (4 Hour Set)
17:00 EST | 22:00 UK | 23:00 CET: Marcus Schossow
18:00 EST | 23:00 UK | 00:00 CET: Nifra
19:00 EST | 00:00 UK | 01:00 CET: Rex Mundi
20:00 EST | 01:00 UK | 02:00 CET: Max Graham
21:00 EST | 02:00 UK | 03:00 CET: Grube & Hovsepian
23:00 EST | 04:00 UK | 05:00 CET: Arnej
00:00 EST | 05:00 UK | 96:00 CET: The Space Rockerz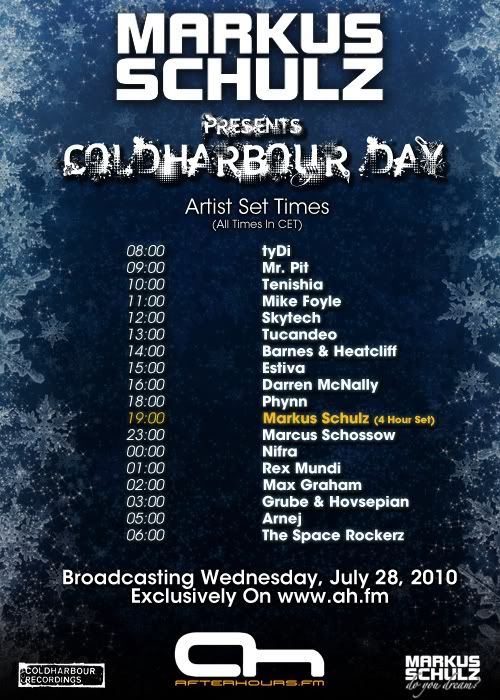 Useful Links:
http://www.markusschulz.com
http://www.facebook.com/markusschulz
http://www.twitter.com/markusschulz
http://www.ah.fm
http://www.facebook.com/afterhoursfm
http://www.twitter.com/afterhoursfm