Hey guys,
Checking in with you all again ahead of one of the biggest clubbing weekends of the entire year. Hope that you've all had a great week so far. I'm a little sore and stiff this morning thanks to picking up some sunburn yesterday; after taking some time to unwind at home, but I'll struggle on as usual! I'll have to remember that sunblock in the future…
But as promised, it's time to get you caught up on all the gigs from my Colombian tour onwards, before looking ahead to another survivial of the fittest session for yours truly over the next few days.
So we'll kick things off on the blog this week by turning the clock back three weeks. I was only a couple of days removed from the all-night solo set at Amnesia in Ibiza, and after a full day back at home (the first in a month), it was time to head back on the road again.
Carnival, Medellin – Friday August 13th
The Colombian tour started with a trip to a city I'm sure you'll all very familiar with now, after the World Tour recording from Forum nightclub last October. Every time I'm out on the road during festival season and meeting up with other DJs, I always tell them about how incredible the scene is here.
Thankfully I had some company with me on the road for this weekend, with Tim from the office travelling along. We would meet up with my good buddy Nico, you know, the one that is supposed to take care of me but ends up getting me into all sorts of trouble down in South America. It's always his fault really!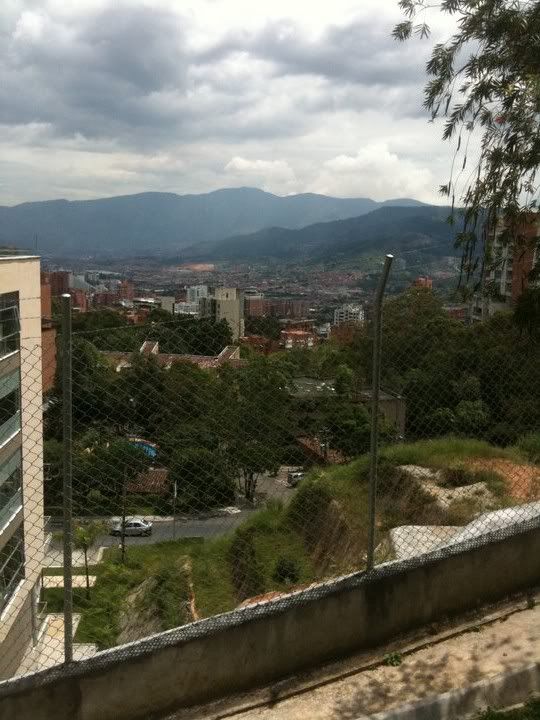 Medellin Mountains. Photo courtesy of Tim Grube
One of the very cool things about Medellin is that the airport is located way up in the mountains. It takes around an hour to drive down from the airport to the hotel, and you can't help but take in some of the spectacular views presented in front of you.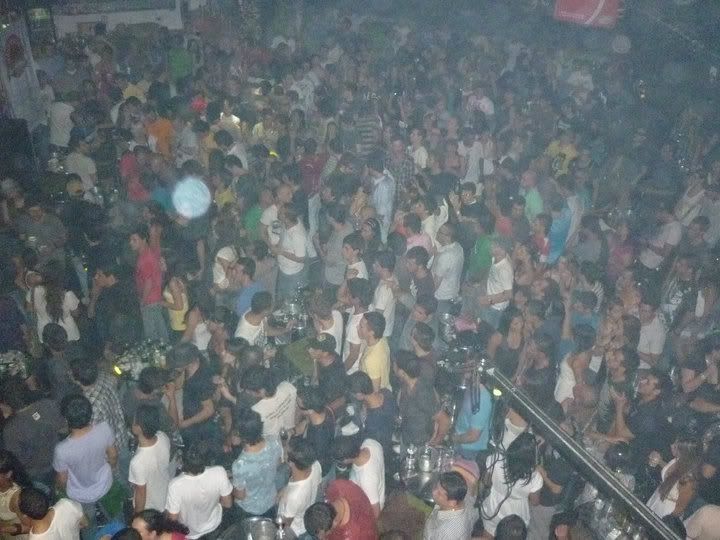 The Carnival event took place in a huge arena – definitely the biggest crowd I had played to in Medellin. Normally when playing an arena event, I'd get a little more nervous in expectation, but the clubbers in Medellin have shown they have a really good understanding of my vision and journey. And when you whip them up into a frenzy, there are very few better places to be!
Kicking things off for the night was Colombian talent Jessus. You'll be familiar with his work thanks to the slamming remix he did of "Style Fusion" late last year – a track I was very keen to place on the Las Vegas '10 compilation. It has definitely been one of the big tracks for me all year along, between playing it at Trance Energy and Bal en Blanc, to the more intimate extended sets in the clubs. He is a name I'm going to be keeping an eye out for, and he did a great job setting the scene for me to take to the decks.
Standing in the booth and looking out over the arena, you could just feel this incredible vibe in the air. The 3 hour set started off a little groovy, because that's the way the South American clubbers get into things, but I was able to build things up pretty quickly. The set itself was highlighted by Not the Same, which without doubt received the biggest reaction of the entire night. Everyone singing their hearts out to every word; an amazing sight and sound.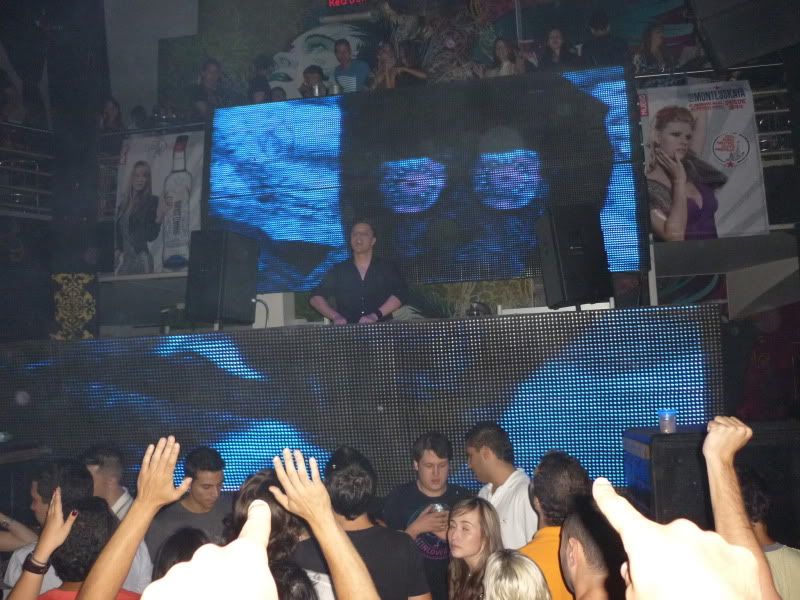 Carnival photos courtesy of Will Oliver
Once I was done, Irish supremo John O'Callaghan took to the decks to finish the night off. I really enjoy hanging out with the Medellin people, so I went down from the booth to the floor and stayed there taking pictures and chatting to / dancing with the fans for well over an hour. The night just solidified why Medellin is one of my favorite places to play. We are telling a very special story there; the people are crazy but I love them all! So thanks to everyone who came out, and let's do it all over again when I come back.
The End, Bogota – Saturday August 14th
We headed back up into the mountains to leave Medellin at around 2pm on Saturday. A little bit dizzy going up rather than down! After landing in Bogota, we headed straight for dinner a Sushi & Teryaki restaurant. Bizarrely, they were playing Turkish music, in a Japanese restaurant, in Colombia. Work that one out!
In hindsight, I was kinda glad I didn't have an early getaway from Medellin that day, because it would turn out to be a very long night and morning. A good sleep in the hotel and I was ready to go.
The venue for the night was located on the 30th floor of a building downtown, overlooking Bogota city. As you can imagine, looking out from that height was a sight to see. We got to the club at 2am and warming up for me on the night were a group of three female DJs named Female Angels; their set really impressed me – set the mood for the night absolutely perfectly. 3am and it was showtime.
I haven't played in Bogota that often so I knew a night like this would be a good experience for me. It's not like Medellin where I've played there regularly for the past couple of years and have a concrete understanding of what works and what doesn't. The place was absolutely rammed though, and I couldn't believe the noise coming from the crowd!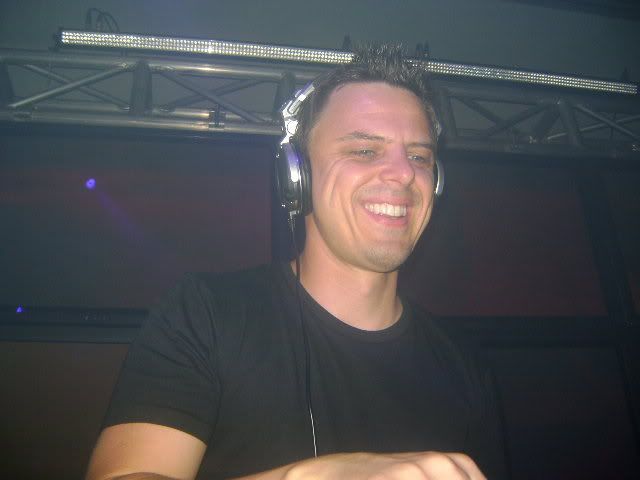 Bogota photos courtesy of Hans Gallegos
People with signs, everyone chanting and dancing their asses off, the room was bouncing. I started at 3am and wound up playing until 6:30. They all loved the tracks from the Do You Dream album. When I was done though, they just wanted to keep the party going, so we were brought to an afterparty on the same floor of the building, but in a different room. Breakfast a couple of hours later, and then an after-afterparty. My god, how on earth do I wind up being in these situations?!
You were insane Bogota… a night I was very glad to be part of. An amazing vibe, and amazing people.
Festival Black & White, Cali – Sunday August 15th
Day three of the tour, and all the shenanigans of the night and morning had left me completely dead on my feet. A couple of hours sleep just weren't enough. But I had to get my head right for the final gig of the weekend.
We took the flight from Bogota to Cali and started driving towards the hotel. It took two hours but it seemed like forever. It was a really desolate place with nothing around. Got checked into a hotel for a disco nap, and to prepare for the night… although when I woke up, I felt like I had been hit by a truck. We grabbed a bite to eat before checking out of the hotel, because this was going to be one of those nights where it was straight to the airport after a gig.
A one hour drive took us up into the mountains to the venue, which was located right beside a lake. Beautiful view. And at 3am, it was time to do my thing for three hours.
When you've been on the road and tiredness is creeping up on your so badly, you are really relying on the crowd to give you that second wind. And thankfully, they did exactly that. Sky Traffic would absolutely massive again; sent the crowd wild. We all shared a beautiful moment with Perception as the sun started coming up, and in many ways, it was fitting to end this whirlwind tour.
You can see forever, but as the gig came to an end, I could only see my bed!
I said my goodbyes to the fans, and it was straight into the car for a 2.5 hour drive to the airport. The gig finished at 6 and the flight back to Miami was at 10:15, so we didn't have a lot of time to spare, especially considering having to check in and go through security. But thankfully we made it.
We boarded the plane and I drifted off thinking about the weekend that had just passed. What an incredible country Colombia is. Every gig was memorable in their own way. I can't wait to see you all again.
Papaya Club in Zrce Beach, Croatia – Thursday August 19th
My week began (did the last one really end?) with a late night session in the Coldharbour studios. You'll hear more about what I've been doing a little later. Tuesday was another dreaded trip to the dentist, which caused me to think up every excuse in the book not to attend. They even left a message on my home number telling me I had to be there… ugh. So I went and came back with numb lips; not quite the ideal feeling when you had work to do for the rest of the day!
But on Wednesday, I was out the door again for a short trip across Europe, playing in Croatia for the very first time.
I left Miami in the afternoon and flew to Frankfurt, and put together Global DJ Broadcast for that week on the plane. During my layover there on Thursday morning, I was able to upload it for the radio stations to air. Then it was on to Split in Croatia for the big night ahead.
The Papaya club is located on Zrce Beach, and they run a series of massive parties spanning the entire summer, with every big DJ booked to play there once. So this would be my turn to do my thing, aided with the assistance of Jerome Isma-Ae. A lovely dinner set the tone for the evening. Jerome would play from Midnight for two hours, and then I would take over until the sunrise, and possibly even longer.
Jerome set things up perfectly in his deep and dark style. I enjoy watching him grow and develop when we're playing on the same night together. He has a sound going right now that fits so well, and a lot of it is good fuel for me in the early parts of my extended sets.
I kicked things off in the night sky with Forget About Us. Despite me having it for over a year now, it is one of those tracks that people just go crazy about anytime they hear it, no matter how often they hear it. I guess that's the beauty about determining a track's longevity – how people still love hearing it live a year on, and remains that freshness.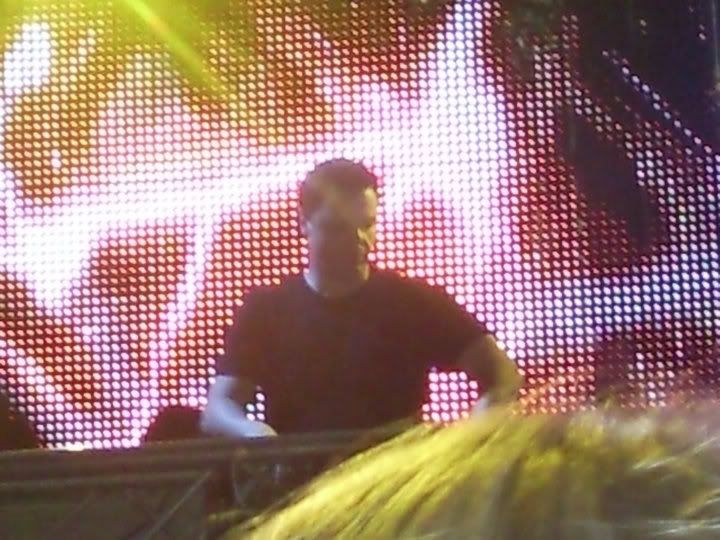 The set had a similar vibe to the World Tour episode you heard from Budapest a few weeks ago. The set structure for a sunrise set is much different than a regular club or festival one – you're effectively going backwards sometimes; starting off with lots of energy, then going deeper and funkier in the middle, before the melodic finish as the sun comes up.
One of the highlights of the set once again was Phynn's remix of Language. People just love the drive and energy in his sound. As the final hour approached, I started playing some really deep and dark stuff; tracks like Pollinator which have such a delicious momentum in them. And with the sun starting to creep through, I brought in Flesh and Breathing for the big finish.
Papaya photos courtesy of Facebook user TranceBay
You can just imagine the scene hearing those tracks with thousands of people on the beach, seeing the ocean beginning to turn blue with the sun rising. And when you're ending your nights work, there are very few more fitting and heart-tingling scenes than watching the sunrise. It inspires all of us.
An incredible party; and I will definitely come back. I know it's going to be a highlight of many DJs' summer this year. Meeting the fans afterwards was a real joy, because their enthusiasm shone through to me. Thank you Croatia for your warm welcome and hospitality, you guys rocked!
I left Croatia on Friday afternoon and overnighted in London. It was strange being there with no gig to play. I was very tempted to show up at Ministry of Sound and tell them I thought I was playing that night instead of the following Friday for a bit of fun mischief, but with an early flight to catch, I decided to be sensible and catch up on emails back in the hotel. Back home to Miami on an almost empty plane, and went out for some fun on Saturday night. I even took some of my music with me!
The Gallery at Ministry of Sound, London – Friday August 27th
A few days in Miami to recharge the batteries after all the travelling, and it was time to get back to work in the studio.
Over the past few weeks, I've been trying to wrap my mind grapes around a remix I have been assigned to do. But for some reason, I have been struggling. It's not like the inspiration hasn't been there, but I've found translating my thoughts into action very difficult.
There was a thunderstorm during the week which fried out the computer monitors in the studio, so we had to replace those with some new big babies. Wednesday was incredibly frustrating though with my ears completely fatigued. On Thursday morning though, I reconnected my old NS-10 speakers and that helped. With the weekend approaching, I had the perfect gig to roadtest my work progress.
I was very excited to be back at my residency in London again. It would be the first night I played there since the epic 7 hour marathon back in June. And one of the aspects of the residency that I love the most is that it allows me to experiment and roadtest tracks in my sets before anywhere else.
So with the weather looking a bit gloomy, I spent the day in the hotel preparing my set for the night. A big holiday weekend in the UK was about to begin.
I left the hotel just after midnight to make my way to MOS, and was greeted with lots of familiar faces. They are family now I see them so often. Gareth Emery was backstage hanging out on a night off for him. Resident Gavyn Mytchel got the night off to a good start, and at 1:30, I took over for three hours.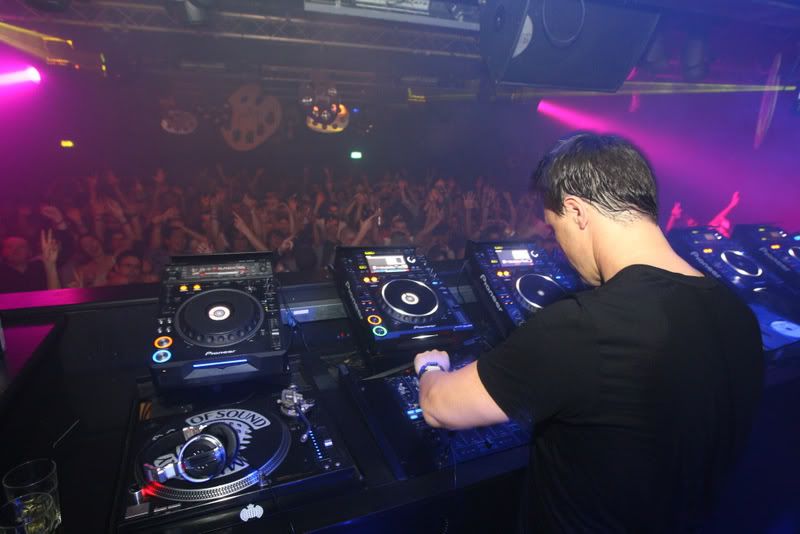 The set started off quite deep, and even included a brand new remix of Surreal that I'm testing out over the past few weeks. The momentum began to build with that pesky ID from the World Tour New York set that you all love, and then transitioned into the now residency anthem, 65.4Hz.
And then it was time… time to debut my work in progress. Time almost stood still as I surveyed the reactions of the crowd. Much to my relief and delight, it got the biggest reaction of the entire night! Proof, if any, that no matter what you do, persistence pays off. Always keep saying that to yourself if you're struggling with something, because if you try hard enough, it will pay off in the end.
With that track out of the way, it was time to let loose and have some fun with the remainder of my set. It was a party atmosphere in the box so I hit them with plenty of bangers. Both Rain and Not the Same got some great reactions.
MOS Photos courtesy of The Gallery
At 4:30 I was done. I hung out backstage for a bit after the set and went back to the hotel content that it was another great residency night at Ministry. And most of all, pleased that the remix got the reaction that it did.
It was great seeing all of the usual faces there again, thank you guys for coming out and supporting me like you always do. We'll do it all over again in a couple of months.
Godskitchen at Air, Birmingham – Saturday August 28th
What a welcome change to have a gig on a Saturday night, and not have to negotiate my way through an airport or sit on a plane! My day started with some lunch, and I took the train up from London to Birmingham for Godskitchen's bank holiday party.
I had a lovely dinner with Guido from David Lewis Productions, and we went to the club together. When we arrived, Nic Chagall from Cosmic Gate was flying solo for the night and had the club rocking. And would you believe, I met a girl there who had gotten a tattoo of the Do You Dream album logo!
With it being a big weekend in the UK and two huge festivals in the form of SouthWestFour and Creamfields taking place in the country, I was a ltitle worried that the night might have been a little flat. But there was a healthy size of crowd ready for some Coldharbour action, and I took over from Nic at 1am to play for 90 minutes.
I have had many great memories playing at Air over the years. Between a Global DJ Broadcast episode recorded live from there in 2005, to the ASOT 400 night in April last year, and the World Tour recording for the 10th birthday party in September, it has always been a series of one memorable night after another. I guess you could call it my second English home after MOS in London, not only with the club nights at Air, but because of my participation in many of the Global Gathering events worldwide.
And this was another fun night with a really good atmosphere. The set was a bit of a love them and leave them, with plenty of big room tunes thrown in. After finishing, Fila from Egyptian duo Aly & Fila took up and kept the energy levels going. I made my way upstairs and caught up with my friends that I hadn't seen in a while.
Photo courtesy of Hayley Woodward
All in all, a good night's work, and added to MOS the night before, it was a weekend I enjoyed. I took the train back to London and stayed there on Sunday and Monday night (with a photoshoot on Monday afternoon), with most of my time dedicated to preparing for Tuesday.
Armin vs. Markus at Amnesia, Ibiza – Tuesday August 31st
The annual Armin and Markus back to back session inside the world famous Amnesia nightclub had finally arrived. The idea of the concept wasn't really planned at all – it was more a case of being caught up in the moment of a night, with two friends just having fun. With it being the height of the summer and our schedules taking each other all over the place, the night was very much going to be based on improvisation. But sometimes, it's even more exciting that way.
I had a delay of over an hour flying into Ibiza on Tuesday. Only time for a disco nap rather than a substantial one. Then I got up and started preparing my solo portion of the night. The plan was that I would open up the night and play for 2.5 hours, then Armin would take over solo for 2.5 hours, and we'd wrap up with an hour performing together.
With me effectively being the opener for the night, I had to start a little deeper at 12:30. The original mix of Sin City even got an outing, which was a nice surprise for everyone there. I don't think I had played it in ages! Then we took things up a notch with the infectious Reach Out by Sander van Doorn… the track that makes me bust some DJ booth moves like no other, as many of you have seen!
The atmosphere inside the club was really electric at this point, so I decided to hit them with some brand new remixes of tracks from the Do You Dream album, which you'll be hearing on the World Tour episodes in the coming months. I've only recently received them so they are in the roadtest stage at the moment, but I was really pleased with the reactions some of them received in particular.
My portion of the set wrapped up with the massive Oyster, remixed by the hottest producer of the summer, Michael Woods. He has been on fire recently, and you can tell I've been digging his stuff so much that his name is heavily appearing on GDJB playlists over the past number of weeks. That set the scene perfectly for Armin to take over, and I retreated backstage for a breather before getting ready for the final dance.
Armin played a great set on the night too. A lot of the big room tracks from his Mirage album rocked the crowd. And at 5:30 in the morning, we were united in the booth for the final part of the night. Big anthems from this year to yesteryear, and the crowd gave the biggest response to any of our back 2 back sessions to date. It was one of those nights where you wished it didn't have to end.
But end it did, and we had to say our goodbyes. I won't see Armin again until Amsterdam Dance Event in October, so I wished him luck with his album release party at Amnesia in two weeks and with all the touring, and he did likewise. I was straight off to the airport and back home to Miami via Madrid, with another episode of Global DJ Broadcast to take care of on the way.
Thankfully though, I won't have to wait so long until being back at Amnesia