Hey guys,
Hope you are all doing well and had a nice weekend. This week I am staying at my place in Berlin, trying to get back into a proper routine now that the midweek gigs and the Ibiza season has now finished for the summer.
I know that I haven't done a written blog this month yet, so over the past couple of days I have been gathering my thoughts, and I will attempt to recap my activities on the road over the past few weeks. So let's turn the clock back to the first weekend of September, which in North America, means Labor Day weekend.
Missing Miami
At the beginning of the month, I was originally due to have a homecoming gig at Space in Miami on the Saturday of Labor Day weekend. And unfortunately, while I was still in Phoenix after playing a midweek gig there, my booking agency informed me that my performance had been cancelled. Even now, I still don't have a clear understanding of what happened, but I do know how disappointed all of you are.
I really hope that I can play for my hometown peeps in Miami again real soon. I miss you guys. As a result of the gig being cancelled, I flew into New York a day early to prepare for another double-duty day, at venues some 2,000 miles apart.
Labor Day Weekend Sunday Part 1 – New York
One of the big holiday weekends in North America had arrived, and Labor Day Weekend in particular has always been one of the marquee showcases of events on offer to the clubbers.
When I found out earlier this year that there was a full EDM festival happening in New York City, I felt so happy. For so long, the summer festival season has been pretty much confined exclusively to Europe, and I have always felt sorry that people in America have never really had the opportunity to have their own equivalent of a Global Gathering or a Creamfields. But the Made Event guys worked so hard in putting an event of this magnitude together, and I think it's something that we can all be proud of. I hope that this is just the beginning, and we will see more American festivals throughout the summer months.
Today was one of those days where time was of the essence, so I had to be as organised as possible. After I was finished my set at Electric Zoo, I was leaving New York right away to catch a flight to Las Vegas, for my second gig later that evening. So as a result, I had everything packed and checked out of my hotel before heading down to Randall's Island Park.
After getting settled in, I met up with the Sirius XM guys who were covering the event live for their Area station all weekend long. We did an interview together and had a good laugh as usual. They have been very supportive of me this year by taking on Global DJ Broadcast and giving lots of airplay recently to Do You Dream. In the back of my mind though, I had to make sure my performance was better than usual, not just because the New York crowd expect and deserve the best, but because I knew it was going out live to a worldwide listening audience.
And it was this factor which made the first 10-15 minutes of my set even more embarrassing. When I started the set, there was something wrong with one of the CD players, because the sound was only coming out of one channel. I tried switching the mixer into mono so that the sound would at least come out through both sides. Then the sound guy came on stage and was trying to figure out which channel wasn't working. I started to panic and pleaded with him not to touch it, because I was dreading the thought of the wrong wire being pulled and the place turning to absolute silence.
Unfortunately, technical problems are part and parcel of this job. You could go for months where everything runs smoothly and perfectly, or you could get a series of gigs where nothing seems to go right. This situation was worse because of the fact it was going out live on radio. Eventually, we got the problem sorted by replacing the faulty CD player; I think one of the jacks were messed up. Once I got into the swing of things, then I could enjoy taking the NY crowd on a brief journey.
Despite the technical problems, I had a fun time performing at this festival. I have said a number of times in the blogs already about how incredible the New York support is, and I was grateful for their appreciation and patience on that Sunday.
I don't think we can underestimate how important this event was for the American scene. So a big shout out to the Made Event guys for making this event such a success. New York deserves its own festival, and I hope that I can be part of it next year.
Labor Day Weekend Sunday Part 2 – Las Vegas
After a brief interaction with the fans at Electric Zoo, I had to grab my things and make a mad dash to JFK airport. This was going to be a very long day and night, especially when you factor in the time difference between NY and Vegas, meaning that my Sunday was 27 hours long. Luckily, I wasn't the only one doing this crazy double duty, as Steve Angello was playing at both events also.
We were afforded the luxury of a very empty plane for our flight. It was great, because it meant that we could stretch out and try to rest as comfortably as possible. Steve had the right idea – he fell asleep before the attendants even started the safety demo.
When I landed in Vegas, I dropped off my stuff at the hotel and headed straight to The Palms. This event carried extra significance for me, because I was being assisted with a very special live performer during my set – Miss Rubberdoll.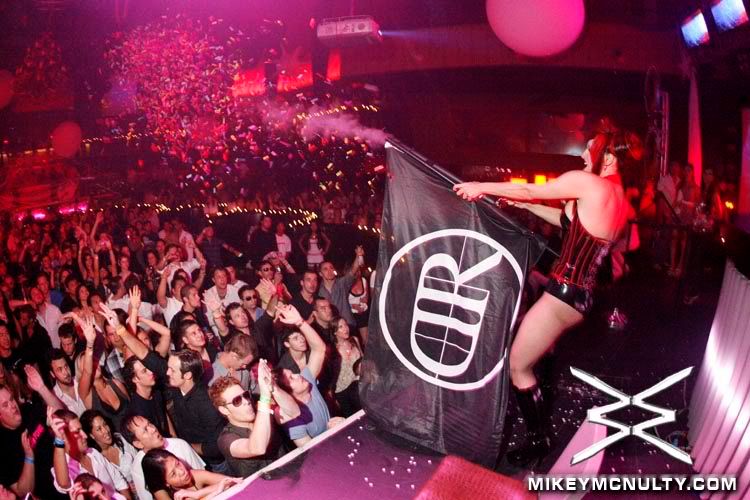 I think the crowd were really surprised with her role. They loved seeing her dance and shooting confetti out of cannons. It really added to the vibe of the night. They were having their own mini-festival of sorts in Vegas that stretched over 4 days, and I was closing the proceedings for them. I only played for 2 hours but it felt like time flew by.
For a full photo gallery of the night, please go to http://www.mikeymcnulty.com
Vegas was a blast once again, especially on a holiday weekend where so many people descend for a party. The Palms people are an absolute pleasure to work with, and I'm really looking forward to doing more things with them in 2010. But they won't have to wait too long to see me there again, as I'll be playing at The Palms again on November 21st.
I spent an extra day in Vegas unwinding, so I gave myself a bit of a lie in, then got up and did some shopping, before catching a flight back home to Miami via Houston on Monday evening. I watched a couple of episodes of Entourage along the way. When we were boarding in Houston, I accidently whacked a lady in the face with the strap of my backpack, and would you believe that lady was actress Judy Reyes, who played Carla in the TV show Scrubs. I felt bad after it happened, but she was very nice about it all.
El Paso and Washington DC
I had a couple of days at home in the Miami studios. Did some production work and took care of Global DJ Broadcast, but my main focus was preparing my sets for the week ahead, which would take in El Paso, Washington DC, and rounding off with the big night in Ibiza.
On Thursday night I took a few hours off to go to the theatre, and rounded off the night with some drinks and a few games of pool.
As Friday morning arrived, I was on the road again for a couple of more gigs. The first was taking place in El Paso. I was really glad to have the opportunity to play here, because I had a gig in April that was cancelled, and that left a lot of dedicated fans who live in the area very disappointed. So with this in mind, I wanted to make up for lost time and give them a great night to remember. It was also a great opportunity to enjoy some excellent Mexican food.
The club was small but really packed, and the crowd was enthusiastic! I really appreciated everyone there making me feel so welcome. I had a wonderful time and I hope that this night made up for the cancellation in April.
Saturday was a return to Washington DC, to play for one of my favorite promoters and brands, Club Glow. The guys have always taken care of me and I have a special relationship with the fans there. I had no nerves going in to Saturday night at all, because I knew exactly what to expect, just a flat-out great party and vibe. And that is exactly how it panned out. My only regret was that I couldn't stay in DC for longer, to hang out with the promoters a bit more. But, I had a flight to catch, and for the final time this summer, I was off to Ibiza.
The Final Chapter of Amnesia 2009 – Tuesday September 15th
As the old saying goes, all good things must come to an end.
This past Tuesday, we brought the curtain down on Armada's summer activities at the world famous Amnesia. Growing up and hearing all the stories about the magic of the island, and particularly the nights that have taken place in that club always make me feel honored to play at the venue each year. But Tuesday was different.
It was my first opportunity to play an Amnesia night from open to close, and I felt a little nervous thinking about it. The stretch of closing parties in September is always one of the major attractions for clubbers from all over the world to experience Ibiza.
Having read the Facebook and MySpace messages for weeks beforehand, I know that a lot of you guys really wanted me to record the set so that you could all relive how the night panned out. So I took my laptop and recording equipment with me to the club, got setup, and the crowd began to make there way inside.
What followed was a journey that lasted over 6 hours, and resulted in the absolute perfect way to end my Ibiza season. I met people who travelled to Ibiza for this night as far away as Los Angeles and Sydney. It was a celebration of all the big tunes that I have loved so much all summer, and definitely a night I am going to look back on for a long time and be very proud of.
I would like to give a shout out to the Afterhours FM staff; because they were so great in clearing their schedules on Monday to air the set in its entirety. It was a very fun way to close out the summer; and to allow you guys the opportunity to share in my experience of that particular night. The Afterhours crew have given amazing support to me over the past couple of months