What's up guys,
Greetings to you all again from somewhere high above the Atlantic. I'm sure that opening line sounds familiar to you by now! I hope you've all had a great couple of weeks since last checking in. Back out on the road again this weekend with a few stops in Europe, taking in the next World Tour recording and the final visit to Ibiza in 2010.
But for this blog, I'm going to take you back to another one of those crazy tour weekends involving multiple gigs in such a short space of time. And time really was the key commodity, on one of the biggest sets of parties across North America all year – Labor Day weekend.
Parliament Ultra Club, Ottawa – Friday September 3rd
As I had mentioned in the last blog, I only had a full day at home to catch up on some studio work before setting out on the road again. It was going to be another one of those weekends where you had to pace yourself properly, and hope that travel disruptions were at a bare minimum.
I think you can guess what happened!
Tim was travelling with me for the weekend, so our first flight was to Montreal, for what was supposed to be a layover, then a quick 35 minute flight to Ottawa. But when we landed at the airport, the craziness started. Delay after delay, and it eventually got to the stage where we had to make alternative arrangements to get to Ottawa by car, which would take 2 hours. As you can imagine, not an ideal start to this hectic weekend… how we all love the joys of air travel!
Thankfully though, after appearing to be lost, we got to Ottawa just in time. I dropped my bags off at the hotel and headed straight to the club, where local DJ (and a name you may have seen on a couple of GDJB playlists) Mike Emvee was warming up the night nicely. Although I think "warm" might have been the operative word.
After an interview, it was time to take to the stage for a couple of hours. The nicest part about this gig was that not only did you have the locals from Ottawa coming out to support; there were also groups of people who travelled from Toronto and Montreal to add to the atmosphere even more.
It was incredibly hot on stage though, which left my t-shirt drenched after bouncing around on stage for a couple of hours. But overall it was an enjoyable evening. Most of the crowd were treating this as their warmup for Labour of Love a couple of days later, so everyone was in a really good party mood.
So when the set was done and I tried to dry myself off a bit, I took care of another interview and did the usual greet with the fans, and thanked them all for coming out. Then it was straight back to the hotel for a shower, and off to the airport as Friday quickly became Saturday.
Electric Zoo Festival, New York City – Saturday September 4th
The flight left Ottawa at 6:30am and only took an hour, so it wasn't really ideal for some shuteye. Obviously the reports of Hurricane Earl that were dominating the days before were at the forefront of my mind, because we all hope for good weather conditions at a festival. Much to my surprise and delight, it was a beautiful morning in the Big Apple, with barely a cloud in the sky. After picking up the bags, we went to the hotel. Checked in, slept, showered and checked out only two hours later. Yeah, one of those days already!
I was really excited about playing at the festival this year. The people and the city of New York are a huge inspiration and influence to me. You may have noticed in the past that if I have a gig in the city at a weekend, I try to come up a day or two later just to chill and take in all the sights and sounds. And my nights playing extended sets for Pacha in recent years have always turned out to be annual highlights.
New York is such an important market for dance music, but for years and years the one thing that was missing from its repertoire was a big festival. Other than the Ultra Music Festival in Miami during Winter Music Conference week, the US east coast hasn't had a topline festival with all the major acts performing in the one spot over a day or two days. So when the news developed that Made Event were putting together the concept of the Electric Zoo Festival, I was only delighted to hear it.
We got to Randall's Island Park at around noon, and had some lunch right away. First on the agenda were interviews for my friends at Club Glow in Washington DC, and then with Austin and Geronimo at Sirius XM, who were broadcasting the event live all weekend long. These guys have been so good to me with all the support they have given to my music and Global DJ Broadcast over the past couple of years, so it was great to hang out and chat with them for a bit live on air.
Time was marching on and we retreated to a cabin they had backstage for the DJs to hang out before and after their sets. I hadn't even gotten the chance to put the CDs back in my folder from the gig in Ottawa, so that had to be done, although most of my preparation for EZ had been done beforehand. 1:50pm was almost near and I was searching for my second wind to kick in, but I knew that when I got out there and looked at the crowd, it would be easy to find.
Gareth Emery had the energy going really early in the day, so it was a case of me taking over and cranking things up even further. I had my festival weapons ready, with some of the biggest tunes in my livesets over the past month, coupled with a few secrets that were going to be debuted to the crowd; and on the radio too.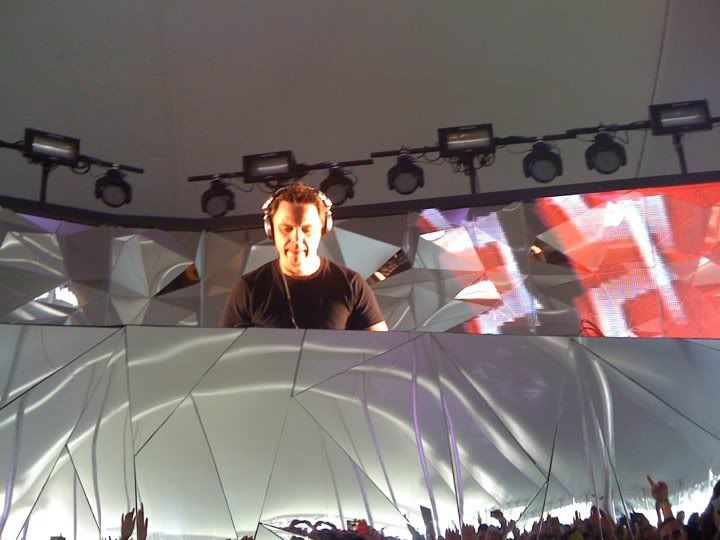 When I looked out on the crowd I just couldn't help but smile. Every face in the first few rows was a familiar one. It made me appreciate the bond I have with the people in this city here and the story we are developing. So right there and then, I figured that I owe everyone my best efforts for 80 short minutes.
And they absolutely loved it from the very first moment. I looked out and saw a sea of people from the front to the very back, with not an empty spot. I started with one of my tried and trusted festival openers, the massive Oyster remixed by man of the summer Michael Woods. Then the next track is one of those IDs that you love. It's a little early to say anything about it yet, but it's one of the things I've been working hard in the studio to get right over the past few weeks. So if you happen to hear it out in the clubs this next while when you see me, you'll know that you heard it first during Electric Zoo.
One of the best moments of the set was debuting some of the new remixes of my own tracks. If you listened to Global DJ Broadcast this week, you'll know that I got Rain remixed by one of our Coldharbour heroes in recent times, the amazing Dutchman Phynn. Very shortly after I had finished the original, I had a fair idea that he would be perfect to take that lead and melody and blow up the power even more. So that got a huge reaction. And then the even bigger surprise to everyone there was a brand new remix of Not the Same; which got everyone singing along right away. It was a real goosebumps moment.
The only downside to the festival was the short set time, and it wasn't easy to cram everything in without making it sound hasty or messy. But I came off the stage really happy with how the set went, and it meant even more to me personally to be doing it for the NY audience.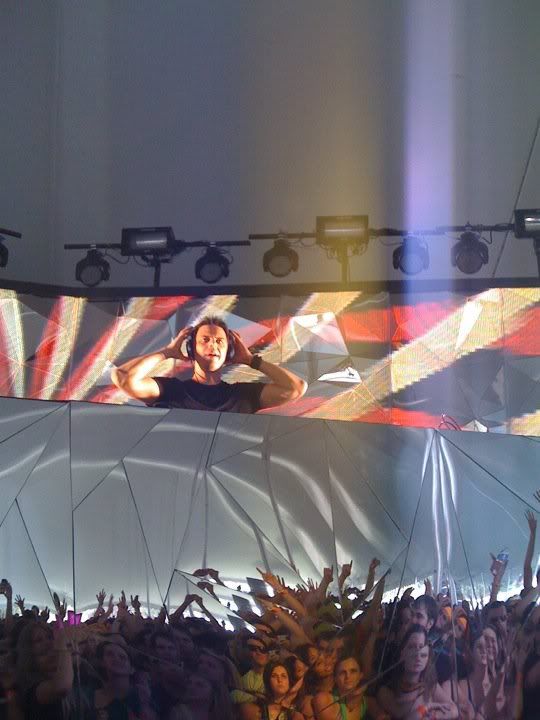 Electric Zoo photos courtesy of Holly Gallager
I know it was really early for you guys to come out and see me perform on the day, but I'm hugely grateful to all of you who did. Who knew that us nocturnal creatures could have so much fun and create such an atmosphere in the middle of the afternoon! When I was done I had to go to a signing booth that Ultra Records had setup for some of their artists, and I did a meet & greet session there for around half an hour. Then it was time to say goodbye and head to the airport.
But a huge thanks to the guys at Sirius XM for broadcasting the event, and to Made Event for putting in so much effort to make the festival a success. I read during the week that there were over 50,000 people who attended the festival this year, which is such great news. I'm very proud to have been part of the festival for the past couple of years, and I really hope that we can all work together to make this one of the premier festivals anywhere in the world. New York deserves an event like this, and it's getting better and better.
And most of all, a big shoutout to all of you guys who came to support! I'll see you all in the Big Apple again soon.
Rain at The Palms, Las Vegas – Saturday September 4th
It was a case of history repeating itself, because last year I headed straight from Electric Zoo in New York for a flight to Las Vegas, to play at Rain later that night. And like last year, it was an empty flight. Nothing like the luxury of stretching out on the plane!
As you can probably guess though, I was beat, and the priority of the near six hour flight was to get plenty of rest. When you get to Vegas, sleep isn't really much of an option.
After landing in Vegas we got checked into The Palms hotel, and headed straight to the top for a bite to eat at Nova restaurant. I managed to get a quick nap in, before getting organised and preparing for the third gig in the span of 24 hours. But it was one I was really looking forward to, particularly as I'd be playing alongside a man that we all consider to be the godfather of trance, Mr. Paul Oakenfold.
Paul is someone that I have admired for many years. He is the kind of person that when he speaks to you or wants to make a comment, you listen to every word of it carefully. I remember being on tour with him last year for the Future Music Festival in Australia, and I learned a lot from talking to him regularly. He has seen and done it all in this industry, and one of the most important things that he said to me is that you have to make sure you have a presence everywhere – on radio, in the clubs, online, in productions, and DJ sets.
Back in the early 90s, Paul was touring regularly with U2. And there is no doubt he must have learned so much from them. Think about how U2 have remained as one of the leading names in music for almost 30 years – it's a combination of their music being so good and their brand being so strong and recognisable. So Paul learned from that and was able to reach the heights that DJs had never reached before. He paved the way for all of us really.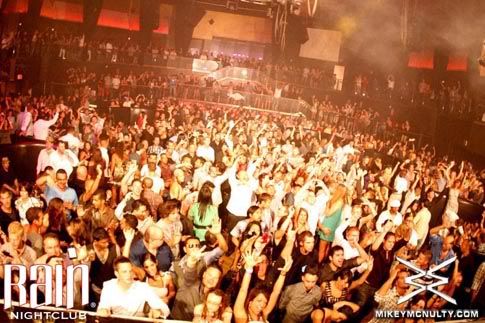 So the long night of mischief began as we headed to Rain. Champagne was flowing and everyone was in really good spirits. Paul went and did his thing and then I took over for the final couple of hours to bring the night to an end.
I dedicated Rain on the Do You Dream album to the club and scene in Las Vegas, so it's always my anthem when I play there now. You guys already know about Phynn's remix, but what you may not know is that I also recruited the Space Rockerz for duty. They've had a real breakout year too, with Weather the Storm becoming one of the undoubted GDJB anthems of 2010. And the even nicer thing was that they were in attendance at Rain that night.
Rain photos courtesy of Mikey McNulty Photography. For a full gallery of the night, please Click Here
So I thought to myself, why not give everyone a surprise and debut the Space Rockerz remix of Rain, in Rain, with them there. And it went down quite a treat.
The rest of the night is a bit of a blur, probably down to the sheer tiredness of what had taken place all day. I think this t-shirt I'm modelling shows what a typical Vegas experience is like, and most of you will get the movie reference right away!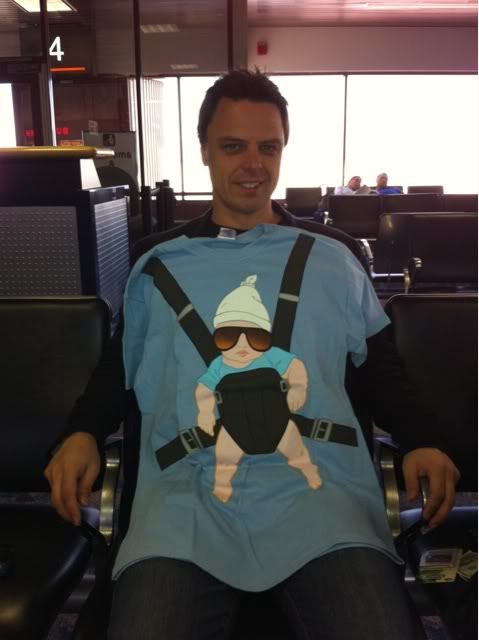 So it was time to leave Las Vegas, and head back east and north, with a huge gig waiting on the other side. Funnily enough, John O'Callaghan was flying in to Vegas just as we left, so we had a quick catchup before going our separate ways.
Labour of Love, Toronto (GDJB World Tour Recording) – Sunday September 5th
Add a near five hour flight and three hours of time difference, and it was well after 7pm Eastern when I landed in Toronto. Our first call of duty was to head straight to the Koolhaus and do the customary soundcheck & recording setup for a World Tour show.
We went back to the hotel. I was completely beat and wanted to be in the right frame of mind for such an important set later, so I headed off to bed. Tim stayed up and arranged to meet with that crazy Toronto native we love called Arnej. A couple of hours later, they picked me up to the hotel and we all travelled together to the Guvernment complex, and arrived at around 1:30am.
I wasn't due to go on for an hour so we headed to the back room, where we found such luminaries as Glenn Morrison hanging out, as well as a rare appearance from Mr. Tranceaddict himself, Swamper. We had some fun chatting and catching up, but I was keeping my focus firmly on the next few hours, because not only was it a World Tour recording, but because of the significance of playing this event and venue.
Much like New York, Toronto feels like a home away from home for me. The people there are so gracious and hospitable, and it feels like seeing one big giant family.
Just before 2:30am I went up to the Koolhaus and greeted the guys from Above & Beyond, who were finishing off. It felt so good to be back in that booth again. It gives me so much inspiration that it feels like a bolt of electricity running right through you. I knew that the first two tracks were going to set the tone for the night.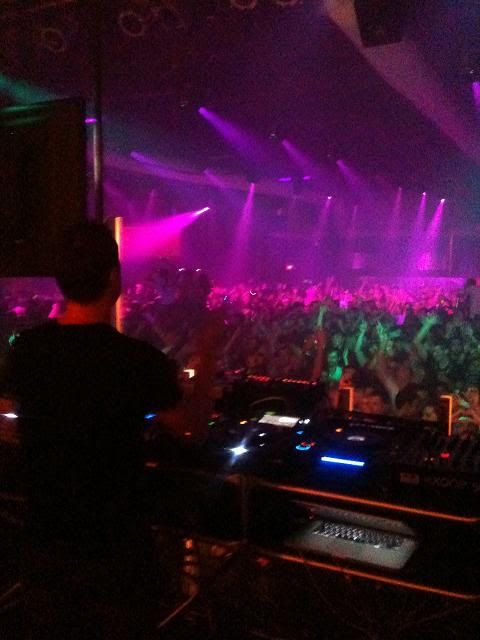 The next two hours are exactly what you heard on last week's Global DJ Broadcast. One of the things I had worked on ahead of the weekend, but deliberately held back until this night, was a special intro / mashup using Perception and Tomcraft & Jerome Isma-Ae's track, Trouble in the Redlight District. It nearly took the roof off! And up next was my special moment, the one I had been looking forward to the most – playing the Dakota track Koolhaus, in the Koolhaus. It finally happened!
Of course for all of you who listened to the broadcast, the big feature was the revealing of a new track by yours truly, made specifically for this year's Transmission event in Prague. I have been roadtesting it for a couple of months ago, and you would have heard it debuted on radio in the previous World Tour from Budapest. A lot of the Toronto peeps seemed to have caught wind that this might have been something made by me, and they let their feelings known when they heard it coming through the speakers.
As each track passed in the set, the more and more special this night felt. And it showed that Toronto never ceases to amaze me with all the love I receive. I had to consciously take things down a notch towards the end, out of respect for John Digweed (who was following me afterwards), but still wanted to go out with a big finish. So the original of Perception did the trick for me.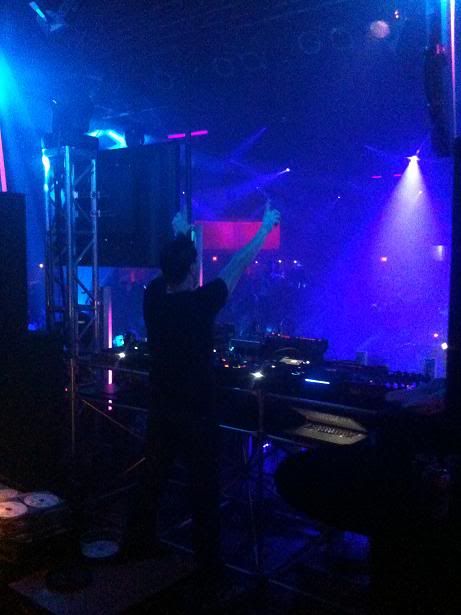 Labour of Love photos courtesy of Tim Grube
And that was it… a long overdue experience in the Koolhaus, and I loved every minute of it. I felt a great sense of pride and felt like we had achieved something with the recording, and hopefully you guys at home enjoyed it too. I was very tired, so I said my goodbyes and went back to the hotel for some sleep. Had to be sensible… because the next flight was only a few hours away.
But a big thank you as always to the Toronto natives for all your support. I can't wait to come back to the Guvernment again, and hopefully I'll get to grace the Koolhaus soon again.
Amnesia, Ibiza – Tuesday September 7th
Monday morning and I was off to Toronto via New York. I parted ways with Tim, who was on his way back to Miami.
Funny story about the flight from Toronto to New York – all of the crew were from Santiago in Chile, where I'm due to be playing in a couple of weeks' time. They recognised me and all said how excited they were to see me play, which in turn got me excited about coming! So that's one that I'll be looking forward to further down the line.
When I landed in New York I was tired; and a little bored as well. Unfortunately, I was reliably informed by one of the guys on Twitter that I was in one of the terminals at JFK that didn't even have a Starbucks. Boo to that!
I took the redeye from New York to Madrid, and then hopped on the short flight to Ibiza, for my penultimate appearance on the island this summer. Agenda for the daytime – sleep, sleep, sleep. Some strong coffee was required to get me back up to speed, and I started preparing for the big night at Amnesia. Made some edits, burned CDs, and performed the mandatory sniff test on my clothes to determine what was the best thing to wear to the club.
Shortly after 1am and I was out the door and ready to rock. Jerome Isma-Ae was up first on the night, and he got the crowd going very well. A brief interview with the radio crew behind Amnesia, and it was time to take to the decks for a few hours. I played a similar set to what you would have heard at Electric Zoo and Labour of Love, because I felt the flow of those went really well and it made for a good story to tell.
Sander van Doorn took over afterwards to close out the night, and I retreated back to the hotel to pack my things for the flight back home. Although when I got to the hotel, I was greeted by none other than the legendary Frankie Knuckles in the lobby. We had a chat for a couple of hours, before I had to leave for my flight back to Madrid. It's going to be hard to say goodbye to Amnesia and that magical island this Tuesday. Another summer that will be confined to memories…
I do have a little something for you that will allow us to remember the summer of 2010 from Ibiza.
Amnesia Solo Set Broadcast – Coming Next Week
Back in August when I performed my second ever all-night solo set in Ibiza, I managed to record it. It has taken me a few weeks to get the recording sorted out due to being so busy on the road and in the studio, but the time is right for me to present to you all my solo set experience from Ibiza this summer.
I'm always grateful to you guys for your support, especially during the summer when the tour schedule and travelling can be absolutely brutal at times. So this is one of my ways of giving back as a thank you. It's amazing how often people send me messages asking why I can't make the GDJB World Tour episodes longer than two hours. Well, with this set, you're going to hear the journey from the very first beat to the last. It will be a chance for you to experience who I truly am musically.
The set will be broadcast on Afterhours FM this coming Monday, beginning at 12pm Eastern | 5pm UK | 6pm Central European Time. And for those of you in North America, you will also have the opportunity to catch the set on Sirius XM's Electric Area over the next couple of weekends. Make sure you check out my forums, and the crew there will provide you with all the info you need to know on how to be part of this broadcast.
So cancel all your plans on Monday, as we have a little listening party together.
Coming Up – Milan, Bucharest and Ibiza Closing Party
Last weekend was a rare weekend off the road for me, and I took advantage of it by letting my hair down and just generally chilling out. Although it was back to business on Tuesday to begin preparations for this weekend ahead.
By the time you read this, I'll be getting ready to play at another Amnesia nightclub; but this time in beautiful Milan. This will be a new experience for me, so I'm really looking forward to what's in store.
Saturday takes me to Romania, and to the city chosen for the next GDJB World Tour recording, Bucharest. I think this will be the first time I'll have played at a club in Bucharest for over five years, so I'm well overdue an appearance here. And the people in the city have let me know far in advance how much they are looking forward to this night. So I'm hoping they are as loud as can be and you guys can hear what they sound like live.
Tuesday will be my swansong for Ibiza 2010, with the Armada Closing Party at Amnesia. I'm going to prepare a few special things specifically for that set. Then it'll be back to Miami for another full day, and off to Charlotte next Friday for a special three hour set at the Forum. Really looking forward to seeing my peeps there. And next Saturday is a big one – heading out west to Los Angeles, to perform at the Nocturnal Festival in nearby San Bernardino.
So that gets you guys brought up to speed with everything. Many thanks for reading again. I'll check in with you all in a couple of weeks, where I'll be starting my South American tour in Chile. I hope to see that flight crew there!
But until then, I hope you all have a great weekend. See you in Milan and Bucharest, and see everyone this Monday for our special Amnesia Solo Set broadcast.
With love,
Markus