What's up guys,
Hello to you all once again ahead of another residency night for The Gallery at Ministry of Sound here in London. I hope that you are all doing well. It has been a little while since I last checked in with you guys, so I have to apologise for that.
For this blog, I'm going to get you caught up on all of my gigs between Milan and the Brazilian tour, and I'll let you know about a little bit of studio work too. I've just finished my contribution to this year's Amsterdam Dance Event, and have a massive two nights ahead in London and Kiev, so I'll do a little preview of that for you before wrapping up.
So let's swing back to five weeks ago, where I was looking forward to a big weekend which included a World Tour recording.
Amnesia, Milan and Studio Martin, Bucharest – September 17th-18th
After a weekend off at home I was back out on the road again, and if I'm being honest, I was feeling a bit nervous. It's funny… you get into such a routine during the summer where you're playing 3-4 gigs a week, and suddenly when you get a short break from it, you feel like you haven't spun in ages. So it was time to focus and get back into the groove.
First up was a trip to beautiful Milan on Friday. A new city on my personal tour map, and one that was overdue since my previous appearance there in March had been cancelled. It was definitely a good learning experience for me, and to be honest, it was a gig I needed to make sure my set was in good shape ahead of a World Tour recording for Global DJ Broadcast the next night. I have to say though, I enjoyed playing the tunes with one of The Godfather movies playing on the video screen. Gangsta trance in effect!
So with a fun night in Milan done and dusted, I headed towards the Romanian capital of Bucharest, for a night the fans had been looking forward to for many months.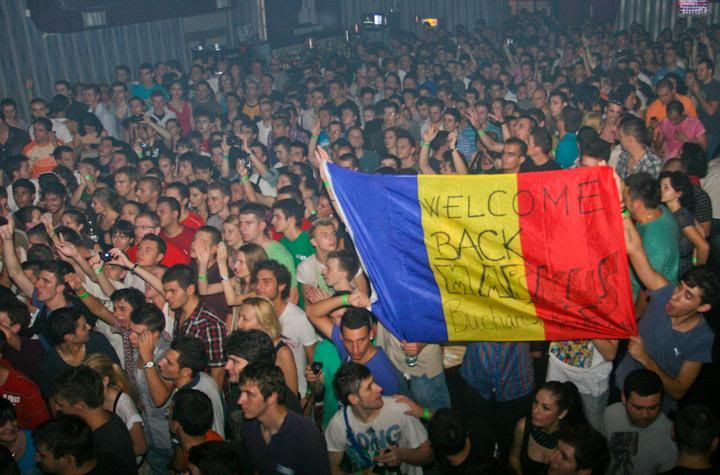 Studio Martin was a very intimate setting for this recording, but the place was absolutely rammed from very early on. Several Romanian flags in the crowd, with people holding signs and chanting all night long. It said to me that they really embraced the concept of the World Tour being their opportunity to show everyone listening what Romanian clubbing is all about. Then again, I suppose it helped that I hadn't done a club gig in the city for well over 4 years!
The first two hours of my set on the night where what you heard on the World Tour at the beginning of October. You can tell how much the audience were really into it from the get-go. And it's probably no surprise that the one track they cheered loudest for just happened to be from our main Romanian Coldharbour resident, Mr. Pit. From the first time debuting it at Ministry of Sound in April, it has literally just taken off and grown wings of its own. And even a few months on, everyone goes absolutely crazy to those beats.
Studio Martin photos courtesy of Crina Protography. For a full gallery of the night, please Click Here
I played for around 3 hours in total and residents Snatt & Vix took over for their second set of the evening (they also played the warmup set before I came on). I was so thankful for all the love that the Bucharest faithful showed me, and left the club very content that there was a good World Tour recording in the books for everyone to remember. This was their moment to shine, and I think it's one that the world will enjoy listening to for a while yet.
Saying Goodbye to Ibiza 2010 – Tuesday September 21st
Sunday and Monday was spent in Amsterdam having meetings with management. You know when the Ibiza season begins to wind down then you have to start planning for the end of the year and well into the next 12 months following it. But on Tuesday, it was time to fly to La Isla Blanca for the last time in 2010, which as you can imagine, was a very bittersweet feeling.
I'll reflect on this year's season as a very positive one. The Armada nights on Tuesdays at Amnesia grew once again. I enjoyed myself immensely every time I played, and the standout highlight of course was taking control of the decks in the main room from open to close for my annual all-night Ibiza solo set. Since the last blog, you guys have had the chance to listen to the set in full on both Afterhours FM and Sirius XM Radio. A big thank you to everyone involved with those broadcasts – I am incredibly grateful with their willingness to accommodate such a long broadcast into their schedules and love working with them.
And of course, I have to thank you guys for your incredible feedback on the set as well. I think it's a nice way to look back on the summer and provides a good snapshot of how my livesets sounded at the time. Plus with an extended set like that, you get to see the real Markus Schulz in action – the one who loves taking the people on a journey with a story to tell.
The final Tuesday of the season saw me take over from Sander van Doorn for the final couple of hours of the night / early morning. And to pay tribute to the season, I opened the set with Perception. The big room reconstruction I made in Tunisia specifically for the solo set also got a great reaction. Well done to everyone who guessed that it was Techno Corner! And to round off the night, I played the same last track that I played as my final last track of the 2009 season – the mashup of For an Angel and Nothing at All.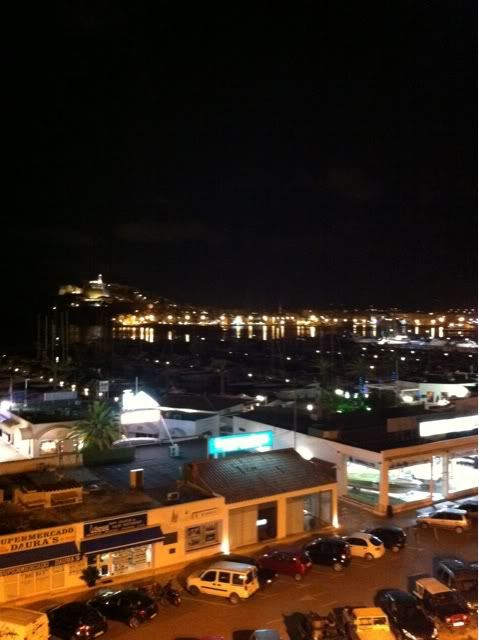 I got back to bed after 8 and slept most of the afternoon, then got up and finished off the final Ibiza Summer Sessions episode for 2010. Once I was done I put it on my iPod and listened back whilst staring out of the balcony. I was going to miss the place badly until next year. That's what Ibiza does to us I guess…
But thank you to everyone who came out over the entire season and shared in our parties. Let's do it all over again in 2011.
The Forum, Charlotte – Friday September 24th
An early morning start and I was off from Ibiza to Madrid, and then back home to Miami. Just the one night at home, and that had to be spent on getting readjusted to the American time zone. I was back out on the road on Friday morning, as another big weekend awaited yours truly.
First up was one of my favorite cities to play in the US, with another stop at The Forum nightclub in Charlotte. There is a great set of fans in the area that bounces between my gigs either in Charlotte or Atlanta; people that I can always rely on to come out and support at either city. So in a way, I think of my visits here as picking up a conversation with a friend from where we previously left off.
Earlier in the evening, I had a little bit of BBC Radio 1 duty to take care of, with a live conversation on the phone with good friend Judge Jules, who I'm playing alongside at Ministry of Sound this weekend. We were previewing the Nocturnal Festival in LA taking place the next day, including answering questions from a fan on the phone at the same time. Always a pleasure to be on Jules' show.
But with that out of the way, I got myself rested and ready for another visit to the Forum. Local DJ Kevin Focus laid on a very solid warmup set, and I was ready to do my thing.
Photo courtesy of Amber McSpadden
I played a shade under 3.5 hours but the night completely flew by. The last hour especially turned into a bit of a requests set, because I had so many people hand me their phones to read off the tracks they wanted to hear. It was just a pity that the night had to end.
I think we're building something pretty cool in the south eastern area. Bit by bit and gig by gig the group of loyal fans continues to grow. A big thanks to all you guys who came out – definitely looking forward to seeing you all again soon.
Nocturnal Festival, Los Angeles – Saturday September 25th
Saturday morning came quite soon and I was off west to La-La Land, with the awesome bonus of free wi-fi on the plane! As we flew over the Grand Canyon, it was time to focus towards what for me was the last outdoor massive event of the summer – the Nocturnal Festival in nearby San Bernardino.
It was super hot outside so I packed an extra shirt and a towel to take to the venue. I had a feeling it was going to be one of those bouncing around sessions where I start to evaporate on stage! With a Starbucks trip completed, it was time to get down to business, with my weapons of festival destruction. Ha!
At 9:30 I took over from Simon Patterson with the full intention of keeping the energy going strong. I kicked off the set with the mashup I made of Perception with Trouble in the Redlight District, only this time with the vocals added. The siren at the beginning really got the crowd going! Everyone was really into the set and just wanted everything loud and in your face. Some of those pesky IDs you love generated some big moments – one of them in particular I am continually tweaking after each live performance until I get it absolutely right, and this was as good a testing ground as any for it.
The highlight of the set for me however had to be Rain, remixed to perfection by one of the heroes of Coldharbour in 2010, the incredible Phynn. His productions and remixes have been the glue to my livesets for a year now, and every single piece of work he has done for the label has been a winner. And when his remix of Rain came in through the speakers, the roar of the crowd almost took the roof off. An incredible moment.
And the big finish was one of the big vocal moments from the Do You Dream album, Not the Same. I had goosebumps all over my body at the very end. It was a feeling that I wish I could have put in a bottle to store away, because you have to cherish moments and experiences like that. Los Angeles has been so good to me over the years, with the people in the city being one of the first to understand the sound I was trying to create and believing in my vision of trance. And to play at huge events like Together As One, like Electric Daisy Carnival, like Monster Massive and like Nocturnal, it is a real privilege for me.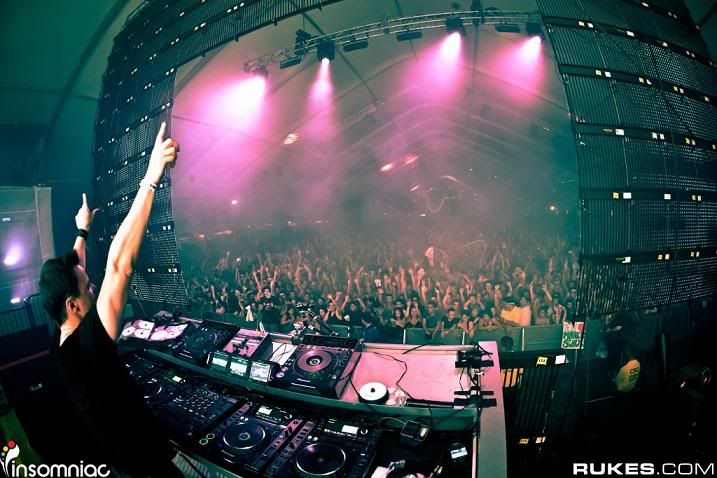 Nocturnal photos courtesy of Drew Ressler aka Rukes. For a full gallery of the night, please Click Here
It brought the curtain down on my summer festival calendar, and I couldn't have wished for it to have gone any better. So a huge shoutout to all of the SoCal peeps who made the night a brilliant one. The Coldharbour citizens are alive and rocking on the west coast
From Canada to Chile to Argentina – September 29th-October 2nd
So a couple of days back at home in Miami, which involved some studio work, another dentist visit (you'd swear I have a second home there!), catching up with Entourage (and not liking the direction it's going), and recording another GDJB episode. A long couple of days of airport lounging and planes lay ahead, with a gig in Vancouver sandwiched in between.
Tim from the office came along for company on this trip. Two flights and we landed, and that is when the day started to drag. The longest immigration line you could possibly think of, going at snail's pace. I just wanted to get to the hotel and chill before the gig. Some 2-3 hours later, they finally let us through.
Sharam was due to play alongside me on the night but he failed to make it through immigration, so I got a call from the promoters to come to the club a little earlier than expected and play for longer. The club was packed though, which was nice considering it was a Wednesday night. It felt good to keep the momentum going from Charlotte and LA the previous weekend.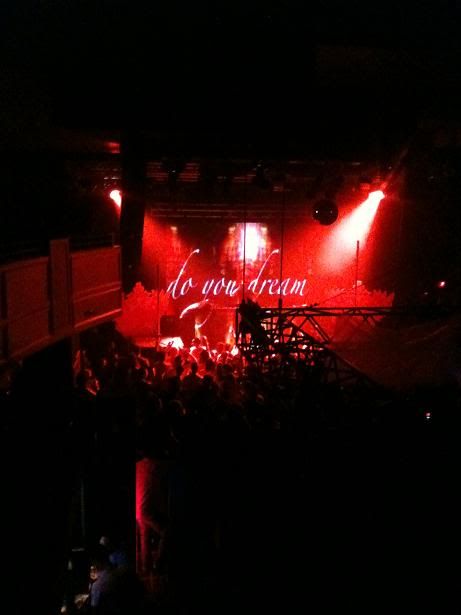 Espacio Riesco photo courtesy of Tim Grube
All in all, a fun trip albeit a short one. An early start on Thursday morning beckoned, with a flight east to Toronto, then showered and freshened up at the airport, and a long 11+ hour flight down to Santiago in Chile. A very cold Santiago in Chile, brrr….
We got checked in to the hotel and went on what felt like a scavenger hunt looking for food. They were doing construction work on the hotel, and we ended up getting lost inside! There were 4 different sets of elevators and neither of us had a clue which one went were. So in the end we resorted to the stairs and found a burger place outside, and grabbed some coffee along the way.
The gig was taking place in a huge warehouse. Now you can imagine that on a cold night, being in a huge place isn't exactly the right setting to keep yourself warm! So the best solution was to deliver an energetic set to the crowd, not just to keep them going, but to keep me going too.
One of the tracks that got a big reaction was the mashup I debuted at the World Tour recording in Bucharest, containing the vocals of Surreal over Ashley Wallbridge's Smoke. And another one that really went over well was a track I debuted on the broadcast in the middle of September – Basil O'Glue's remix of Crossing Planets by Mike-Saint Jules. I've played it at every gig since receiving it and has received some incredible reactions live. I've picked it up for release on Coldharbour and it will definitely be one of the staples of my livesets between now and the end of the year at least.
Espacio Riesco photo courtesy of Street Machine
The Chilean crowd were absolutely incredible on the night, and embodied exactly why I love playing for South American audiences. It is without doubt one of the most exciting territories for dance music anywhere in the world right now. I can't wait to come back there, but hopefully it'll be a little bit warmer weather-wise next time. Thank you Santiago!
The next trip took us to Buenos Aires in Argentina, and a three hour drive to Rosario afterwards. I gave a public happy birthday shoutout to my mother via twitter, and then went in search of food again, but ran out of luck. So we resorted to ordering food service, and I opted for a club sandwich. Unfortunately, the pickles in my sandwich didn't particularly agree with my stomach, so I wasn't feeling the best when the call came to head to Paradise Garage.
We arrived to see local guys Heatbeat set the tone for the night, very energetic as usual. When I got up on stage I could see so many familiar faces at the front. There must have been a huge amount of people who had travelled from Buenos Aires to be there for the gig. They cheered and screamed their hearts out to every single track, especially anything from the Do You Dream album.
Paradise Garage photo courtesy of Tim Grube
There was a special feeling in the air and as the night was winding down, I wanted to end it with something a little special. And at the back of my CD case, I dug up my old encore intro mix of Never be the Same Again. What an incredible feeling it was to see the emotions of everyone singing along to Carrie Skipper's voice.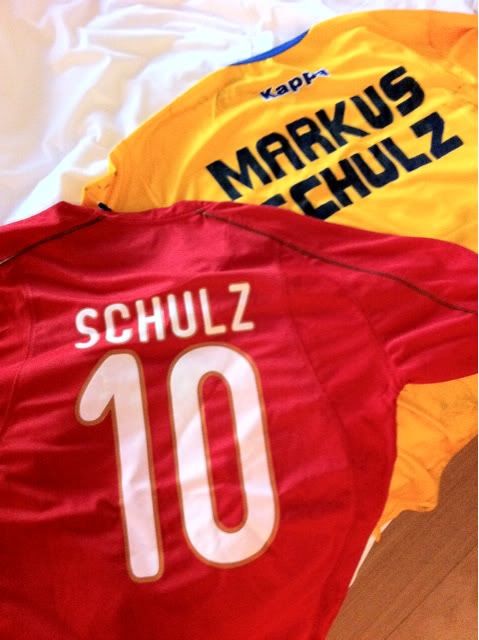 When I was done, I went down to greet the fans, and like in Santiago the night before, I was presented with another special custom soccer jersey for my collection. It always amazes me the lengths some of the fans go to show their appreciation. It is truly humbling. And it rounded off another fantastic experience for me in South America. I can't wait to come back to you guys.
An overnight flight from Buenos Aires took us home to Miami, and we were met with a beautiful view of the sunrise as we descended. Another couple of days at home, and thankfully, I wouldn't miss South America for very long, because I was back there the following week!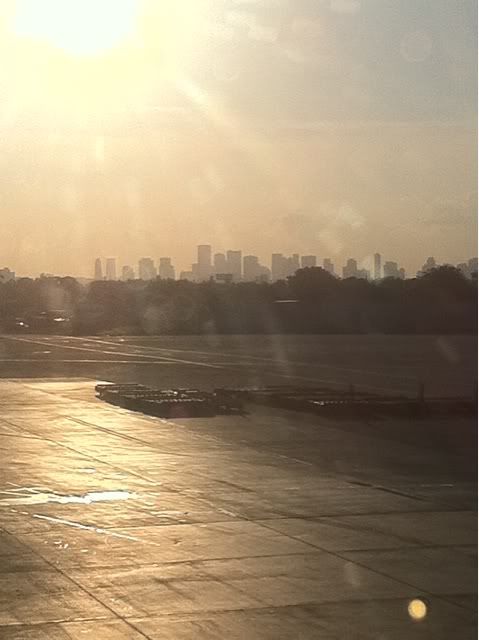 Brazilian Tour – October 8th-11th
Hello Brazil! A crazy 4 day tour awaited yours truly; with Tim in tow once again. I didn't get much sleep on the plane so I needed to rest up after checking in to the hotel. The first mission after waking was to find a Starbucks, only to find out that there was no Starbucks, nor was there to be any swimming either…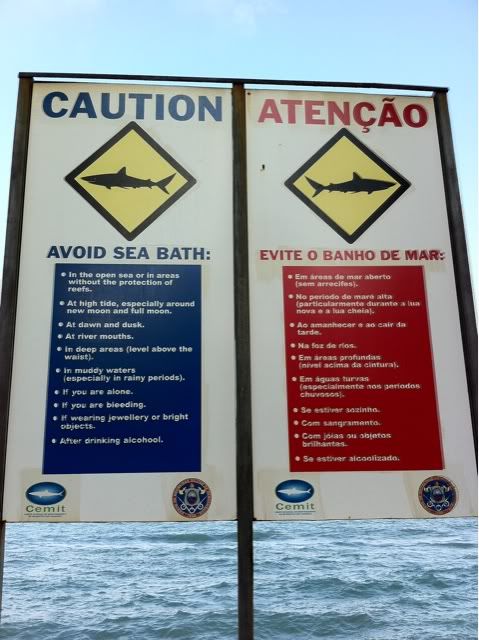 We actually did see real sharks by the way. A little scary!
Taking care of us for this tour would be a name many of you will be familiar with – Klauss Goulart. He has a hot new track out at the minute called "Maximum" which I supported on the broadcast last week. But for the purposes of this blog and this trip, he was responsible for infecting me with a new addiction – cheesy bread. More on that later.
I spent a little bit of time in the hotel working on some new big room reconstructions. Don't want to say too much on one in particular since I haven't debuted it on radio yet, but you'll be hearing it in the World Tour sets very soon. But just a heads up, when you do hear it, you'll know it was conceived in Recife.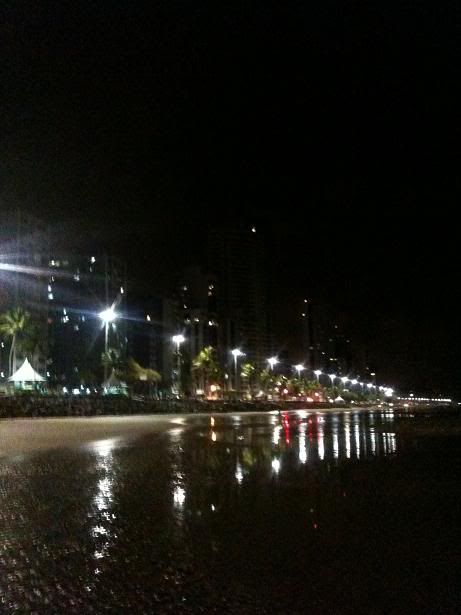 Sushi for dinner and briefly met up with Sander Kleinenberg, who would be on tour for 3 of the 4 gigs this weekend. He was playing at Rose Beltrao first, and Tim and I headed a little later since I was following him. It was a very fun night. Surprisingly, the track that got the biggest reaction was Perfect! It brought a nice feel-good atmosphere to the place as the night progressed. I met some really nice fans afterwards and chatted to them for a bit, before we retired for the night ahead of more flying on Saturday.
We landed in Florianopolis and made the 2 hour drive to Camboriu for Green Valley. I was really excited about this gig, because the Green Valley had such a reputation among DJs around the world. And curiously, it was normally a mainstay for house DJs only – not too many trance guys graced the lineup on a night in Green Valley.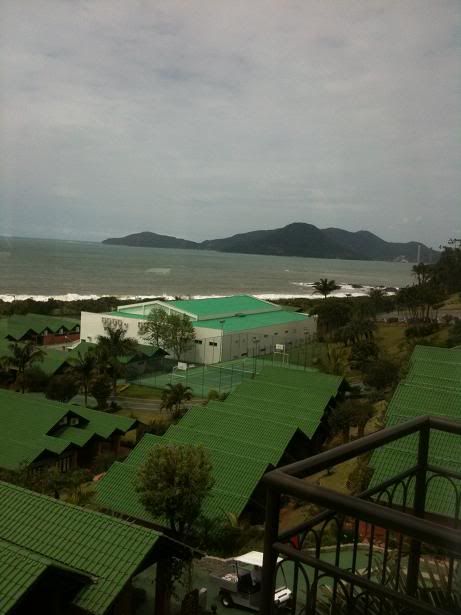 The hotel was absolutely beautiful, located right on the water. The picture above was taken from the hotel balcony. We met up with Sander again for dinner and headed over to the venue, which was nothing short of breathtaking. I'm telling you guys, you will not find a more beautiful sight than being on stage, and seeing the trees and waterfalls as the sun comes up. I felt privileged to see it to be honest.
As for the gig itself, it was incredible! I would rank it up there with one of my best of the entire year. Imagine hearing the break of Flesh and watching the sun come up, and you can get an idea of what the feeling and vibe was like. If I get booked to play there next year again, it's going to be a World Tour recording without a doubt. That night in Green Valley was a life changing experience, and thank you so much to everyone who was there to be part of it.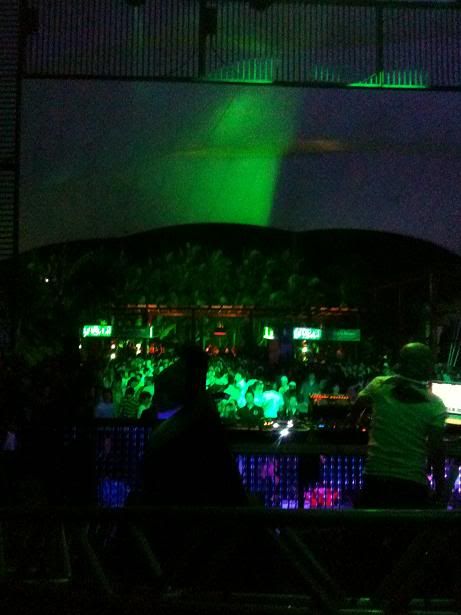 Roger Sanchez took over and we partied well into the morning. I had a little bit to drink so I needed to find some cheesy bread to sober up. Nice excuse isn't it! Suddenly I was coming to the conclusion that I could live off cheesy bread and nothing else.
Roger, Sander, myself and our respective crews all took the same flight to Sao Paulo, where a huge night at the SWU Festival awaited. There was a Brazilian BBQ at the airport so we decided to have dinner. Now the problem in touring with the house guys is that they start drinking early, and I'm a complete lightweight when it comes to that sort of thing. So after a few sips of wine I decided to tap out!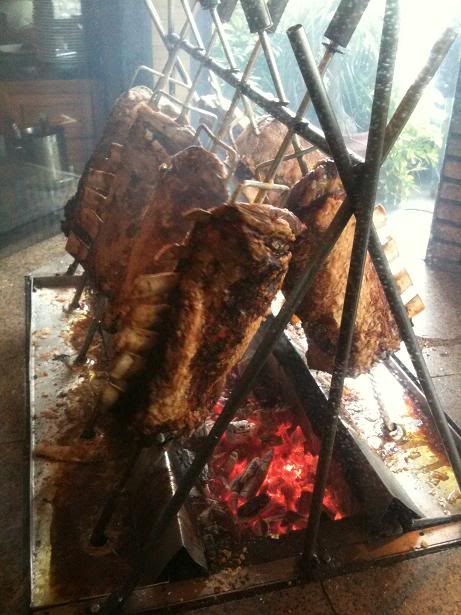 Then there was a bus to take us from the airport to the hotel. The ride was around 3 hours. We were entertained by some very cool old-school hip hop. Sander however got a little too much into it, and decided to become engrossed in the moment by dropping his pants – literally. I was fortunate that I was sitting on the back of the bus, but poor Roger wasn't so lucky!
We had only two hours to get ready at the hotel so I had to regain my focus and prepare for a huge night at SWU. They were expecting a crowd of over 70,000 people, and I was closing the Greenspace stage. Roger and Sander were representing the housenation (a tag which I'm claiming rights to btw), and I was representing the trancefamily.
What I didn't realise during my set was that the stage I was on finished after the other stage, which housed the live bands. So when Kings of Leon ended, everyone from their stage came over to where I was playing, and I had the entire crowd ending their night! Even the guys from Kings of Leon hung out backstage, which was very cool.
My experience of Nocturnal in LA had me in good shape for this set, and everyone really enjoyed the Coldharbour festival sounds. It brought he curtain down on what was a crazy and very fun day. Big thanks to Roger and Sander for their company, and to everyone who stayed at SWU until the very end. I definitely hope that I have another chance to play there again.
And with that, we moved on to Monday, and the final gig of the tour in Goiania. I parted ways with the house guys at this stage. It was nice and warm, especially compared to Sao Paulo the night before.
The gig took place at the Sedna Lounge. It was a very dark and intimate setting, and as a result, I went from playing a peaktime festival set the night before, to a vey slow and deep set in contrast. If you think back to the World Tour recording from Sao Paulo at the end of January, it was a set with a similar vibe to that.
Since it was the final night of the tour, we were in search of an afterparty to round off the trip in style. Nobody told me however that the party would take place in my hotel room! I was afraid of passing out and missing my flight to Sao Paulo. Strangely enough I felt great. More cheesy bread at the airport!
This Weekend – London and World Tour Recording in Kiev
So that will get you up to date between Milan and Brazil. In the next blog, I'll begin the recapping from my gig in Doha, and take in this weekend's gigs too. It's another big one!
I'm out the door here in London in a little bit for another residency night for The Gallery at the amazing Ministry of Sound. I'll let you guys in on a little secret. I've been spending a little bit of time in the studio in between all the touring this past while working on some new material… of the Dakota variety. If the mood in the club is right tonight, I might just test some of it out for the first time. But I'm really looking forward to seeing the familiar crew in just a bit.
Then on Saturday, a massive gig awaits, as I head east to the Ukraine and to the IEC Pavillion for the Godskitchen Boombox event in Kiev. You guys will remember reading my blog at the end of last year raving about how special my last visit was there. I promised the people of Kiev there and then that the next time I was playing in their city, then it was getting the World Tour treatment, and I am sticking true to my world. I cannot wait to see everyone coming out and showing their passion just like the people of Bucharest did last month. I hope that they make it a World Tour to remember for all of us.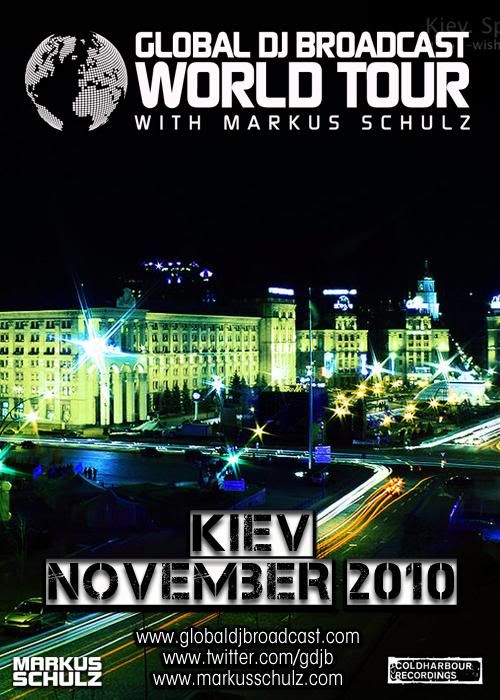 And of course, you'll be able to catch the set in full on the Global DJ Broadcast World Tour in November.
Alright guys, it's time for me to sign off and get prepared for tonight at Ministry. If you were reading on my twitter earlier, you'll have known that I had yet more headphone drama ahead of a residency gig – only this time, I was a dumbass and left my headphones at the Escape venue in Amsterdam on Wednesday. D'oh! But thankfully I have a new set on the desk beside me right now, so I'll be ready and prepared.
So thank you guys for reading once again, and thank you for your patience in waiting for a new blog to arrive. I hope that you all have a great weekend whatever you get up to, and I can't wait to see everyone in London and Kiev.
Take care guys, and speak to you all again real soon.
With love,
Markus