Hey guys,
How are you all doing? Hope everyone is doing well. Checking in with you all once again after another busy two weeks of activity. An early start on the road this week meaning that I left Miami on Tuesday night to get to Europe, beginning in Budapest on Wednesday, on to Skopje in Macedonia yesterday, and continuing the travels where I find myself at Thessaloniki in Greece ahead of tonight's gig on the island of Corfu. I have been gathering my thoughts on all the flights this week and compiling them together for you bit by bit.
In this blog, I'll get you up to date with my gig experiences over the past couple of weekends, a little more studio work and filming, and give you the details of our Do You Dream release special on Global DJ Broadcast that'll be airing next week.
Let's take you back to two weeks ago, touching down on Thursday morning in the Big Apple.
New York, New York – Thursday May 7th / Friday May 8th
Ouchie… a 7am flight on Thursday morning to begin my weekend. I was in a cheerful mood though thanks to the Phoenix Suns (or Los Suns as they were the previous night for Cinco de Mayo) beating those pesky San Antonio Spurs again in the NBA playoffs. First stop was to find some coffee to get fully woken up, and then checked in to the hotel.
The main reason I was in New York City a day early was to visit the Sirius XM studios for a little album promotion. Sirius XM is the official Global DJ Broadcast partner for North America and the guys behind the Area and BPM stations have given me fantastic support over the past couple of years in particular. I did an interview with the guys in the studio and also did a live minimix in their studios. They are going to be running some special broadcasts to help promote Do You Dream, so I'll find out the details on that for you guys as soon as I can. It was a fun few hours, even bumped into Kaskade who was there doing the same thing as me for his own album.
With the album duty out of the way, it was time to unwind for a bit by heading to the ESPN Zone in Times Square. Pretty cool way to blow off some steam. Basketball, baseball, football and hockey all in the space of one hour! I grabbed some light food to take back to the hotel room, and got deep into creating some crazy big room reconstructions for the weekend ahead, along with putting the finishing touches to the last blog you would have read. With the sun coming up, I decided to call it a night, and rest well ahead of the big night at Pacha.
My Friday morning got off to an unexpected start though, finding out that Times Square had been evacuated again due to a bomb threat. The sirens going off around the hotel were a pretty effective alarm clock that's for sure. But I had to get myself gathered together to head off to Ultra Records HQ for more Do You Dream meetings and promotion, as they handle the distribution of all my releases in North America.
After a lovely lunch in lower east side, I had to make a visit to one of the most inspirational places in the world for me – 83 King Street – home of Paradise Garage. Without Larry Levan and this venue, I don't think clubbing would be what it is today. Larry was the template in making the DJ the center of attention. I used to breakdance to his mixtapes. Seeing the building there made me pause and draw breath, and reflect on everything. If you ever visit New York, then I would encourage you to go see it.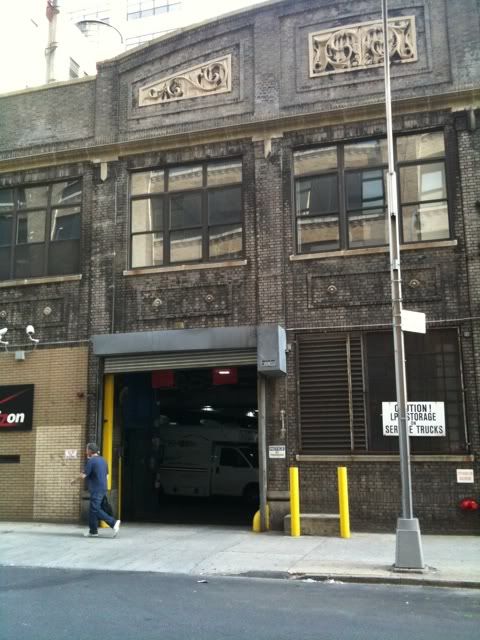 Pacha, New York City (GDJB World Tour Recording) – Friday May 7th
Back to the hotel to rest up and get ready for Pacha. I was feeling a little nervous. The Suns were battling the Spurs in game 3 of the playoffs, and I had to make the big decision that everyone in New York wanted to know – vest or vestless. I had to leave at the beginning of the fourth quarter, confident that the Suns could finish the job, and in the end, the vest remained in the suitcase on this night. I've gotta be honest with you though, I did go out and buy a new vest in Times Square earlier that day.
This was a night I had been looking forward to for ages. The previous time I had played in Pacha was January 2009, and it was the longest set I had gotten to play in the club. The New York fans understand the journey as best as any, so I was really confident that I could make this a memorable World Tour recording.
I got there shortly after midnight and was greeted by so many familiar faces who always give me the warmest of welcomes to their city. Zach Roth was doing a great job warming things up and the club was rammed. After settling in for a bit, it was time to get to work and start the journey.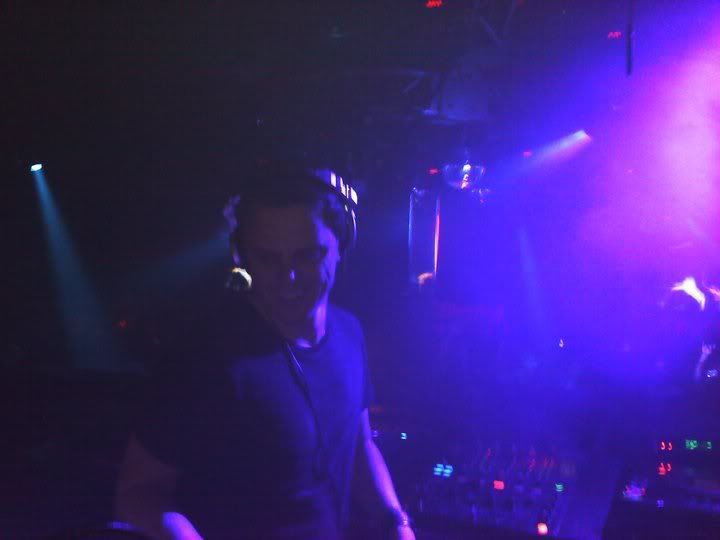 Photo courtesy of Amber McSpadden
Looking back at the set, it was really difficult to pick out a straight 2 hours for the GDJB World Tour broadcast last week. So I decided to air the opening half hour to give the listeners a flavor of how I started out in building things up, before moving to one of the peak periods of the set. I had lots of fun with the Pacha horn! You heard it make an appearance several times during the recording. Everyone was taking turns in giving it a yank. If anyone can get me a horn like that for my car, please let me know.
During the week I've received a lot of emails and messages asking about the ID in the broadcast. I can't tell you what it is just yet, but I can say three things about it – it's not a new Jochen Miller production, we've got it signed to Coldharbour and it is an absolute banger! Fist pumping riffs for the Jersey Shore.
One of the highlights of the set was testing out the Do You Dream album material. I had sneakily debuted Away in the Winter Music Conference set at Dream in Miami the previous month, and you guys were rampantly speculating if it was a track from the album and who was the vocalist. I know how good you all are at identifying things, so when the time came to play Away at Pacha, everyone knew the words and was singing along! And then immediately after came my special moment; playing Perception with Justine's vocals, and finally debuting it on radio. There was one guy who held his girlfriend up so she could request Perception on her phone a few tracks before, so I had a feeling that the crowd had been waiting for it all night long.
I'm so grateful to have the opportunity to introduce this track to the newer trance generation, because many of them wouldn't have been around when the original Cass & Slide version was on the way to becoming iconic 10 years ago. And it's really made for extended sets like I had both in New York and Toronto on this particular weekend.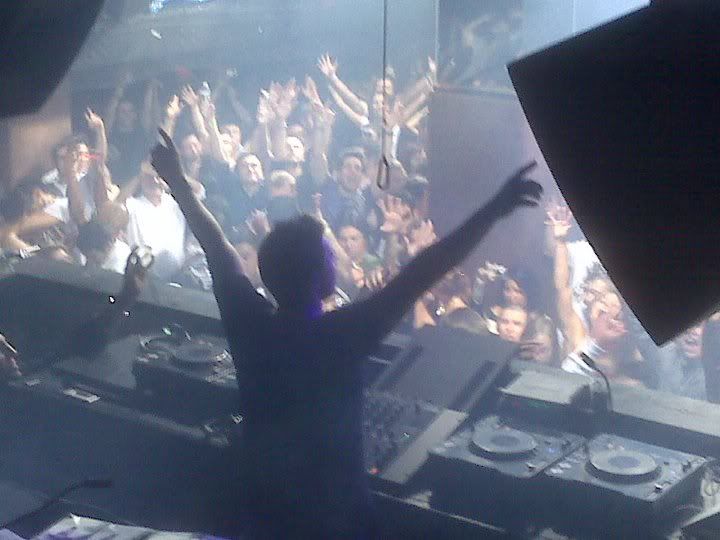 Photo courtesy of Allison West
My only disappointment of the night was having to end the set an hour earlier than expected. Once I was done it was straight onto the dancefloor to meet the fans, sign some autographs and take pictures. There were so many people coming up and thanking me for the night they had, and that was very humbling. Hopefully this is something that gives the World Tour recordings an added dimension – the fans attend the gigs, and they have the broadcast to keep and remember for a lifetime afterwards. And for me, I'm going to be looking back on these World Tour shows and I'll immediately have flashbacks looking at the tracklist alone.
A big thanks to everyone at Made Event and of course to the loyal NY tranceaddicts who came out to support. There were friends of mine who travelled from Boston, Charlotte and Miami, and it really was one of my best experiences of playing to an NY audience. I swear, some of the locals there see me more often than my mom does!
Hopefully you won't miss me much. I'll be seeing you all at Electric Zoo in September. Although I'm hearing whispers of a few of the NY community planning a road trip to Montreal at the beginning of July? Let's do it guys!
The Guvernment, Toronto – Saturday May 8th
So how do you keep the high of playing for some amazing people at one of the best clubs in the best cities in the world? Answer, you do exactly the same thing the next day!
The Guvernment complex has held a special place in my heart for many years now. It was the city and the people that inspired the 2009 chapter of my city compilation series, the memories of the Koolhaus that fuelled the Dakota project last year, and the challenge of those 6 hour sets that I just loved undertaking, including the very memorable World Tour recording in September 2008.
My good mood kept going when I opened the laptop on Saturday morning and found out that the Suns had won, so my goal was to give it my all for the Toronto peeps on Saturday night, and then have a full chill session vegged in front of the TV at home on Sunday watching the Suns try to complete the sweep.
I got checked into the hotel and slept for a few hours to get my energy levels back up. When I got up, I started reading up on the message boards to get a vibe of what the Toronto fans were hoping and expecting. I'm so grateful to the people in that city who treat me like one of their own, so when I prepare the programming for the extended sets, I like to leave a few options open to dust off some of the old favorites that I haven't played in years.
For example, you guys will know that one of my favorite tracks of all time is Yilmaz Altanhan's Eighties. Looking back, I'm very proud to have included it on the Miami '05 compilation, as it has become one of my signature tunes ever since. But this past while, I've tended to shy away from playing it unless I find the right moment. I think the last time I played it was at Global Gathering in St. Petersburg last summer. But a few of the Toronto peeps, the ones who were hyping up my appearance at the Guv more than any other, were eager to hear me play it. And I rewarded them with exactly that. It was an incredible moment.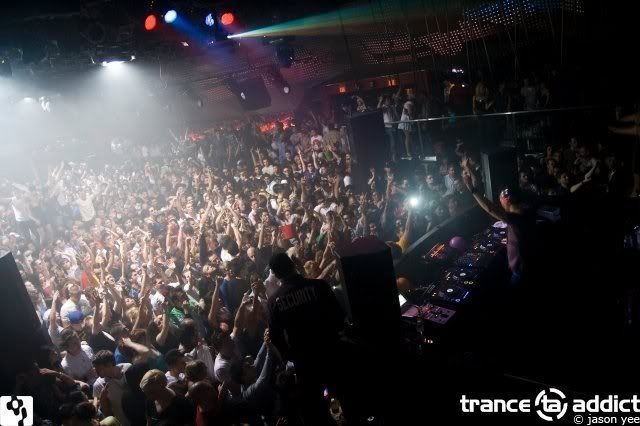 Whilst I was checking up on some of the requests the guys on the forum had, a couple of them had even requested the classic Hale Bopp, that I had sought out specifically for Bal en Blanc a few weeks before. So it was cool to intertwine a little bit of the Montreal vibe with the Toronto vibe, because although they are two cities in the same country, they both present different challenges, ones that I both love.
The 6 hours went by so fast. I have to give props to Sander van Doorn for his latest track "Reach Out". I played it straight out of the Dark Heart Waiting Intro Mix at the very beginning, and then played it again at about 6am when everybody was bugged out. One of the cool features of the booth in the Guvernment is that you can actually alter the level at which it stands. So I started off high at the beginning and brought it down near the end of the night to rock it out with the crowd that remained.
One of the highlights of the set on this occasion was one of the now traditional Guvernment anthems, Without You Near. I still get goosebumps when thinking about the memories of playing the original at my first Labour of Love at Koolhaus in September 2005. I've had an exclusive "big room / afterhours" mix in rotation for a little while now, and it really brought the house down. Without You Near symbolises the journey and the faithfulness of Toronto towards me as I've built my career. But they were also eager to hear some Do You Dream material, and in particular, my track with the lovely Jennifer Rene on vocals, Not the Same. They got what they wanted, they got what they deserved.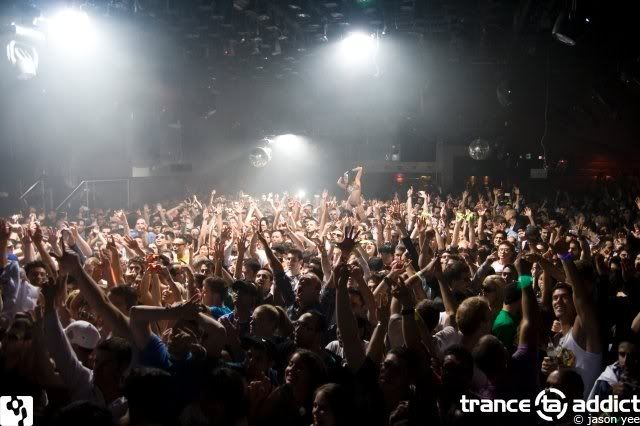 All Guvernment photos are courtesy of Jason Yee. For a full gallery of the night, please Click Here
When 7am hit, it had all come to an end. I was deliriously exhausted. My ears were ringing and my body was aching, but I felt very content with my weekend's work. I think I grabbed a microphone on stage and invited everyone there back to my hotel room for an afterparty! lol. I'm sure somebody has the evidence of that on video.
I feel like I'm repeating myself again, but a huge thank you to all the Guvernment peeps and the Toronto TAs who came out to support me in droves. You guys are incredible. I had so much fun in those past few nights that it really made all the preparation worth it. And I say to you all, like the New Yorkers, road trip to Montreal in July? We could all have a big gathering for one of the few extended sets I'm going to be doing all summer. Coldharbour invades Montreal… I like the sound of that. But thank you all so much again.
Do You Dream Album Feedback
Sunday morning in Toronto was a cold mother's day where it threatened to snow, but I made it back safely to Miami, and watched the Suns sweep the Spurs. And then on Monday morning, the big wait for everyone was finally over, with the details of my Do You Dream artist album being revealed.
I'd like to thank you all sincerely for your words of encouragement so far. I'm really pleased to see so many people behind the album already and supporting the tracks that they know. There are however a couple of things that I do want to clear up for you guys, because some of you have expressed a disappointment in there appearing to be too many vocal tracks.
I'll make it very clear that I worked with every single one of the vocalists that appeared on the album, and they were all completely 100% my choice. These are people who I have longed to work with; along with some talents that I knew deserved a chance to be heard by the world. And I am proud of everything each of the vocalists has created towards this album project.
All I ask of you guys is please, trust me and be patient. The Coldharbour faithful have to trust me if I am able to do my thing properly. You know already that I don't do la-dee-da vocals about rainbows and unicorns, everything is deep with meaning and from the heart.
It's one of the real downsides to producing music. You put your life and soul into 2 years worth of struggles and late nights, and your efforts are assessed within 5 minutes of people hearing it. So all I'm asking is, be positive and I promise that I won't let you down.
Next week, there will be a series of things happening which will introduce you to all of the tracks on the album. The first will be the Do You Dream special on Global DJ Broadcast, where I'll be premiering some of the tracks that you will have heard before in the livesets but not IDed, and that YouTube sensation Not the Same. I can also tell you that I have deliberately held back my favorite track from the album until this special. I'll tell you which one it is after you hear the show and in the next blog. But it is one you definitely will not have heard before, and it really is for the vintage Coldharbour lovers.
After Global DJ Broadcast, there will also be a special video posted on my YouTube page, where I'll be discussing some of the tracks in detail from the Coldharbour studios, as well as a DYD preview podcast made available through Armada. You will soon be able to preorder the album on iTunes and there is a special bonus if you take up the offer. Keep your eyes out on the news portals and for a newsletter arriving in your inbox during the week, where all the details will be outlined, including the album tour schedule.
So spread the word and let's get a good gathering for GDJB this Thursday. Hopefully I can make it one to remember for you guys.
Godskitchen at Foro Agora, Guadalajara – Saturday May 15th
After a week of more studio work and filming, it was time to head back out on the road again for a trip south of the border. It was an early start in Miami on Saturday morning to catch the flight down to Guadalajara, and I was really looking forward to playing in Mexico again. The fans here are so passionate and they always encourage DJs to give it their all.
The gig was part of Godskitchen's worldwide tour, which meant a reunion with my old friend, the Boombox. Like any Boombox event, my only wish was for no high stages! Although if this night would be as good as my last Boombox moment, which was Bal en Blanc in Montreal, then we would be in for a rocking evening.
But let's get the priorities right. And that was finding some beautiful Mexican food to feast on! I spent the early evening in the hotel adjusting a few tracks, giving them a more big room feel for the Boombox environment.
I made it to Foro Agora a little early to check out the end of Glenn Morrison's set. Glenn is a guy who I hope to see big things from in the future. It's good to see him constantly learning and developing with each gig. He played with me in Skopje last night. Tocadiso was next up and he really got the crowd into a groove, and then it was my turn to grace the decks.
The cheer I received when I was about to put the first CD in to the player was incredible. It reminded me why I love playing in this country so much. I saw so many people wearing t-shirts with my logo on it, people holding up Coldharbour signs, it was incredible. There was a section of people that kept holding up signs with different names of tracks for me to play! I had to play really energetic right from the start. Perception got a great reaction, and then I went for the big finish with The New World into Nothing at All. After 90 minutes, it was all over, done in the blink of an eye.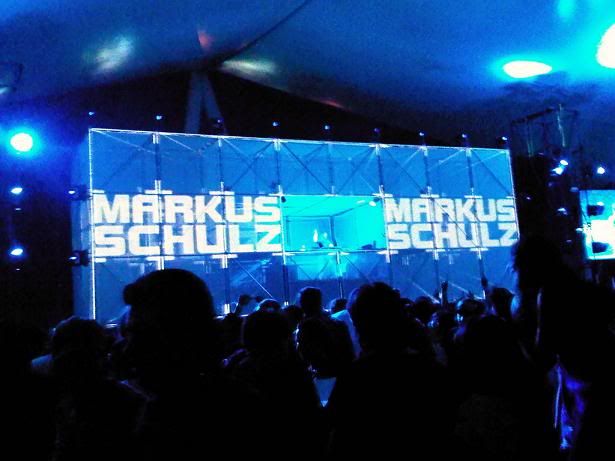 Photo courtesy of Rigoberto Reyes
All I could say after this gig was wow! Every time I think I am prepared to match the energy of the Mexican fans, they just keep going and going and begging for more. Thank you to everyone who came out and contributed to such an electric atmosphere. If you haven't heard it before, try to find the World Tour recording I did in Mexico City a couple of years ago. That was one of my favorites due to the sheer noise of the crowd alone.
When I was done I took some time out to relax and hang out with Nic and Bossi from Cosmic Gate, along with Menno. A few drinks and fun stories to wind the wee hours away. Got a late flight back to Miami on Sunday night, and turned in an a relatively early night to prepare for a new week.
9 Gigs in 12 Days across Europe and America
By the time this blog gets published, I'll be making my way to Corfu in Greece for gig number three of these marathon couple of weeks. Last night was the excellent Colosseum Club in Skopje, and Wednesday was a late booking in Budapest in an effort to raise funds for the Hungarian people who were affected by the recent flooding there. When I start the next blog in a couple of weeks, I'll pick things up from when I land in Budapest, and tell you the story about how the gig came about. I can tell you that it was definitely worth it!
Saturday takes me to Slovenia which should be very interesting, before heading the whole way back across the Atlantic for a gig at the amazing Crobar in Buenos Aires. Definitely one of the nights I have been looking forward to for a while because the Coldharbour fans in Argentina are so passionate and loud. I'm looking forward to some good Argentinean steak when I am visiting there. I know there are a lot people from Buenos Aires on my Facebook page so you guys can shoot me your requests and let me know if there is anything in particular you want to hear on Monday night.
Two brief days at home in Miami on Tuesday and Wednesday will be dedicated to GDJB, before taking off on Thursday for a little west coast tour. We kick things off at Sutra in the OC on Thursday night, before heading down to play at Voyeur in San Diego on Friday. Saturday is going to be very special at the Love Fest, held at the Palms in Las Vegas (get your white clothes ready guys!), and Sunday marks my return to Los Angeles for the first time since Together As One on New Year's Eve, where I'll be playing a special extended set at Avalon; a club I haven't played at for a few years.
With this kind of gig schedule, you just know that the summer is really on the horizon right now. It's going to be a very exciting few months for us all, between all the gigs and the album coming out. And I hope that you will enjoy following each moment through the radio show and these blogs.
At the time of writing also, my Suns are 2-0 down against the LA Lakers in the Western Conference Finals. So my fingers are crossed that by the time the next blog rolls round, they will be in better shape and will have turned things around. They didn't play well in game 1, but performed a bit better in game 2, so I still have some hope yet.
Alright guys, I hope you all have a great weekend, and thanks for reading again. Time to get ready for the Au Bar in Corfu. I think I'm going to have to play my bootleg remix of Ian Carey's "Rise" again tonight. The occasion might deserve it!
Take care,
Markus