Hey everyone,
Hello to you all this week from the airport in Mumbai, on my way to Seoul. A week visiting new cities and encountering new experiences. And I have to say, more moments where I can draw even more inspiration from.
So let's relieve the past 7 days, beginning in the beautiful city of Singapore.
Saturday May 9th – Singapore
The first thing I have to say is how blown away I was by this city. The flight from Shanghai was very long and as a result I got in late on Friday night. However, I found out that James Zabiela was playing at Zouk – the club I was due to play in the next evening. So I figured that it would be a great way to start off the weekend, take a little nap for an hour or so, then get up and go hang out with James and check out his set.
Nope…
Turns out that my 1 hour nap turned into an 8 hour overnight sleep! I guess I was much more tired than I thought. I rolled out of bed still with my clothes on, looked at my watch and it realized that it was 8:30am! So my apologies to Zabs for not catching him, I'm sure there will be a next time though.
My Saturday began with some breakfast and then out for a couple of hours exploring and sightseeing. Singapore probably boasts one of the most beautiful skylines I have ever seen, particularly at night.
After a few hours out and about, I went back to the hotel and grabbed some dinner. Afterwards, I headed to Zouk for a soundcheck, and man it really got the blood going. When I am reviewing demos that are submitted to Coldharbour, I always envisage how a track would sound in clubs just like Zouk – where the bassline is exploited to the full. Back to the hotel and another disco nap, but this time, I took the precautions of setting the alarm and also asking the front desk to give me a wake up call.
Thankfully, I got up in time and got myself prepared for Zouk.
The club reminds me a lot of Ministry of Sound in London. It looks more like Pacha in Ibiza; but the vibe and sound is much more like MOS. The opening DJ did an amazing job playing very minimal groovy tunes so I could really build it up from there. I started much deeper than usual, playing 4 Dakota tracks in a row, starting with "The Doorway" and then took off from there. It was absolute madness and I loved every moment of it.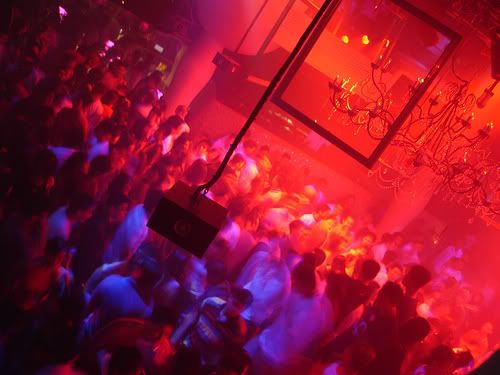 When I was done with my set I went and met some of the fans in Singapore and chatted with the promoters about coming out again very soon. An incredible party had come to an end, and I was pushed for time because my flight to Bangalore was leaving at 7am. So I just had time to get cleaned up and packed away, and then begin my Sunday journey to India.
Sunday April 10th – Bangalore
After two false starts in December and February, I was finally in India. The upcoming week was something that was on my mind for quite some time.
Naturally, when I am playing in a city I haven't played in before, I often wonder what the experience is going to be like. It was different from the likes of Singapore – I had played in the same club in the same city on numerous occasions. But this was different, and I was feeling a mixture of nervousness and excitement as I landed in Bangalore.
After getting checked into the hotel, I went up to my room to get some rest. There was a huge party at the pool within the hotel complex, with a pretty massive sound system going on, so I put in my earplugs and fell asleep. After not sleeping because of the early flight after Zouk and Jetlag still a problem for me, nothing was going to stop me from getting some proper rest. I didn't have too much time though, because the gig was taking place in the early evening. The laws in Bangalore prohibit clubs from staying open late, so all the parties start early and end early. Before I left, I logged on to the Submerge forums where the Sunburn Events were being promoted, and I took a mental note of some of the requests that the fans had.
So at around 7:30pm it was out the door and to the Fuga club. I got there a bit early to meet the sponsors and promoters and also some of the great fans that have emailed me for so long. These 2 gigs in India were to promote my upcoming festival appearance this winter in Goa at the Sunburn Festival, so I needed to make sure and thank everyone that is involved with that event for bringing me out for a legendary event in such a legendary city.
The place was packed as I took to the decks for my 3 hour set. It was a great vibe in an intimate club with lots of hyped up clubbers. Just my kind of party. After my set I took more pics with the fans and headed back to the hotel. There was so much traffic around the club so we just jumped in an Auto Rickshaw going back. That was a very fun experience. Auto Rickshaws, or Tuk Tuks or three-wheelers, are a very common mode of transport around India and other countries across Asia. If you ever get a chance to ride in one of these things, you need to do it.
This was an incredible night, enlightening and inspiring. I headed back to the hotel and drifted off to sleep feeling very content with my weekend's work.
Midweek in Bangalore
My days off this week were spent in Bangalore. I had to wander out to run an errand, and after experiencing that chaos of just walking down the street, I decided the rest of the time would be spend on the safe grounds of the hotel and in my room working. I had to find a FedEx location to send my second passport to my visa agency in NYC so they can take it to the Russian Embassy for a visa for my upcoming gig in Moscow.
What an ordeal that was. I had the address, which was just around the corner from where I was staying. They also told me that it was right across the street from a Citibank. I figured that would be easy enough to find. Well, 2 hours went by and I realized I was officially lost. There are no numbers on buildings, you are lucky to find a street sign anywhere. And the Citibank that I thought would be easy to find was nowhere in sight. I found a travel agency who had some people working that spoke English, who finally pointed me in the right direction only to get to FedEx and have them tell me that they are not allowed to FedEx passports. I will have to wait until Seoul to send it….UGH!
On Tuesday, I unwound and watched the movie "Notorious", which is the life and death story of world famous rapper Notorious B.I.G. It was an amazing movie, and a lot of his story can be resonated to a lot of us DJs who travel the world. A small part of the movie I could totally relate to was when young Notorious was listening to his boom box in his room, listening to Mr. Magic's Rap Attack on the radio. That is what I used to listen to as well when I first moved to the U.S. when I was a kid. Old School WBLS and 98.7 Kiss ruled NYC back then.
I was relieved that I was able to view YouTube videos in India, because everything is blocked in China. It was funny, because last week when I was in Shanghai, before taking off for Singapore, Myon & Shane 54 messaged me with a link to a YouTube video asking what the ID to the track was. Someone had ripped the first 10 minutes of the World Tour set from Wroclaw, and the track they were looking for was the Barnes & Heatcliff remix of Johnny The Fox. It has been a mystery ID in a lot of my sets since Winter Music Conference, but now the secret is out.
You will all be pleased to know that Johnny The Fox is the next single that will be released from the Dakota album, and will be out very soon.
The great thing about YouTube is that you will find videos of things that are as far back as 20 and 30 years old. When I am working on a production, I continually look for my sources of inspiration when I was growing up – the likes of Larry Levan with his Paradise Garage nights being a key factor.
One of the things I make a point of doing when I am playing in different countries is to try their traditional food. I know that some of you guys have asked me the question of what type of cuisine I enjoy the most. I'll answer that for you in my next video blog at the start of next month.
But, I should have stayed away from the spicy food in India though. On Tuesday night I had some of the most incredible spicy food, but when I woke up on Wednesday morning, I was a mess. I don't know what it was, but my stomach was upside down and I spent the entire day before my flight in serious agony.
Cosmic Gate – Sign of the Times (Markus Schulz Remix)
As regular readers to the blog will know, last month at the ASOT 400 celebrations in Birmingham, I debuted my remix of Cosmic Gate's stomper Sign of the Times, the title track from their recent artist album. I have to thank you all for your feedback on the track. The release package came out last Monday, along with another track of theirs I have been supporting on GDJB recently, F.A.V.
It was an incredibly fun and therefore rewarding experience undertaking the task of remixing something by those guys, particularly because they have been among the outstanding producers that have made the biggest impact on Global DJ Broadcast over the past couple of years.
They are going to return the compliment this summer by remixing my Dakota track, Sin City. I have a feeling that they are going to have a really amazing year.
Wednesday May 13th – Mumbai
The second Sunburn gig of the week took place in Mumbai. It is difficult to prepare for a gig on a Wednesday because it is traditionally the day I spend in the studio working on sets for Global DJ Broadcast and Evolution that week. So I had to use my time wisely and began working on the shows on the plane. Little did I know, that something was about to hit me and change my life forever.
The first thing that struck me about Mumbai was as we were landing. I looked out the window and saw nothing but slums. I mean in every direction as far as you could see. I have been to many cities where you see things like that from the plane, but seeing how more than half the city was slums just shocked me.
The ride to the hotel really shook me up. There were young children, goats and even cows living, playing and sleeping in the streets. I couldn't believe my eyes. I could go on and on about what I saw, but people let me tell you, it brought me close to tears. I had no idea about the sheer magnitude of the slums in Mumbai. I watched the movie Slumdog Millionaire, but I really had no idea until I saw it in person.
I know it sounds dismissive of me, but I had to get my head straight for the gig at Blue Frog. Something as life changing as seeing that had to be put on hold because I realized that many people were travelling from all over India to see me play. There are people who are around this every day that come to see me play, and all they want was an escape and I was there to give it to them. I went to the club to do an interview, do a quick soundcheck and then get back to the hotel and begin preparations. One thing that I promise though is that I am going to take some time to think about everything that I saw, do some research and try to do something to help.
Let me just write a few words about the event, because the passion that the fans in Mumbai showed was amazing. The set was broadcast with live video and audio, so I think people could see for themselves how passionate everyone was. I started with the new DJ Observer & Heatcliff track "Fake Call" as well as a new David Forbes remix (which I also played on this week's Evolution) that are just amazing. I kept my set more uplifting and optimistic. In the past, I would have been so down that I would have just played really dark the entire set, but I just wanted to shake myself out of the mood.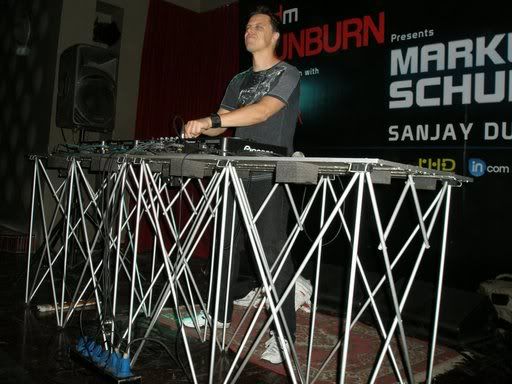 I had a great time and met some amazing people. There were people with Markus Schulz t-shirts and even some with Coldharbour t-shirts. I will definitely come back to Mumbai. Like I said though, I am going to do some research and see what I can find out about some organizations that maybe I can collaborate with next time. The drive back to the hotel was so hard to take, as I saw families sleeping in the streets – mothers, fathers and their children, and even babies.
This Weekend – Godskitchen in Seoul
So now I am saying goodbye to India and making my way to South Korea, and to the capital Seoul. I have been part of some very memorable parties in this city; the fans here are so loud and up for it. They are hardcore when it comes to partying, and you definitely need your energy levels up high if you want to keep pace with them!
Godskitchen are holding a special event at Blue Spirit on Saturday night in the Walkerhill Theater, and I'll be playing there alongside recent birthday boy Sied van Riel. We hung out for a little bit together in Birmingham on the night of ASOT 400, but my time was cut short because I had to catch an early flight to Poland. We will make amends this weekend though, and no doubt share a belated celebratory birthday toast with him.
This weekend is part of a series of events I will be representing under the Godskitchen banner over the coming months. I have two more Godskitchen Urban Wave events coming up next month in Jordan and Russia, and if they are anything like my first experience in Wroclaw, then they will be nights to remember, despite the scary high stages I have to climb at some of the events. Then into July, the Global Gathering festivals start up, and I'll be playing at the edition in Kiev, along with the main edition in England, where I'll be featuring on the lineup for the fourth time in five years.
After activities in Seoul come to a close, I will be off to Indonesia for two gigs at Blowfish – the first next Wednesday in Jakarta. I have been keeping in touch with Ferry Corsten recently, who is also spending the majority of his May in Asia, and he said that his experience in Indonesia was amazing. So I'm really looking forward to my week there. Ferry and I played together at the Edition Bangkok festival two weeks ago, and our paths will cross again towards the end of the month at the 2 Days of Freedom event in Kuala Lumpur.
And with that, there is another week on the Asian tour gone and in the books. I have loved every moment out here so far, and I am so grateful to have the opportunity to help spread my sound in new and developing countries, as well as being inspired by the new sights I see and the new people I meet.
It just shows you that people who share huge levels of enthusiasm and happiness can take the world a very long way.
I'll check in with you guys next week from Indonesia, but until then, I wish you all a great weekend.
Take care,
Markus