What's up guys, hope that you're having a nice Friday.
Hello to you from home sweet home in Miami, which is currently housing thousands and thousands of DJs, promoters and clubbers for the (inaugural I guess?) Miami Music Conference week. It has been lots of fun already, although my hangover yesterday wouldn't necessarily agree. But the serious business begins for me tonight, with two huge shows taking place at Club Space in the space of 72 hours.
I've a bit of catching up to do for you in terms of gig recaps, so I'll do some more of those in this blog, as well as letting you know what I've been up to this week and looking ahead to the shenanigans that the next couple of weekends will present.
We'll start things off to around a month ago, where I was at home recovering from a long period on the road, and preparing for the beginning of another one.
Sutra, Orange County – Wednesday February 23rd
The week began by preparing for a photoshoot – one of the things I don't particularly enjoy because it's time consuming; and with the deadline for the Dakota album fast approaching, every second counted. Although the upside is that having makeup on makes me feel sexy. Ha! But it's one of those necessities of the business today, since you can't use the same promo shot of yourself for event flyers or album covers forever.
My time spent at home after a month on the road lasted a grand total of…. two days. And apart from the photoshoot, those two days were spent camped in the studio working. But it was back to the airport and a trip to Los Angeles, for a special Wednesday night show in Orange County for Giant at Sutra.
The flight out to LA was entertaining but not quite for the right reasons. Obviously I was trying to keep my focus, with Global DJ Broadcast to be mixed and delivered to the stations just before the gig. But with a Russian cougar sitting beside me, things got messy. She ended up having way too much to drink during the flight, and spilt the contents of a bottle all over the laptop! I'm not exaggerating when I say that some of the keys on the laptop are still a bit stiff to press today.
I feared that this laptop was going to have to join Lindsay in rehab, but thankfully it still functioned enough to get the show finished and uploaded. It could have been a potential disaster, with the World Tour recording in Chicago only a few days away. But with the show done and uploading away, it was time for some rest before showtime at Sutra.
When I got there my first reaction was seeing how great a turnout there was for the gig, especially since it fell on a Wednesday night and with people having to deal with work the next morning. Normally on a Thursday night you can suck it up and get through Friday, but this one would be slightly more difficult. So that was a big plus for me.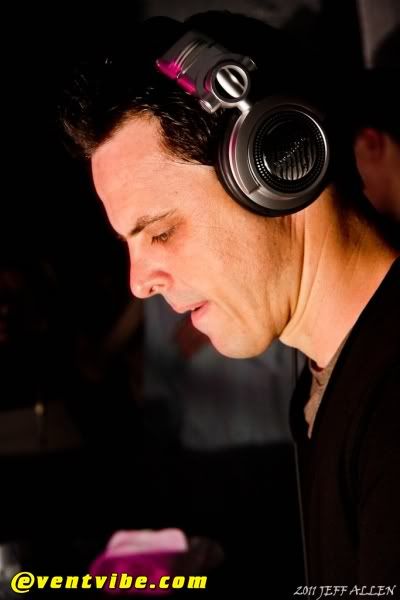 The main objective for the night though was to not only entertain those who did come out, but to make sure that my set was fine tuned for the gigs that lay ahead, since a few edits and reconstructions hadn't had the chance to be roadtested yet. One of the tracks that did the business early on was the Tucandeo rework of Tim Berg's Bromance. The original (can I call the Avicii Mix the original?) has been absolutely massive in the US, getting played on the radio everywhere. The Tucandeo guys sent it to me a couple of days before the Prague '11 Release Party at SaSaZu, and with a few fixes it works beautifully in the livesets now.
Sutra also brought out quite a few Coldharbour alumni. I had Tim Grube from the office in Miami accompanying me for all the gigs that weekend, and his production partner Mike Hovsepian lives in Los Angeles. Not only that, LA is also home to the guys from the Space Rockerz, so they were in the house too. I gave them a nice moment to share by playing their tracks featured on Prague '11 back to back – Invisible followed by Get Down City, and the crowd reacted really well to both.
A quick two hours were rounded off with Perception in the Redlight District and I went to meet some of the fans afterwards. Some of them said they were taking the trip to Las Vegas on Friday, doing one of those "Tour de Markus" streaks that they love talking about on the Tranceaddict boards. All in all though, it was a fun night, and a good way to start off the weekend for me, even though it was a Wednesday.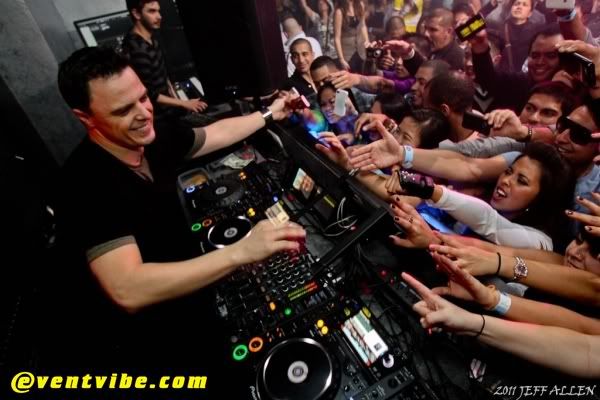 All Sutra Photos courtesy of Jeff Allen Photography. For a full gallery of the night, please Click Here
You may have seen it announced last week that I'll be making my comeback to Los Angeles itself on Saturday May 21st at Avalon, so I'm really hoping we can make that night special. I'm aiming for an extended set that night, so hope that you guys can come out and support. If you do, then I might do some funny dances on stage for you like I did last year, provided they aren't captured for the world on YouTube!
Residency Debut at Marquee, Las Vegas – Friday February 25th
Hello Sin City! How I missed you. Tim and I flew to Vegas from LAX on Thursday, since we were going to be introduced to my new home – Marquee Nightclub at the Cosmopolitan.
You've probably read in all of the interviews I've done in the past couple of months about how I want to make 2011 all about continuing and creating residencies. And then factor in the special association that has developed between myself and the city of Las Vegas – with Sin City from the first Dakota album, the compilation last year, the track Rain from the Do You Dream album, and shooting the video on location there too. But the next step for my Las Vegas story had to be to develop a residency.
It's like a book – you want to start reading it and then rather than just doing one chapter, you want to do another and another on top of it, and the story developing with each. And ultimately, I've wanted to have something like that in Las Vegas like I have in London and Ibiza, and now this year with my hometown of Miami.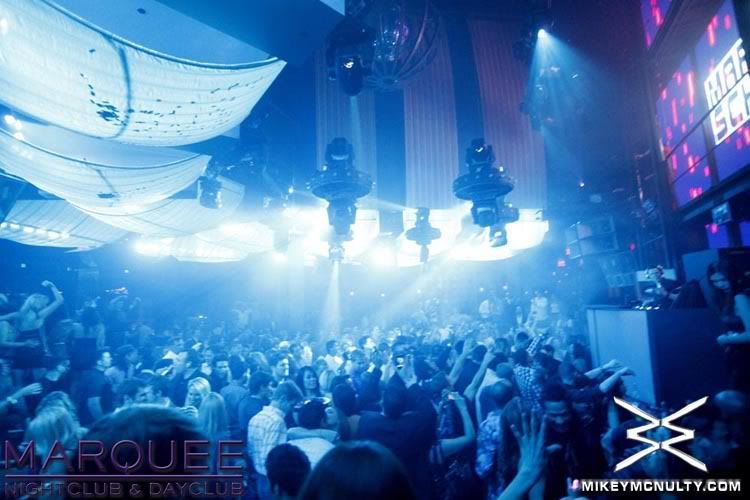 Marquee is the brainchild of one of my closest friends in the industry, Mr. Sol Shafer. His passion for developing the scene in Las Vegas is incredible, and with his dedication, he really will turn Las Vegas into the Ibiza of North America. So Marquee is a new adventure for him and the residency is a new adventure for me, and I'm very proud to be part of it. No more love them and leave them in Las Vegas; it'll be longer sets on the residency nights and the chance for me to do what I do best.
I spent all Friday morning and afternoon preparing my set in my room. With it being the residency opening, I wanted to make it more special by throwing a couple of Dakota tracks in to roadtest for the first time, and needed to iron a few kinks out of them. Nap then an interview for Marquee, dinner at Lavo, then it was showtime at 1am for a three hour set.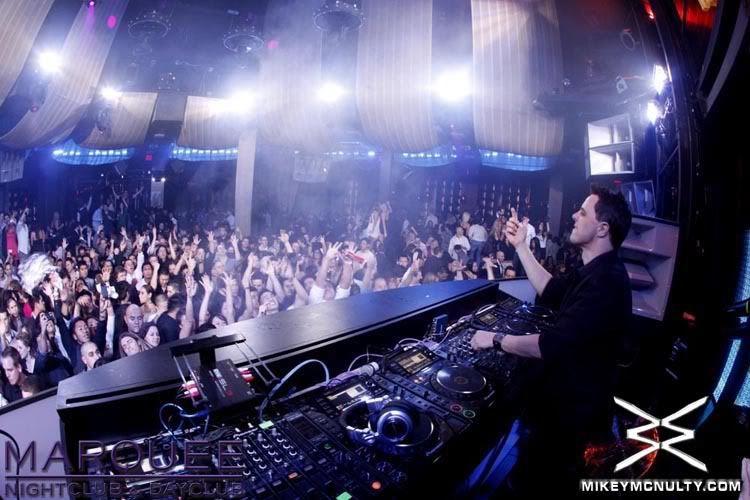 One of the huge reactions of the night came when I dropped the mashup of Nadia Ali's vocal on Rapture, combined with Alan Fitzpatrick's track Paranoize, remixed by Adam Beyer and Jesper Dahlback. It has been getting massive responses live this past while, and judging by the responses on the message boards from the World Tour shows at Green Valley and Chicago, you guys have been enjoying it too.
The first track from my upcoming Dakota album had been released only a few days before, and everyone at Marquee went nuts for Sinners, which has become a real staple anthem for me in my livesets now. Another track that did the business was the new one remixed by Thomas Gold and Axwell called Blow Up, which has one of those cool chuggy basslines that work so well on the dancefloors.
The last portion of the set was pretty much dictated by everyone who were passing requests to me by their phones! Phynn's remix of Rain got a huge ovation towards the end, and I even had to dust off the remix of Sia's Buttons to round out the night. Job done, and very happy with how events unfolded.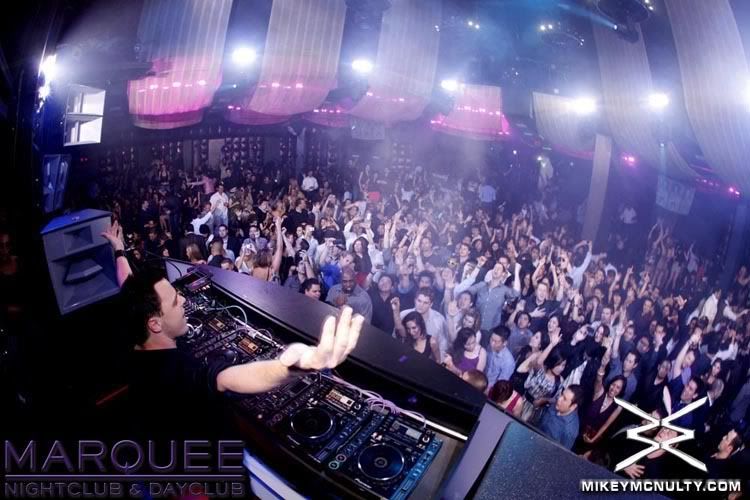 All Marquee Photos courtesy of Mikey McNulty Photography. For more info, please visit http://www.mikeymcnulty.com
So this is the beginning of an exciting new journey for me in Las Vegas. Thank you to everyone who came from near and far to be part of the first chapter, and of course a big thanks to Sol for inviting me to be part of this huge project. Hope to see all of you back at Marquee on Saturday April 23rd for more craziness. I'd definitely encourage all of you in the neighboring cities and states to come to Vegas and make a weekend of it. It's time to cement our legacy now.
Vision, Chicago (GDJB World Tour Recording) – Saturday February 26th
Saturday morning came a little too quickly and I was a bit groggy from the night before. We said our goodbyes to Las Vegas and headed to the airport for Chicago. A short delay due to snow but we were off into the air, with the added advantage of wifi on the plane.
This night had been one I was looking forward to for a very long time. The gig at Vision last July was right up there among the best gigs I had in 2010, and as soon as I saw Chicago appearing in my tour schedule for 2011, I had to lock it down right away for the World Tour treatment. For a city with such a rich musical heritage, it was probably way overdue on my part!
It's a very exciting time to be involved in Chicago clubland right now, with Vision joining forces with Insomniac to make the scene in the city even bigger. Lynn and all her crew at Vision have always looked after me so well, so it was time to put the city of Chicago and Vision nightclub on the World Tour radar for everyone to appreciate how incredible a vibe it generates.
We landed early in the evening (add on two hours of time difference as well), so it was time to rest up before the fun began. Tim took care of soundcheck and setting up the recording equipment for me. Set time began at 12:30 for a four hour journey.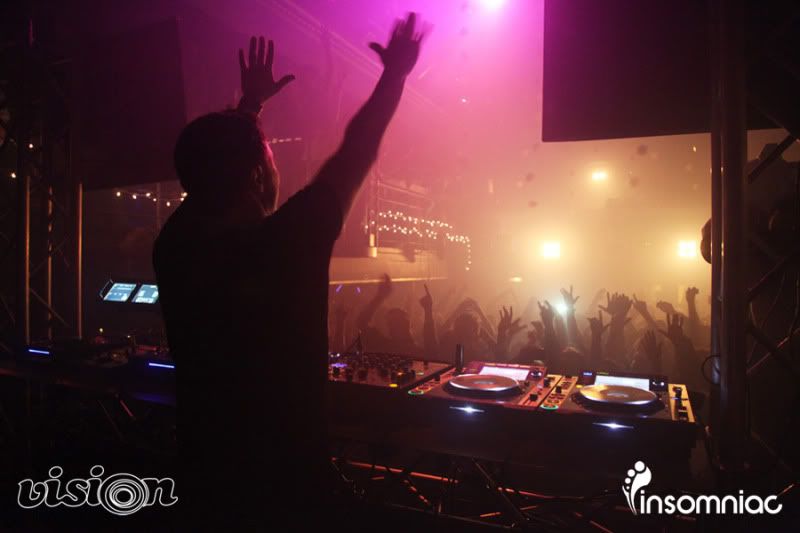 Photo courtesy of Jennifer Catherine Photography. For more info, please visit http://www.jennifercatherinephotography.com
Many of you will have heard a portion of the set on the GDJB World Tour by now, and you will probably agree that it was a special atmosphere inside Vision. For those of you who attended SaSaZu, the layout is similar with people standing and dancing on different levels. Or the three levels of madness as I described it when introducing the broadcast. I started off with the big room recon of Caress 2 Impress, and the crowd went off on a wild streak that lasted from the opening beat to the last.
I have to give a special mention to Khomha, whose work I'm absolutely loving right now. Rainy in the Night was one of the first tracks I pencilled in for inclusion to the Prague '11 compilation. If you cast your mind back to my solo set in Ibiza last year, you will have heard a very early version of it. I actually only received the track a few hours before I was about to perform, and loved it so much that I wanted to test it out to a live audience there and then. But the reaction it generated at Vision was nothing short of incredible. He's a talent I think everyone should be keeping their eye on.
To be honest with you guys, picking only two hours of the set to broadcast was a really difficult challenge. It was one of those sets where the vibe was so good that I wish I could have aired the full thing! Everyone at Vision welcomed me as one of their own. The night was wrapped up with the sneaky Coldharbour remix I made of Rui Da Silva's classic Touch Me, which has been going down really well in my livesets lately. I first made it for my return to Space before Christmas, and brought it out again on New Year's Eve in San Francisco and again for the Prague '11 release party.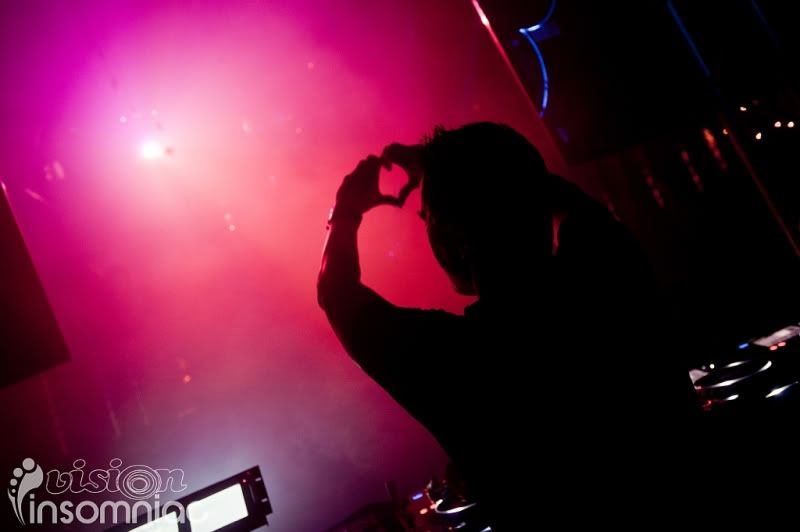 Photos courtesy of John Zoubek. For more info, please visit http://www.digitallychallenged.net
I hit the bed for a few hours completely worn out, but after the previous few days, it was well worth it. Tim and I headed to the airport to get back to Miami and out of the snow (sorry guys!), but not before feasting on my favorite type of hot dog – the Chicago version. Yummy!
Big thanks to Lynn as always and to the Chi-town Coldharbour crew that made the latest Vision stop an absolute blast. I can definitely feel us building something special there, and can't wait to come back to the Windy City again.
This Weekend – Space on MMC Friday and Sunday
The past few weeks have been extremely busy for me in the studio as you can imagine. Following the return from Chicago I was in Russia for nearly a week, then came back and did Winter Music Conference here in Miami, which included the Marathon Solo Set at Space, and can't thank everyone enough for making that night in particular very special for me.
Last weekend involved no gigs but I was still working long days and nights, continuing work on the Dakota album and preparing / mixing a new CD which will be revealed by Armada quite soon. It's not quite the depth of the Prague '11 project, but hopefully it's something you guys will enjoy. I played quite a few Dakota tracks in the set at Space for the very first time, and I wanted to spend a bit of time fine tuning them based on the responses of the crowd.
On the evening of the Marathon Solo Set, I got a call from Space to tell me that the gig had been sold out, and the Markus Schulz & Friends night (taking place tonight) was on the verge of selling out. And as a result of that, they decided to add an extra show for me to play on the Sunday night. I couldn't believe it! I felt so humbled and the first show hadn't even begun. And most importantly of all it told me that all you guys on the message boards from South Florida and further afield are believing in me and what I'm doing. It's thanks to you that we're having the opportunity to build something special in my backyard.
So tonight is round 2, with Wippenberg and Jochen Miller joining me for proceedings. I've been spending most of this week preparing for the madness. Olaf is going to open things up so make sure you get down to the club early tonight. I'm going to take over at 1 for a four hour set, and then Jochen will bring us into the morning to round things off. There could be some Sleepwalking done in the booth.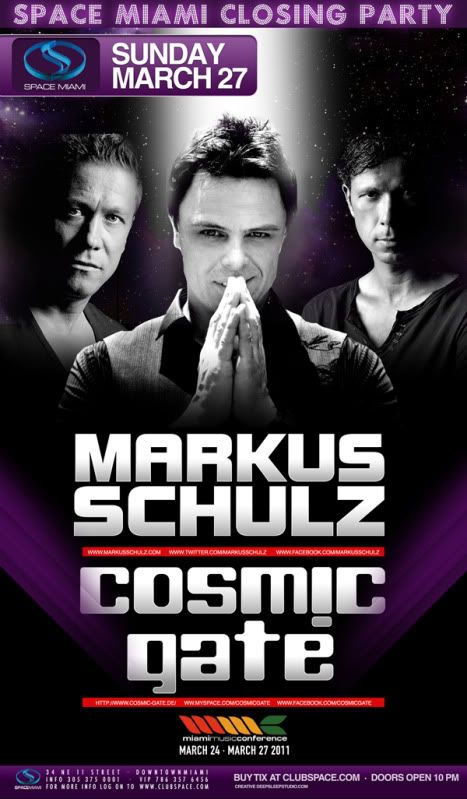 Sunday night will be our bonus round 3, with tickets still available if you want to be part of the last dance. I'll be joined by my good German friends Cosmic Gate, and we'll bring this week to a climax in the best fashion possible. So hopefully you guys will keep a bit of energy in the tank if you're out partying at Ultra or elsewhere earlier in the day, and can come to say your goodbyes before heading off home. I'm going to be recording my sets from both nights, and I'll decide which one has the best vibe and atmosphere to air on the Global DJ Broadcast World Tour in a couple of weeks.
Then next week I'm off to Argentina to make my first contribution towards the celebrations for A State Of Trance 500, playing at Club G.E.B.A. in beautiful Buenos Aires. My last BA experience was for Argentina's Bicentennial celebrations, and if it's as half as good as that next weekend, then we're in for a wild ride. Although I wonder if the go-go dancers will challenge me to a dance off at the afterparty this time around!
So that gets you a little more up to date again. The next blog will detail the trip to Russia at the start of this month, and all three experiences at Space spanning Winter Music Conference and Miami Music Conference weeks.
Alright guys, I need to get going and continue preparing for tonight. I can't wait to see all of you at Space, and hope that everyone who has travelled hasn't had any trouble with the fire at Miami International yesterday and has made it down here safely. It's time to show the world what we're all about tonight!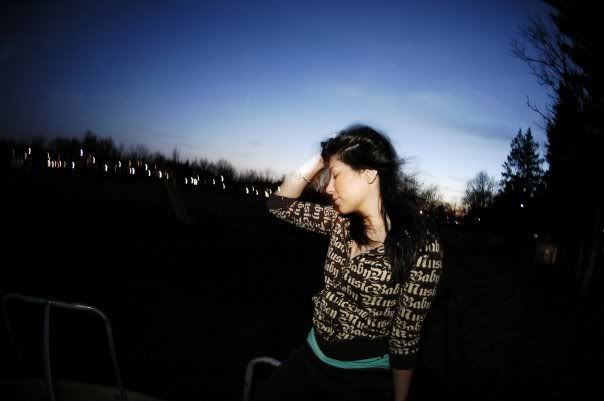 The last words of this blog go to my good friend Airwave, who along with his wife Melody have welcomed a new addition to the family with baby Elly. Welcome to the world! And also, a very happy birthday to one of the shining stars of the Do You Dream album – the voice of Lifted, Do You Dream and Lightwave, one Angelique Bergere. Hope you have a fabulous day T-Rex Baby Mama!
Thanks for reading again guys. Take care and hope you have a wonderful weekend. The Dakota tracks are filtering in from the mastering lab, and I'm getting very excited to play them out. All roads lead to Club Space tonight!
With love,
Markus