* Written on Thursday March 18th 2010 in Madrid *
What's up guys,
Hello to you all from my hotel room in Madrid, on the first day of the Klubbers Festival. It has been a little while since I last checked in with you all. Life has been incredibly hectic on the road, and particularly in the studio, putting the finishing touches on the next artist album.
But with Winter Music Conference just around the corner, I thought I should check in with you again to let you know what I have been up to. Hard to believe that my Asian tour was over a month ago already!
Asian Tour – Kuala Lumpur, Manila and Singapore
As I signed off the last blog I was touching down, settling in and adjusting to the timezone in beautiful Malaysia. On the afternoon of the gig, I went out for a bit of a stroll in the sunshine, and managed to snap a pic of the Petronas Towers, located very close to the Zouk club.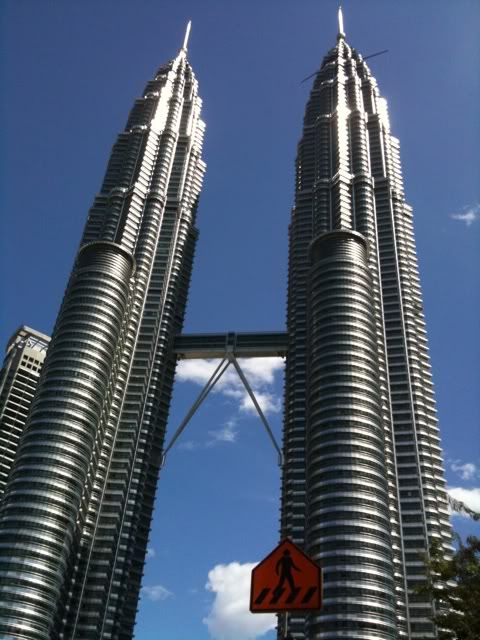 I was in Kuala Lumpur last year as part of my 5 week tour of Asia throughout April and May, but I didn't get to play at Zouk itself. In fact, this gig at the club was the first I had there in almost four years. When I arrived at the venue, I was really impressed by the new setup, and it was great to meet and entertain the large KL Global DJ Broadcast faithful.
The next night took me to Manila in the Philippines. Normally I'm quite prepared with my clothing in case the event theme dictates that everyone must wear a particular color. In most cases it's white, but for this party, it was red. And good old Markus didn't have anything red in his suitcase. So out to the shops to pick up a big bright red shirt. After napping and getting ready I tried it on, and I looked like some sort of 70s porn star, lol.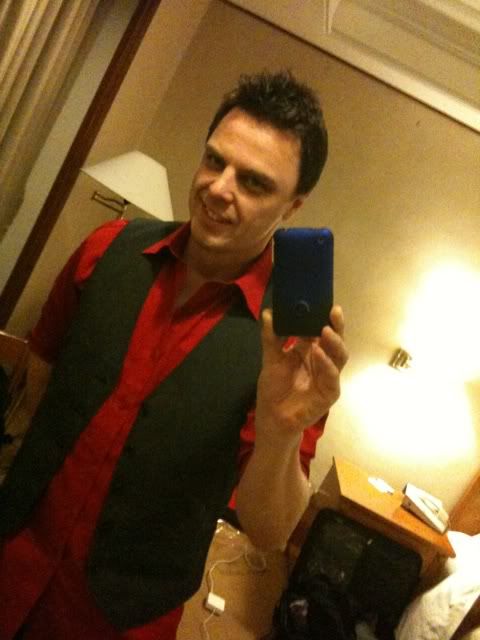 As it turns out, I was told that the theme was red because of the Chinese New Year, and that red meant "abundance". And it definitely added to the fuel of the party at the World Trade Center. The tour wrapped up on Monday night at the Singapore arm of Zouk, which again was another great night with the fans. I always enjoy these Asian tours because the scene is continually developing out there, and it's good to gauge the rate of growth every time I come to visit. I'm looking forward to my next tour there already.
Long Nights in the Studio – Part 1
The long journey back home commenced with an 18 hour flight from Singapore to Newark. Yes, you read that right, 18 hours. I could have made two tracks during that time: Singapore to Newark Part 1, and Singapore to Newark Part 2. The longest direct flight I have ever been on!
When I got home to Miami though, that was when the jetlag really started to kick my ass. I couldn't function properly at all; even as much as having to postpone a photoshoot in an attempt to get some prospective shots for the album cover. But, after resting up a little, I was ready to work.
The countdown was on to finalise the album. I got into my routine of getting up and beginning work at 6am, putting in on average around 14 hours a day in the studio. On the Monday after I came home, Max Graham and Jessica Riddle flew down to Miami to work on one of the tracks from the album, called "Goodbye". I'm so pleased that Max is back producing again. He has always been one of the most talented and diverse out there, and I was delighted to welcome him back to Coldharbour with the release of "Sun in the Winter". The original was one of the big tracks from Las Vegas '10, and I've been playing the amazing Estiva remix out live a lot in the past few weeks.
Back in December, when I was in the process of signing Sun in the Winter to Coldharbour, Max told me that he was working with Jessica again. You guys will all remember the last time they worked, which produced one of the iconic tracks of the past decade, "I Know You're Gone"; something I was very proud to feature on the Miami '05 compilation. So for a few days, and many long hours within each day, we got our heads together and produced something that I'm quite proud of. I'm looking forward to hearing what you guys will think about it.
San Francisco, World Tour Recording and the debut of Dark Heart Waiting
The album wasn't quite wrapped up, but it was time to head back out on the road again and start playing some of the finished tracks to a live audience. So I headed out west on the Friday with the World Tour recording equipment packed, with the destination being one of the best clubs anywhere in the world, Ruby Skye in San Francisco. The gig was also going to be significant, as it would be the first opportunity for anyone to hear my next single, "Dark Heart Waiting".
So after getting settled in and the soundcheck out of the way, it was time to start preparing my set. Dark Heart Waiting was obviously the priority, but I also wanted to give special attention to a new remix of one of the biggest GDJB anthems in the past six months. Yes indeed, Rex Mundi came up with the goods again, with the amazing, and I mean amazing, Opera of Northern Ocean.
I'll look back on the original with so many fond memories for many years to come, and I think you guys will remember it as one of the most significant moments of the Las Vegas '10 compilation. But for the clubs, I needed something a little more powerful and energetic, and right now there are very few people who fit those attributes better than Phynn.
Photo courtesy of Rafal Dudziec. For a full gallery of the night, please Click Here
The first two hours of the set are what you heard on the World Tour broadcast, but I kept going for another two afterwards! By the end, the energy of the crowd had worn me out, which is a typical feeling after any of my San Fran visits. It was great meeting the crowd at the end of the night, seeing those familiar people not just from San Francisco itself, but also those who travelled up from Los Angeles and Las Vegas. Soon it was time for bed, and an early start with a visit to my traditional morning after place, David's Deli.
Then it was on to Vancouver to bring home the gold, playing at Red Room on the final weekend of the Winter Olympics. The city itself was really buzzing, and the atmosphere in the club was a reflection of that. Unfortunately I was too late with my application form to enter the bobsleigh, but I will train and prepare for 2014. The party itself though was insane. Always a pleasure playing in Vancouver. One of my favorite moments since we started doing the World Tour every month was when I debuted the Agnelli & Nelson remix of Perfect in Vancouver back in December 2007. I listen back to that recording and the emotion of the crowd still gives me goosebumps today.
With another weekend of gigs in the books, it was time to board the plane, jinx the US Hockey Team by chanting for them in the final on Canadian Soil, and head back to Miami for another intense week.
Long Nights in the Studio – Part 2
I set myself the deadline of early March to have the album completely finalised. And as the finishing line got closer, the adrenaline mixed with coffee kept me going. Mixdown after mixdown, making sure that everything was absolutely right.
On the Tuesday night, it looked very much like I was going to be pulling an allnighter at the Coldharbour studios. I reached out to the Twitter peeps to keep me going. Star was here too giving lots of support and encouragement.
Then when I started putting everything together, I wound up with 84 minutes of music. That's not gonna fit! So I went through it again trying to edit everything down. And in the end, I got there.
At 4:30am on Wednesday March 3rd 2010, after 1.5 years of work, the album was done. I was deliriously exhausted by the end, and relieved at the same time. This goal that you set out to achieve, the one that your life revolves around, and you've finally reached it.
And now the nerves and excitement begin. The countdown is on until the album is released to the world. In the coming months, I'll expand on the details and talk about my experiences in the studio a lot more, including the vocalists that I worked with.
But first, we have to look forward to the next Markus Schulz single.
Shooting the Video for Dark Heart Waiting – Los Angeles
After editing and sorting out the World Tour broadcast from San Francisco, it was time to pack away another batch of clean clothes for another stretch on the road. Friday took me to Stereo Live in Houston, which was a great night. The Texas crowd sure know how to throw a party, and I had a pretty awesome morning after burrito too! I'll definitely be back.
Saturday was a trip back east to one of my favorite clubs to play, Club Glow at Fur. I have a great relationship with the promoters there. They always take care of me very well and the clubbers there are like a giant family; not just the DC residents, but also the NYTAs that travel up there regularly for my gigs. Saturday night was just another chapter in the great story we are developing there. It was a nice opportunity to test out some of the album tracks, and the crowd gave me the responses I was hoping for.
Photo courtesy of David Guzman
The only disappointment of the night was that nobody invited me back to any of the legendary Glow afterparties. In the past I've ended up DJing or participating in drunken hula hoop contests! But maybe it was for the best that I had an early night back at the hotel, because I was off to LA in a few hours, not for a gig, but for filming.
Starring: yours truly, LA's very own Khaz, and a purple beast:
I wish I could have taken it home with me!
It was a very hectic but fun couple of days in the LA sunshine. I was quite impressed by how creative the film crew were, and I'm looking forward to seeing the end product. Hopefully you guys will enjoy it too.
Of course you've now all had the opportunity to hear Dark Heart Waiting on Global DJ Broadcast, and I'm really encouraged by the general reactions to the track. Khaz is an incredible vocalist. He's no stranger to Coldharbour as you guys know with his work as part of Departure, and also the track "Eliana" from last year. He wrote the vocals for Dark Heart Waiting and if you listen carefully, there is a deep message to them.
But I want to make an important point and say that Dark Heart Waiting is only a small part of the album project, and not all of the tracks on the album are in the big anthemic style as this one. So the traditional and vintage Coldharbour heads out there have no need to worry, as there will be plenty of tracks from the album that are deeper and I hope there is a nice range of styles covered to appeal to everyone.
Right now we are working on the remix package for Dark Heart Waiting, and you'll get to hear one or two of those on the broadcast and particularly in my Winter Music Conference sets next week.
Mondaybar Spring Cruise – Stockholm to Tallinn
I left LA last Wednesday morning to head back to Miami, and mixed Global DJ Broadcast on the plane. I had a grand total of 15 hours at home, to sleep, wash, and change clothes. Then it was off to Newark, very nearly missing my connecting flight, and on to Stockholm.
Playing on these cruises is always a unique and fun experience. We had quite a few of the Armada crew joining us for the cruise, so it was great to hang out with them again. I have to say that I was really impressed by the production levels from Mondaybar. The atmosphere in that room where I played was incredible, and seeing the ice covered Baltic on the way to Tallinn. The highlight for me was seeing everyone singing along to the words of Dark Heart Waiting. Amazing that you guys know the words already!
Photo courtesy of Anders Blomfeldt
I didn't stay on the cruise for the trip back so I got off at Tallinn in Estonia on Saturday and made my way back to my apartment in Berlin. A couple of days of rest and catching up with family, then off to London for a day of meetings, and touching down in Madrid for the Klubbers Festival. After Madrid, I'll be making the long trip to Tunisia for a night at the Odeon club in Hammamet. Not the easiest of places to get to because of the lack of flight routes, but always worthwhile. I'm looking forward to seeing everyone there on Saturday.
Looking Ahead to Winter Music Conference
After spending Saturday night in North Africa, I'll be taking the long journey back home to Miami. And by the time I land, my hometown becomes the epicentre of everything dance music related for an entire week. DJs, producers, label owners, PR gurus and all other industry members will descend on South Beach for the annual Winter Music Conference craziness.
For me however, the best part of the Conference is that has become a celebration for the fans. You see so many people from all five continents united in attending these parties. I guess one way to describe it is to think about the Ibiza season, and condense everything in to a few short days. And I have the added bonus of being able to sleep in my own bed on the night of a gig!
We kick off festivities on the Tuesday night with the opening party of Conference at Dream, where I'll be playing a 4 hour set. On Wednesday, I'll be heading to Ganesvoort Hotel for the annual Sirius XM party, where I'll be doing an interview and spinning a liveset. For those of you who can't make it, you'll be able to catch the party live on Area. Friday night I'll be at Nocturnal for the Spin Showcase, and my Conference will be wrapped up on Saturday by playing at the huge Ultra Music Festival at Bicentennial Park.
So I'm really looking forward to playing for and hanging out with my Miami peeps once again. I haven't had the opportunity to play in my hometown since last year's Conference, so we are way overdue a rendezvous. It will also be great to see all those familiar faces from overseas that travel to see me regularly.
I'll be taking the recording equipment with me to every one of my performances across the week, and you'll hear the best moments from my sets on the April edition of the Global DJ Broadcast World Tour. It's going to be a crazy week, but hopefully one that will be very rewarding too. I wonder if any of the DJs will be brave enough to take me on in a game of fussball at my place like Cosmic Gate did last year!
So I'll wrap up for now guys and say adios on the way to Madrid for the Klubbers Festival. I'll check in with you all again in a couple of weeks to reflect on another Winter Music Conference, before looking ahead to a massive weekend for yours truly on both sides of the Atlantic – Trance Energy in Utrecht, and Bal en Blanc in Montreal.
Until then, take care, and for those of you attending the conference next week, see you guys there!
Markus