What's up guys,
Hope that this finds you all well. The past couple of weeks have been an incredibly hectic mix of touring, performing, breakdancing (I'll explain later) and working in the studio ahead of the summer, and with 9 gigs in the space of 12 days across America and Europe, I owe you a long catchup.
I started gathering my thoughts for this latest blog after boarding my flight from JFK in New York, en route to Russia for a huge weekend here. But what I'm going to do is take you back to just over two weeks ago, where I touched down in Budapest for an unplanned gig. I'll also provide you with more thoughts on the Do You Dream album, since we're very close to the release date now.
So let me begin by explaining how a layover night in Budapest turned out to be a gig.
4Bro, Budapest – Wednesday May 19th
I was preparing to leave Miami on the Tuesday, where I got a phone call from one of the promoters in Budapest. They had been in touch with my booking agency to explore the possibility of me participating in a charity gig. Hungary had recently suffered a lot of problems due to flooding, and I've had such a special relationship with the fans in that country in particular, that I was only delighted to be able to help them out in some way.
So the promoters picked me up at the airport after landing on Wednesday. Got to the hotel and began preparing Global DJ Broadcast for that week, but I didn't quite have enough time to mix it just yet. A very quick disco nap and I was on the way to 4Bro.
With the gig at such short notice, the guys only had 10 hours to announce and promote my appearance there, so they were only expecting a moderate turnout of around 150 people. But the response of the fans was absolutely amazing, and they travelled from all over the country to be at this intimate little venue. The place sold out with over 600 people there, which not only for a previously unannounced gig, but also on a Wednesday night, was incredible. The four hours I played went by like a flash, and I think we raised quite a bit of money for the relief fund. So all in all; a very successful and rewarding night.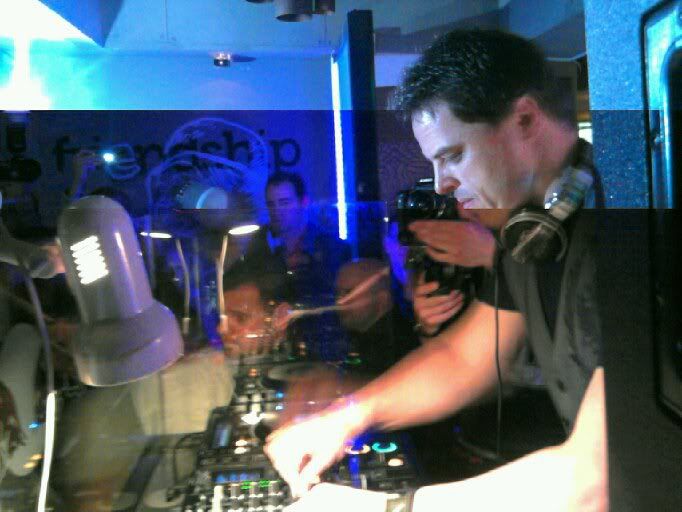 Photo courtesy of Zs