What's up guys, hope that this finds you all doing well.
It's another Friday, which means another session checking in with you all and reflecting on the past couple of weeks for yours truly. Although I have the rare luxury of writing it at home here in Miami this time!
I'm preparing for a road trip today up to Tampa along with some of the Coldharbour office crew, where I'm playing tonight at The Venue. More about that a little later, but first I'm going to take you back to the end of June and go through my various gigs and trips, as well as looking ahead to our annual Coldharbour Day celebration, and I'll also be announcing the location of the next World Tour recording.
Global Gathering, Minsk – Saturday June 26th
My weekend started with a trip from Haifa to Minsk in Belarus, for my first Global Gathering festival appearance of the summer.
The guys behind Global Gathering have been very good to me over the past couple of years, and I've always been so impressed with how they continually raise the bar in terms of their production standards. I was officially christened as their festival resident last year, and that theme continues in 2010 by playing several festivals for them throughout the summer season. I was very excited, first European festival of this long summer, and couldn't wait for it to begin!
Got checked in and rested up, and began preparing for the sunrise slot, and I think you guys know how much I love playing with the sun coming up. I arrived at the venue with David Guetta doing his thing on stage, and the sea of people were stretching back as far as the eye could see. I'd hazard a guess at there being around 20,000 people in attendance. I did my media interviews during Sander van Doorn's set, grabbed a quick photo with some of the other guys performing at the festival, and then took to the stage.
One of the tracks the crowd went absolutely crazy to was Ummet Ozcan's remix of the now anthem "Cardboard Box" by Skytech. I've been a big fan of Ummet's big room sound for quite a while now, and he delivered a slamming bassline-driven interpretation of Cardboard for me, as part of our Coldharbour 100 package for the summer.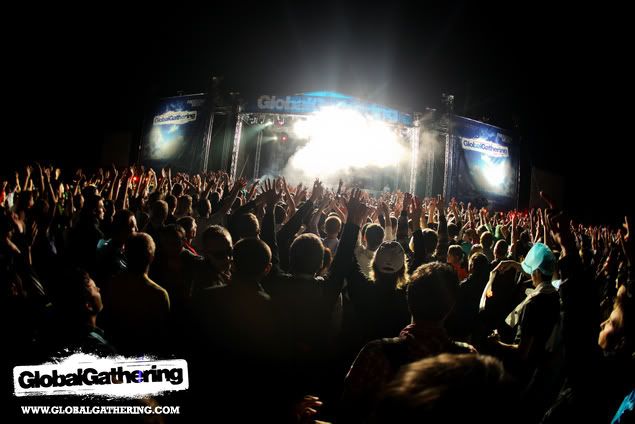 Photos courtesy of Global Gathering
Towards the end of the set, as the sun was coming up, it was time to hit the crowd with The New World-Do You Dream combo. Seeing the reaction of the fans was inspiring to say the least. It made me so excited about what I have in store throughout the entire summer, especially at the festivals.
Minsk is one of those cities that I can definitely see its stature growing in the next few years. Having Global Gathering pass through, along with the volume of fans eager to attend an event of this scale can only be a good thing.
First Gig at Amnesia in Ibiza this Summer – Tuesday June 29th
Sunday was back to Berlin to watch Germany beat England and Argentina beat Mexico in the second round of the World Cup, and some quiet time to recharge the batteries.
I flew into Ibiza on Monday night, a day early ahead of my first appearance of the summer at Amnesia, one of the meccas in world clubbing. Ahead of that though, it was going to be an incredibly busy day.
As you guys know, the next single to be released from the Do You Dream album is Perception. And considering its history and affection resonated by so many fans towards the track, it was somewhat appropriate that the location of his video shoot would be the magical island of Ibiza.
You would think it would be ideal working conditions, but the weather was blistering hot, which made everything so much more physically demanding! We filmed at various locations around the island, including the sunset from the legendary Caf