What's up guys,
Hope that this all finds you doing well. It has been another crazy period of planes, trains, automobiles and rainbows, so plenty to get you caught up with! I'm currently preparing for my return to Nature One here in Germany, but I wanted to take some time out to check in with you again and let you know how everything has been going lately.
I want to start off by giving you all a huge slice of gratitude for your kind messages of personal support you have sent me over this past while. It has been an incredibly difficult time trying to maintain focused during the busy summer season, but I'm trying my very best to perform as best as I can and keep my smile.
We'll pick things up from where I last signed off, which was my second appearance of the season in Ibiza.
Amnesia, Ibiza – Tuesday July 20th
My mind was still in a fog; only days after receiving the unfortunate news about my father's cancer, so I spent most of the evening trying to rest. Wasn't so easy though when Armin was across the hall recording his episode of A State Of Trance for the week!
Because our schedules take us to opposite sides of the world for most of the year, I make the effort to hang out with Armin when we're playing together. On that night in Ibiza though, he was in a huge amount of physical pain – suffering from problems in his neck. I could sympathise with him, because I had the exact same thing two years ago when I was touring.
The problems surface from being on airplanes so often, and you throw in all the air conditioning and the usual difficulties associated with flying, you end up not being able to move your neck because you are in so much pain.
I was going to Amnesia early anyway because I wanted to hang out and support Armin during his set, but I could tell from watching him performing that he really was in absolute agony. He tried really hard to perform as best as he could, but in the end, the pain was just getting too much for him. So I suggested that I could start my set a little earlier, to give him a bit of a reprieve.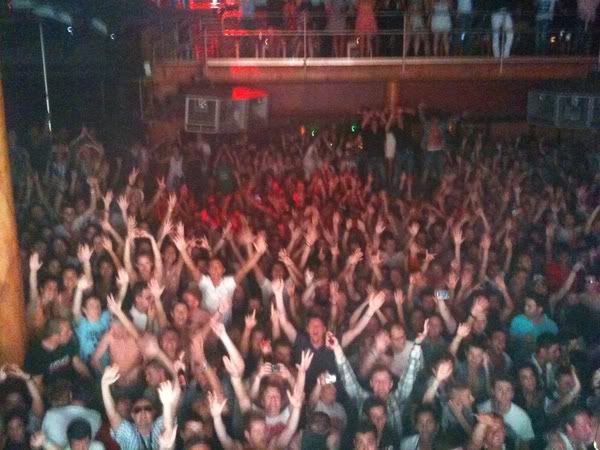 Photo courtesy of Armin van Buuren
Little did I know that it would turn out to be one of the best Amnesia experiences I've had. I just banged it out from start to finish, and the crowd loved every minute of it! It's always a privilege to be in that booth performing to an audience. Although part of me felt sad because I wanted Armin to be well and to be able to perform as well as he normally does. I will know however that the next time we are together at Amnesia it will be magical, as we unite for another all-night Best of Both Worlds experience. If you're on the island at the end of August, I hope you can be part of what will be another special night!
But thank you to everyone who came out for my last party there, hope to see some of you back for another round in August.
Riofest, Budapest (GDJB World Tour Recording) – Thursday July 22nd
When I was done at Amnesia, I was headed off straight to the airport. The original plan was to fly to Budapest and have a day off in the city preparing for the big night on Thursday. But the air traffic control strike in France scrapped those plans. I made it as far as Madrid, where I discovered that my flight to Budapest had been delayed by 4 hours. I hadn't slept, so I decided to check myself into the Hilton hotel at the airport, and go to Budapest on Thursday instead.
So I slept for 14 hours straight, then got up and finished off the GDJB Sunrise Set that night. Thank you for all your feedback on that set by the way, I'm so happy that you guys loved the concept! I think I might bring it back again next year for you.
Thursday and the big day had finally arrived. You guys have read me constantly talk about my special connection with the people and city of Budapest, and I really wanted to put on a massive show not just for the audience at the Riofest, but also for the World Tour listening audience.
I got into Budapest after another delay and started preparing for the big show. Thankfully I had some company with me for the trip – Tim Smeets of David Lewis Productions and the guys from Dancefoundation, who were doing a little bit of filming for every gig this past weekend. Like last year's festival, I would be playing the sunrise set, and last year it produced one of the most incredible moments in my career, playing Nothing at All when the sun was coming up.
ATB was performing and expressing his vocal talents whilst DJing when I arrived. So I got myself settled and got the recording equipment setup. And just after 2:30am, I got to work.
Photo courtesy of partypeople.hu
You'll be able to hear the very best moments of the set on the broadcast this coming week, but I can tell you that I've packed it full of exclusives! So you'll see some brand new IDs, some brand new material from Coldharbour 100, and some long standing pesky IDs finally revealed. You guys are never patient when it comes to IDs!
But I have to say that this was without doubt one of the best parties I've ever had in Budapest. I'm really proud of the support I have there, and I think when you hear the broadcast this week, you will know how passionate they are about trance. My only regret of the night was that I wanted to play for another hour or two, but I couldn't because I had an early flight to catch back to Berlin. But thankfully the people who attended the Riofest this year will have the World Tour broadcast for their memories to treasure.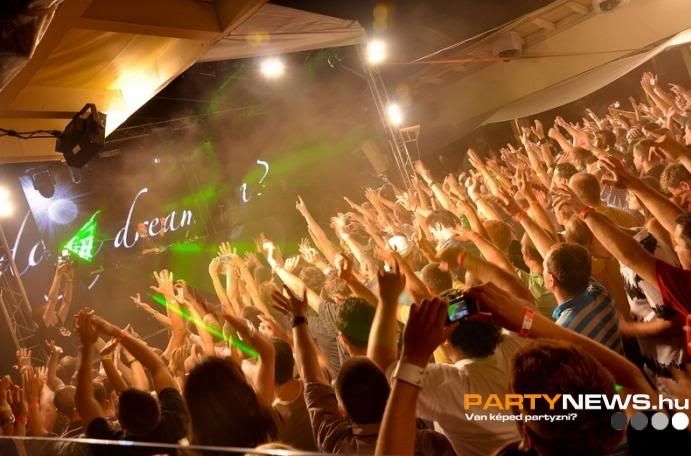 Photo courtesy of partynews.hu
I can't wait to come back there, thank you again so much to all of you who came out and celebrated, and especially all of you who stayed until the very end!
Sunrise Festival, Kolobrzeg – Friday July 23rd
An early morning flight back to Berlin for all of my crew, and we hung out at my apartment for a bit, although there wasn't too much sleep involved. We had a private plane arranged to take us to the Sunrise Festival in Poland, but it got cancelled at the last minute due to the weather. The week of delays continued!
So we all had to hop in a taxi and make our way to Kolobrzeg. Not ideal preparation as you can imagine. I'm not the best of sleepers when I am in a car or a train, and that was compounded even worse by playing through the night in Budapest the night before. Gareth Emery was in the car in front of me, and as the evening wore on, we knew that the original timetable for the night was going to have to be changed. Originally it was supposed to be Gareth followed by me and then Andy Moor taking over. Andy however had managed to make it to Kolobrzeg without any hassle so he swapped slots with Gareth.
I felt a little nervous because not only could I not prepare properly, the set was going out live on Planeta FM, which also meant that all you guys would be listening online too! The weather entering Poland was absolutely horrible, but thankfully had dried up when we got to the venue.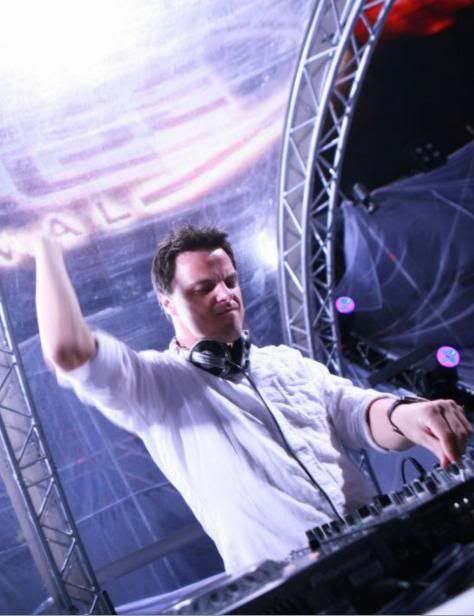 15 minutes to prepare and I was on stage right away. Playing in Poland feels like a homecoming for me; because the fanbase here are incredibly enthusiastic and so many of the regular posters on my forum are from that country. They love their hometown heroes too so I made sure I had the new Ummet Ozcan remix of Skytech's Cardboard Box prepped for the night, and it got a huge reaction.
A short 90 minute set flew by and I loved every minute of it. The eagerness of the crowd caused me to give all my energy back, and when I was finished I was absolutely exhausted. After meeting the fans I headed backstage and caught up with some Coldharbour alumni, in the form of Poland's Skytech and Romania's Mr. Pit (who was also playing at the festival that night). So it was good seeing them for a bit and hanging out.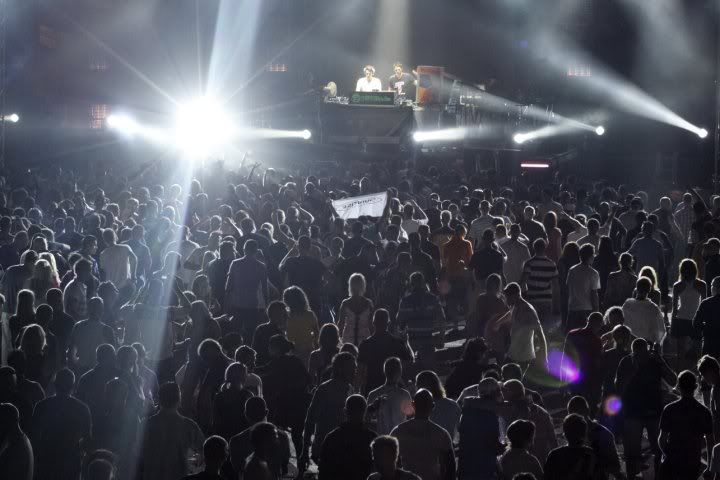 Photos courtesy of sunrisefestival.pl
Big shout out as always to the people of Poland for welcoming me once again. Despite all the tiredness, you guys really did keep me going throughout the set. Can't wait to come back and see you all again.
The Love Parade Tragedy
I'll continue with the reviews of the remaining gigs last weekend in a little bit, but I just cannot ignore the events that took place in Duisburg on Saturday, that have devastated our scene.
I was on the train from Berlin to Prague when my father messaged me that people were being crushed to death at the Love Parade. I was just stunned and dumbfounded by the news I was hearing, but after getting home and reading all the stories online and watching the news here, my sadness has been coupled with some anger too.
When DJs go to perform at any event, regardless if it is held in a club, arena, festival, or on the streets, we expect and trust the organisers to ensure that the artists and the clubbers are safe at all times. I've played to crowds of over 100,000 people twice in the past 7 months, at Together as One in Los Angeles and at Queensday in The Netherlands, and all I cared about was that everyone there was safe and able to enjoy themselves without having to worry about anything. Seeing people having to be lifted over walls to avoid being crushed in Duisburg was disgraceful.
Quite simply, this cannot ever happen again. So I plead to every promoter out there who reads this, please make the safety of your audience – the clubbers and the artists – your number one priority. My heart and prayers go out to all of the families and friends of those who were affected by this tragedy. And for those who were so unfortunate to lose their lives on Saturday, I wish that their memories will live on through the music that we love. I took the opportunity to close this week's Global DJ Broadcast with the classic "Meet Her at the Love Parade", and dedicated it to the victims of this year's edition.
May they rest in peace…
Pleasure Island Festival, Hradec Kralove – Saturday July 24th
Another early start and the long drive back to Berlin, and yet another private plane cancelled due to the weather. We were just flat out of luck with travel arrangements it seemed. So my crew was joined by Gareth and one of his Garuda staff, and we all took the train to Prague together for 5 hours. I couldn't sleep at all, although Gareth passed out like a light. Incredibly jealous!
I was so bored with all the travelling. Thankfully I could reach out to the Twitter faithful to keep me entertained for the final hour of the trip. It is such a cool innovation that has come in to our lives in the past year or so. I'm always late to the party when it comes to social networking developments but when I started with Twitter, I took to it like a duck in water. I have a lot of fun with it especially when I'm on the road, and you guys are always there to reach out to.
Finally I was off the train and I just wanted my bed. Although the news of the Love Parade meant that I couldn't just drift off so easily. With all the delays in travelling, I was thankful to be able to play the closing set this time. I got there a little early to check Paul van Dyk's set and hang out, and get a strong cup of coffee into me, which hit the right spot. Paul finished at 3 and I took over for the final two hours.
Photo courtesy of Silver Bullit from unitedmusic.cz
It was another cool set where we watched the sun coming up as the music played. Like Budapest, Prague is one of those cities that continually inspires after every visit, whether it is the Pure Prague nights, the huge Transmission arena events, or festivals like Pleasure Island. The people there come out in their numbers with t-shirts, flags, signs and everything. It was a short set and a very brief visit, but I was glad to reconnect with the people there.
I'm looking forward to getting back to the city and putting on an extended show again soon. But it was good to see so many people having a good time and enjoying their summers. Plenty of pictures and signings afterwards, but no backstage action, as I needed my bed and I needed it quickly.
Tomorrowland, Boom – Sunday July 25th
The final gig of the week and the fifth in six days. All I wanted was no cancelled flights, and I got my wish. Around 5 hours sleep and I was on my way to Belgium for the Tomorrowland festival, which always generates such an amazing atmosphere because you have the local Belgians mixing with the neighboring Dutch.
A little bit of rest and preparation and I was off to the festival grounds. I hung out backstage while Paul Oakenfold put on a bit of a classics showcase before I took to the decks.
Now you can imagine that if you're playing at a festival outdoors, the one thing you pray for is good weather and no rain. And unfortunately, the heavens started to open during my set. But thankfully, it stopped after just ten minutes. And to my right on the stage, you could see a complete rainbow, and the crowd started going crazy and dancing along! Such a cool moment.
Photo courtesy of Evi Voordeckers
I played for a very enjoyable two hours before Armin took over, and thankfully his neck was in much better shape. So I hung out listening to his set for a bit, and bounced in between different stages to say hi and hang out with the likes of Roger Sanchez and David Guetta. It was a fun way to round off a week of absolute craziness and insanity, and as the festival closed at midnight, I made my way back to the hotel for a proper night's sleep.
Big thanks to the guys at ID-T and everyone who came out to party at Tomorrowland. It's one of the coolest festivals to play and I was really glad to be part of the lineup this year. It brought an end to a very satisfying week of performances.
DJ Mag Top 100 DJs Poll 2010
Yes, you've guessed it, that time of the year has arrived again! The scariest part for me is just how quickly the past 12 months have gone. I promise you that this will be the only time all year that you will hear me talk about this poll. I know that many of you have very mixed feelings about it, and I do too. I hate being part of this promotional merry-go-round that is associated with time of year, where we have to be seen as promoting ourselves as some sort of presidential candidate!
I will be honest and say this – I view the poll as my yearly report card and evaluation. If I go up then I know that what I have done this year has pleased the fans, and if not then I need to think about how I can improve. I have always said that the most important part of the poll is that it is hopefully an accurate representation of the fans' voice – it's not the promoters, it's not the club owners, it is the decision of the fans.
Since the advent of internet voting has been introduced, it has opened up the scene to so many new territories worldwide, and that for me is a huge positive. It has therefore meant that DJs can no longer go to a small and developing country and mail it home – they have to perform as well at that gig as they would at Trance Energy or Global Gathering. I love the fact that I can debut a track on Global DJ Broadcast, and then play it in a live gig anywhere in the world a day later, and everyone knows what it is and cheers along.
But you guys know the type of person that I am, and the most important thing for me is the ability to give back to the fans. When I sat in Los Angeles looking forward to what 2010 had in store, I promised myself that I would try harder and produce these blogs for you on a more regular basis. Hopefully I've managed to do that and hopefully you have enjoyed reading all of my adventures this year. I always write these as if I am writing a personal letter to my best friend; because this is the trust I have with you guys who give me the most incredible support and belief in what I do.
I am truly thankful to each and every one of you who make me what I am, because I know that I am so lucky to be able to do what I do for a living. I remember when I was about to leave Phoenix over 10 years ago. I was a resident at The Works nightclub in the city for 7 years, and the club ended up being knocked down and turned into a parking lot. I sat there the night before I went to London with a million thoughts going through my head, and many of them were telling me to pack it all in. So when I get down or feel tired from all the travelling and the struggles associated with it, my mind goes back to that one night, and I realise that thanks to you, I am the person that I am now.

So that's all I have to say. I would encourage you to be part of the polls at http://top100djs.net and support your personal 5 picks, regardless if I'm your favorite or not. Thank you all for the support and the strength that you give to me on a daily basis. Let's hope that our journey together can continue upwards.
Coldharbour Day, Nature One, Global Gathering UK and Further Ahead
After the crazy weekend of delays and cancellations, I was glad to get back to Berlin to catch up on some sleep.
This past Wednesday we united and celebrated our annual Coldharbour Day party together, and what a day it was! Huge thanks go to the guys at Afterhours FM for accommodating us for the day, and all of the DJs who contributed some outstanding sets for the event. It was amazing sitting and reminiscing about some of the older tracks that have made the label what it is today.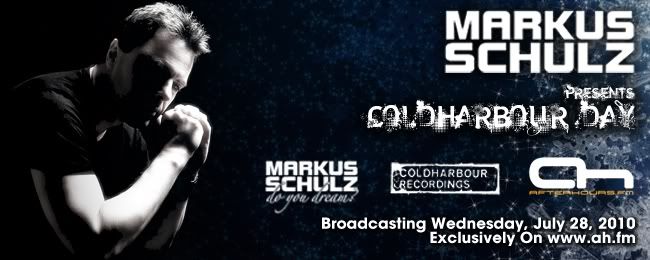 I worked on my 4 hour set between Monday night and Tuesday morning. I have to say that the city of Berlin is very inspiring to me when it comes to being creative. I just opened the doors and allowed the vibe of the city to come in and be part of the mixing process. On Tuesday evening I stuck the set onto my iPod and walked around the city listening to it, and I was really pleased with how it turned out. It was definitely one of those sets where the end product gave me lots of satisfaction. And of course, thank you to everyone who shared our celebration and made the effort to tune in.
Yesterday was spent finishing off GDJB in the morning and working on the majority of this blog, before unwinding for a bit ahead of a hectic weekend. By the time you read this, I'll have been at Mannheim to carry out an interview with German station Sunshine Live, who are broadcasting the Nature One festival live all weekend. I'm really looking forward to playing there tonight, because not only is it because I'm performing again in the country of my birth, but also because it's the first time I'll have been there since 2006.
You'll be able to catch my set live as it happens tonight on Sunshine Live radio. It starts at 8:15pm EST | 1:15am UK |2:15am CET and lasts for 90 minutes. So make sure you check out my forums and the guys there will have a thread setup with stream links and details of how you can tune in.
Saturday takes me to another massive festival of the summer, the home leg of Global Gathering in the UK. It's their 10th year of the festival, so I'm really looking forward to being part of the event and playing for lots of familiar faces. And it's always a pleasure to play for the guys behind Global Gathering, who look after me very well at any of their events around the world. Another Boombox awaits me; and hopefully not a high stage too!
Then next week I'm back in Berlin for a couple of days before making the long trip to North Africa on Thursday for my annual visit to the Calypso Club in Tunisia. Every party there has been bigger than the last, so I'm hoping for the same this year! Next Friday I'll be back in Europe playing at the Barcelona Music Conference, which I'm really looking forward to. And Saturday is a double duty day, starting off with the incredible Dance Valley festival in The Netherlands in the afternoon, and ending the night at The Arches in Glasgow. The best way I can describe playing a gig in Glasgow is like attending a football match, because the crowd there is absolutely wild!
And another reminder about this Thursday, where the special World Tour episode will be on the air. So make sure you tune in for what will hopefully be one of the biggest World Tours yet.
Alright guys so that's everything from me over the past week and a half. Thanks for taking the time to read again. I'm going to try to check in with you in around 10 days' time, where I'll be heading to Amnesia in Ibiza for my special all-night solo set. Hope that you all enjoy the live broadcast of Nature One tonight too, wish me luck!
Take care everyone, have a great weekend, and if you're going out partying anywhere, please party safely.
With love,
Markus