Hey everyone,
Good morning to you from a cold and wet February day in London. Thankfully though, I didn't have to fly into three feet of snow as some people were predicting. I hope this finds you all doing well. Tomorrow of course is the one day of the year that the entire male population of the world dreads the most, as they run around trying to find the perfect gift for their significant others. I can already foresee a ton of poor guys running the length of O'Connell Street in Dublin tomorrow afternoon; with flowers in one hand, a heart shaped box of chocolates in the other, and a 5 foot teddy bear underneath their shoulders! But forget going to the movies and cancel those dinner plans, and get yourselves out to the clubs for what should be a very fun weekend
I have to begin today with an apology for not being able to write a blog entry for the past couple of weeks. Due to the hectic week in Israel, with gigs on a Thursday and Friday, and intensely working in the studio at home last week, time got the better of me. Hopefully this week's blog, along with the news of the Toronto '09 compilation will make up for it.
First of all, I would like to thank everyone who was so kind to send their birthday messages to me last week. There were so many that it just was not possible to reply to them all individually, but I felt very humbled by all of your kind words. It provides an easy motivation to work as hard as ever for all of you over the next year ahead. I did take a little time out and went to dinner with a few friends, to reminisce and look forward to the challenges that lie ahead.
Secondly, a special thanks to everyone in New York, Jerusalem and Israel who came out for all the gigs a couple of weeks ago. The gig at Pacha was definitely my favorite there to date. I had so much fun meeting the tranceaddicts in attendance, who stayed for every minute of my 6 hour set there. And to the people of Israel, where I had not played in almost 3 years, thanks to you also. A great week spent in two cities, where I was enlightened by all the sights and sounds.
Earlier this week, the details of my Toronto '09 compilation were unveiled. Many of you have been emailing me with lots of questions regarding the inner workings of the project, so I wanted to take some time this week to explain to you all the intricacies that have engulfed my motivations over the past few months.
Of course, the first question that everyone asks is – "Why Toronto?"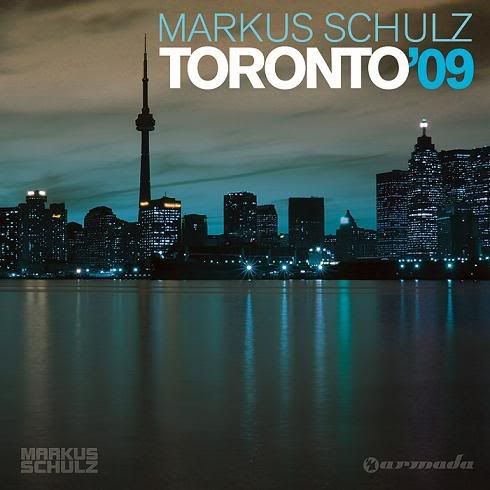 The two biggest things that inspire me about Toronto are my nights playing at The Guvernment, and how incredible the fans are. There are certain clubs and cities in the world I would recommend any clubber to experience at least once, and Guv is right up there with the best of them. I have had the privilege of playing there for over 6 years now, and I owe the special moments accumulated there over the years towards the shape and evolution of my sound as it stands today. The tranceaddicts there are fantastic. They have been so welcoming to me during my visits and the support they have generated for my productions and by tuning in to Global DJ Broadcast each week is incredible. They show up at the club with their signs and banners of appreciation, and their genuine warmth and hospitality is amazing.
When I originally conceived the concept of the Global DJ Broadcast World Tour, Toronto was always a nailed on certainty. Judging by the reactions of the fans listening worldwide to the recording from The Guvernment in September, it was a wise decision. It was after that broadcast aired when I knew the name of the 2009 compilation would be Toronto.
In the middle of November, I was faced with quite a dilemma regarding the compilation, because I had received the news about making an appearance on Radio 1's Essential Mix. Therefore, I had to strike a correct balance in donating plenty of exclusive material for each project. But I feel that it worked out right in both circumstances. It allowed me to spend the holiday period to refresh and envisage how I wanted the compilation to sound. Between Christmas and the end of January, I was in the position to roadtest some of the tunes I had compiled in some of the best cities, like San Francisco, Los Angeles, New York and Tel Aviv, and it was an essential toolkit to knowing how the fans would react to hearing a certain track.
My philosophy with regards to compilations has remained constant throughout the past few years, and that is to work with artists that I respect and have a special connection with musically. I have always strived to provide as much input and assistance as possible for up and coming producers that share and believe in the Coldharbour sound.
With my pool of resources finalised, I spent my Saturday night burning the midnight oil in the studios putting the two CDs together. Each track has its own special story to tell, and unique memories to generate. Alongside the tracks I received from a large pool of producers, I had a few surprises of my own, with a couple of brand new productions under my Dakota moniker, and a classic for the ages remixed. For the second disc of the compilation, I wanted to open with a tribute to Koolhaus; which is the big special events room at the Guvernment complex that I have had the privilege of playing at on many occasions.
When looking at the tracklist, I am certain that the eyes of all the veteran dance music enthusiasts were drawn towards the phrase "Power of American Natives", the legendary tune by Dance 2 Trance. Nowadays, when someone undertakes the task of remixing a classic, they are encountered with the pressure of fans thinking that it tarnish the reputation of the original. My feeling on remixing classics is that you should personalise the track to make it sound like it was made in your unique style, but without changing the structure too much, and remain respectful to the original. My remix is a reflection of that – essentially, it is a Coldharbour version of Power of American Natives.
The original holds a very special meaning to me, because it was one of the biggest tunes in dance during the first year of my residency at The Works in Phoenix, way back in 1992, in the days when having a mullet haircut was supposedly cool. So in a way, it is somewhat poignant that there is a fixture within the Toronto '09 project that reminds me of my roots, and the tracks that brought me to the dance, so to speak.
Ideally, that to me is what I set out to achieve with each compilation – it's not necessarily about compiling all the biggest tunes that are being hammered by everybody on the circuit, I want the listener to treat it as a one-to-one listening experience. It is a snapshot encompassing my vision of the melodies, the structures, and the grooves, and how each listener will interpret their own unique journey by listening to the results.
To the producers that I have worked with extensively throughout the compilation, I wish to sincerely thank you all. Your music continues to inspire me daily, and ultimately, the project would not have been possible without you. I also have to thank you, the fans, because your weekly input and feedback on the tunes I play on Global DJ Broadcast and Evolution each week is greatly valued. I do take everything on board that you have to say, and I appreciate the honesty of our great fans; always providing a fair assessment. And needless to say, I will be hoping for your feedback when the compilation comes out.
My hope is that we will be able to officially celebrate the release party, rather appropriately, at The Guvernment on March 21st. I have the date highlighted in my diary already. It will be one week before Winter Music Conference for 2009 and I already have the feeling that it will be one of the most memorable weeks of my life. I hope that you can all come out and be part of the celebration.
But before we even reach March 21st, I have so much to look forward to over the next few weeks.
Tonight, I make my first appearance for 2009 in my London home at Ministry of Sound, continuing the story of my Gallery residency. There have been so many tunes I have been itching to play on that soundsystem, so I am really looking forward to my set, as well as meeting up with some of my companion DJs; Mike Koglin, Josh Gabriel and Simon Patterson.
For Valentine's Day this year, I will spend the night in the Emerald Isle, playing at Tivoli in Dublin. The Irish fans are hardcore by every definition, obviously for their drinking, but especially when it comes to music. It is such a huge part of their culture, and by talking to some of my friends who live in the country, I know that it encompasses their lives so much from an early age. The crowd will be massively up for it and loud from the get go, and I can't wait to return there for the first time since May and rip it up for another 3 hours.
And that is where I must leave you for now. I hope that you and your loved ones have a nice Valentine's celebration, if indeed you do celebrate it, and if not, I hope you all have a great weekend regardless of what you get up to.
Take care, and I'll speak to you all next week!
Markus