Hey everyone,
Hello to you all after a very bleary eyed 24 hours of travelling from Pacific United States to Kuala Lumpur in Malaysia. Right now I'm not exactly sure what time or what day of the week it is, but all I know is that I'm tired and my bed is calling me!
However, I have put my time on the planes to good use, mixing this week's Global DJ Broadcast and also putting together another written blog for you all. In this edition, we'll look back on my trip to Brazil, birthday celebrations, some more North American gigs, and I'll go into detail about working on the Las Vegas 10 compilation ahead of its iTunes release this coming Monday.
So let's turn the clock back two weeks, where the Brazilian vibes were calling.
Trip to Brazil, including the World Tour – January 28th-30th
I left Miami late Wednesday afternoon and travelled through the night down to Sao Paulo. The flight however was delayed and it left me with little to no time to get my transfer connection to Recife. Stressed and tired.
Rested for a few hours and then went online to listen to that week's Global DJ Broadcast, and to give Arnej a bit of ribbing in the chatroom while his guestmix was airing. He sure loves his long dramatic intros! Although I don't think he was too keen when I said that I was going to reduce the length of guestmix slots to 5 minutes! Haha. His track They Need Us has been huge in my sets for the past 6 months, and he recently sat down with my Coldharbour crew for an interview which you can now read on the website.
The hotel where I was staying in Recife was right on the beach. No better way to relax and unwind before a big night. Unfortunately, my hopes of relaxing in the water were quickly dashed when I got told that there were sharks around that day! So for the sake of my legs, I stayed indoors and worked on a few edits instead.
Showtime at Noxx and the club was packed! Very cool LED screens inside. I used this gig as a gauge for preparing the World Tour set that Saturday, and I was very appreciative that the fans at Noxx were very knowledgeable, which therefore made it easier to see what was working in the set and what wasn't. Even though I had some technical difficulties dealing with a CD player that had seen better days, it was a really fun night.
The party ended at 5am. A few hours of sleep, and I flew back to Sao Paulo to get another connecting flight to Florianopolis. Landed and was fortunate to take in yet another beautiful sunset.
Got checked in and found some great sushi to eat, and rested up a little. What an incredible party this was at Confraria! I was only scheduled to play for 2 hours, but without even taking the time to realise, I wound up playing for over 4! There's nothing I enjoy more than playing longer sets. I'm not really one of those guys who necessarily restricts myself to the length of a set written on my gig itinerary. If the vibe is right and somebody gives me the go ahead, and if there's enough vodka to go round, then I'll play until tiredness gets the better of all of us. I met so many great people at this party and I really hope I can come back and play in Florianopolis very soon.
A 6am finish and it was a struggle getting out of bed on Saturday morning, but it was time to head back to Sao Paulo for the final time. I originally thought that the Sirena nightclub was in Sao Paulo city itself, but as it turned out, it was in Maresias, which is in Sao Paulo state. The drive must have taken over two hours, and I had absolutely no clue where I was. But the positive sign was that I could hear the music coming from the beach.
World Tour recording day had arrived; and I made my way to Sirena for a soundcheck. The club reminded me of Space in Miami, where I used to hold a weekly residency for a couple of years. Back then I would start off playing very deep and build things up as the sun began to rise, and combined with the experiences of the previous two days, I thought that it would be fun to do the same here.
I played for three hours in total, and the first two you heard on last week's Global DJ Broadcast. I think the contrast between the past two recordings shows the beauty of the World Tour concept. You can go from a high-octane New Year's Eve party playing in front of over 100,000 people to an intimate and dark setting, where you can take people on a completely different journey. I'm glad to have covered Sao Paulo and Brazil for the tour.
Happy Birthday Markus
The Brazilian tour had come to an end and it was time to head home to Miami for a few days. Monday was a busy day in the studio, working on something special that you guys will find out about in a couple of months. Tuesday was more album work, and Wednesday was getting the Sao Paulo recording cleaned up and the liners + jingles added.
Wednesday was also a day for a little celebration, because I turned 18 again. 🙂 Thank you guys all so much for your kind words and messages. The sheer volume of messages I received through email, Facebook and Twitter were incredible. It makes me appreciate how great the Coldharbour citizens are. If people ever wondered why I go out of my way to connect with the fans through these blogs and the video blog series, then it is for moments like that. And when I'm on the road travelling through a gazillion time zones, or on those days when I'm struggling for inspiration, I can turn and read these messages. So thank you all once again.
I had a lot of fun on my birthday. My two brothers flew in from Germany and it was great to spend time with them and share stories over a lovely dinner. Then a couple of hours out seeing the sights of Miami, before a late night unwinding in Coldharbour HQ getting everything ready for Thursday.
The birthday celebrations would continue long into the weekend.
Beta, Denver – Thursday February 4th
Thursday morning and it was time to say goodbye to my dog Star for another two weeks. Coldharbour was slightly hungover from the night before but I perked myself up for the trip out west, with the first stop being the home of Beatport – Denver, Colorado.
You guys will all remember the last time I played in the Mile High city, since it was recorded for the World Tour back in November. I played the now traditional night before Thanksgiving celebration at The Church. However, because I was playing in Vancouver on the Friday night, I stayed in Denver an extra night, and went out to Beta to check out good friend Paul van Dyk playing. The Funktion One soundsystem there was awesome! And when I found out I had been booked to play at Beta, I knew exactly what to expect. It's a cool experience still going to the clubs and hanging out when another DJ is playing, because you get to see the night unfold through the eyes of the clubbers.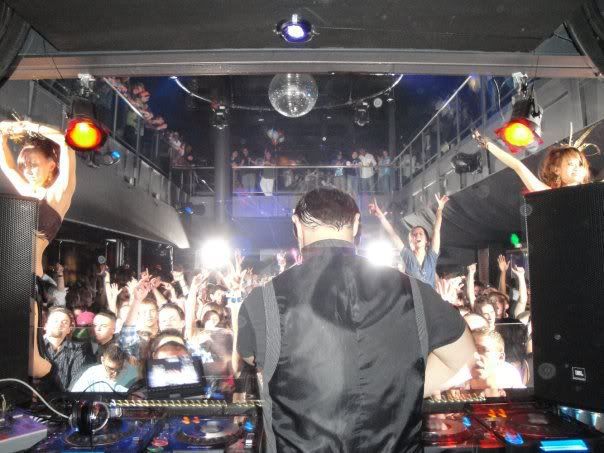 Photo courtesy of Sirimast Kuo.
The loyal Coldharbour citizens were out in force once again at Beta on Thursday, and it led to a pretty crazy party. I've loved all of my gigs there over the past year, between the amazing spectacle of Red Rocks in the summer, to the intimacy of The Church at Thanksgiving, to the vibe and great soundystem of Beta. The fans always make me feel like home. And they were so thoughtful and caring that they gave me a great birthday gift – a Starbucks gift card!
Karma, Minneapolis – Friday February 5th
Friday was a slight detour east to Prince's hometown, Minneapolis, Minnesota. I was very tempted to put on my purple suit to play that night as a tribute! What would transpire over the next few hours would turn out to be one of the best and craziest nights I have had in a long time.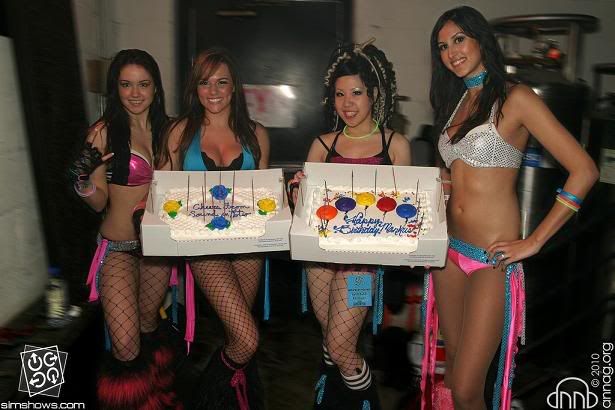 Before I was introduced on stage, the promoters grabbed the microphone and reminded everybody that it was my birthday a couple of days before. So the entire crowd with the lights up sang happy birthday to me. I didn't know what to say really! But it was an awesome feeling. Then my eyes started lighting up when I saw them bring this lovely looking cake into the booth. After a few attempts, I managed to blow out all 18 candles, and as the lights faded, the music began to play.
There's a video doing the rounds on YouTube of the rendition of Happy Birthday, along with a few highlights of the night. You can take a peek here:
http://www.youtube.com/watch?v=SUzJIOWvY0s
Unfortunately, all of the cake disappeared while I was spinning. But the movements of the go-go dancers in front of me kept me distracted. Maybe they were the ones who took it! Of all the times I have played in Minneapolis, these were by far the craziest bunch of fans in attendance. They were loud and wanted it banging. It was the perfect way to spend a Friday night, and to gee myself even more for a return trip to Sin City on Saturday.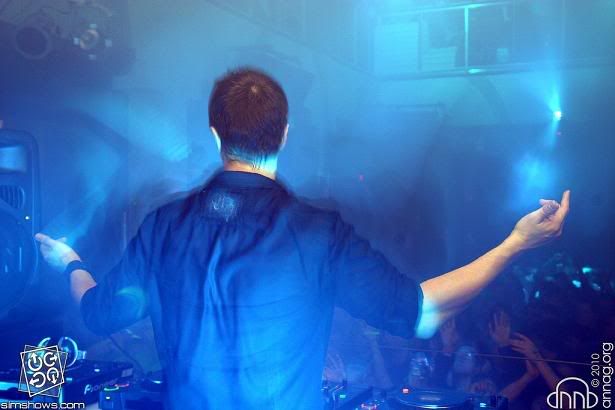 Photos courtesy of Anna Gulbrandsen / Sound in Motion. For a full gallery of the night, please Click Here
Rain at The Palms, Las Vegas – Saturday February 6th
Hello Las Vegas, it has felt like a long 2 months since I last saw you. The home of my 2010 city series compilation was buzzing when I arrived in on Saturday afternoon. Trouble and mischief were in the air.
The Palms people are among the friendliest and absolute best people I have had the pleasure of working with over the years. And it has been primarily my experiences at playing for them over the past year which influenced my decision for the 2010 compilation. It's in your face, it's bling bling, but it's also about celebrating the biggest and best tunes. And now, Las Vegas has a weekly Saturday night spot where the very best can showcase their talents to the great fans who congregate there, whether they live nearby or are tourists on a vacation.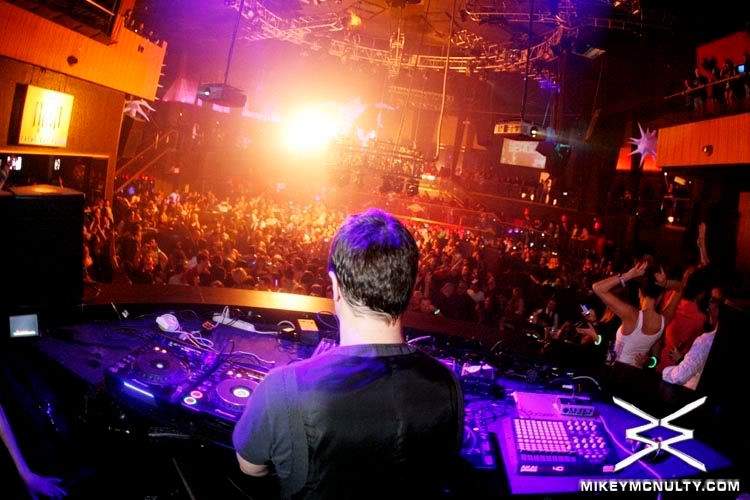 Saturday night went by like an absolute flash, and it's all a bit of a fog when trying to remember the details. I played for 2 hours and my only wish was that I could have played longer. The party was great as always and there was the usual craziness onstage and backstage! The Palms is one of those places where I want to play from open to close sometime in the future.
Photos courtesy of Mikey McNulty Photography. For a full gallery of the night, please Click Here
I don't know how or when I ended up back in my hotel room, but after briefly waking up at 11am and tweeting to the world happy Superbowl Sunday, I turned to the other side and slept for a few more hours. The game itself was taking place 5 miles from my house in Miami, but spending the day in Vegas with some great friends watching the game on huge screens was a nice substitute.
Now I'm not a betting man at all, but I decided for the heck of it to place a bet on the game. Sure if my bet came up, then I could buy myself a new set of headphones, something I'll always have to buy anyway. The New Orleans Saints have been a brilliant story to follow, and it has always been very much my nature in all aspects of life, even in DJing, to aspire to the role of the underdog that comes good.
The game took a little while to get going, but it ended up being a great one. Being the visual geek that I am, I was completely mesmerised by the stage used by The Who during the halftime show! We need to get one of those! And when Tracy Porter ran that interception in for the final score of the game, giving the Saints the deserved win, I jumped out of my chair. New headphones – check!
The Las Vegas '10 Compilation
The waiting is finally over, and this coming Monday on iTunes, the latest chapter of my city series will be unveiled to the world.
I guess the first thing to say about the project that it was difficult to approach, because I personally felt that after spending so much time and energy into Toronto '09, it raised the bar quite a bit. And not only that, I am so conscious of peoples' expectations of these city compilations, because every single one of them resonates with a person in a different way. If you put a group of 10 Markus Schulz fans who had listened to all of the city compilations and asked them which one was their favorite, you wouldn't get an outright winner.
For me personally, I feel that the landscape of working on compilations has dramatically changed in the past few years. Anybody can buy the Top 10 trance tracks off Trackitdown or Beatport and use some software to mix them together. I have always taken great pride and care with the tracks that I choose for the compilation, because I devote a lot of time in working directly with the producers of the tracks. You have to do that to make sure that the songs have that right vibe, and are a piece of the jigsaw that fits perfectly into the flow and journey of a CD. I'd sit talking to an artist and suggest to him / her to maybe make a bassline thicker or adjust its position so it sits in the right spot of the set overall, or maybe suggest different types of percussion for them to use.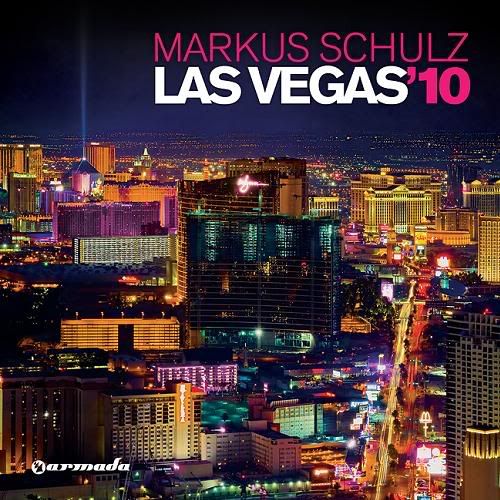 Of course, working on the compilation means that I go through a rigorous process of signing a plethora of tracks to Coldharbour, which forms a large part of our release schedule in 2010. Some of the tracks in particular I think you guys are going to love for years to come. When Rex Mundi sent me Opera of Northern Ocean back in November, I was immediately hooked, so much so that I had the track on repeat for three days straight! Phynn took Deadly Nightshade to a new level, Arnej rocked out with They Need Us, Mike Foyle produced another beauty in his Statica style, and Mr. Pit absolutely nailed down a monster with This Room is Not Big Enough, which has been huge in my sets recently.
I was also delighted to welcome back Max Graham. His track with Neev Kennedy called Sun in the Winter is a beauty. A real feelgood record that makes us think about the changing of the seasons from winter to spring. And how could I leave out the massive You by Robert Burian! That turned into a Global DJ Broadcast anthem very quickly indeed. Robert is doing some remix work for us on Coldharbour, on another one of the tracks which feature on Las Vegas '10, but I'll let you guys have a guess for a little while before revealing what he is doing.
But one of the tracks which has really caught fire in the past few weeks is the collaboration between Beat Service and Tucandeo. The amount of messages I received about that track after debuting it on the broadcast was incredible. And then things went up a few more notches when I debuted the Lentos remix during the World Tour set from Sao Paulo. Good old Barnes & Heatcliff doing what they do best. That's going to be a big one for us on Coldharbour later in the year.
So I hope you enjoy the next chapter of the journey, influenced by the ambiance of Sin City. I'll be checking out your feedback on the message boards and the networking sites, so don't be afraid to let me know what you think. And remember, what happens in Vegas will no longer remain in Vegas. 🙂
Asia Awaits – Kuala Lumpur, Manila and Singapore
It has taken well over 24 hours to get from Las Vegas to Kuala Lumpur, via San Francisco and Hong Kong. I had just about enough time to wave in the direction of Ruby Skye in San Francisco, but we will party together at the end of this month. Can't wait to hang out with the Spundae crew again.
But before that, I am playing at both Zouk clubs – in Kuala Lumpur on Friday, and in Singapore on Monday, with a trip to the Philippines in between on Saturday. Despite the long travel, I love playing out in Asia. The scene is just ready to explode in these cities and it's only a matter of time before you see lots of new artist and DJ talent touring the world circuit.
I'll get back home to Miami in the middle of next week, and then it will be some serious studio time to nail down the final few pieces of the artist album. I'm really excited guys about how this album is turning out. Even on my day off in Las Vegas on Monday I worked on a track based on the inspiration of being in that city.
And with that, it's time to call it a night and try to get adjusted to the Asian time zone. Thanks for reading again guys and thank you all for the wonderful birthday messages. I'll leave you with a final reminder to submit your votes for the 2010 IDMA Awards, in which I'm nominated for 5 categories, and your support as always is much appreciated.
You can place your votes at the following link: http://www.wintermusicconference.com/idmaballot
The IDMA ceremony takes place during Winter Music Conference week at the end of March. Oh man, WMC is fast approaching and I can't wait for it! The opening night of conference has been announced and I'm delighted to be playing at it again this year. I had a blast doing it last year at Aerobar, and this year we are taking the party to Dream. So make sure you come down to Miami for the Tuesday night and let's kick off WMC week in the only way us Coldharbour addicts can.
Take care and talk to you all real soon.
Markus