What's up guys, Happy New Year!!!
I hope that this finds you doing well and that you all had a lovely Christmas. I have a feeling that Santa got caught up in the snow and couldn't quite deliver the Toto Toilet from Japan that I wanted, but I'll see if it arrives after I wind down festivities following the weekend.
But we'll let Santa rest for now. Welcome to the traditional New Year's Eve blog, where we remember the good and bad times of the last 12 months, before looking ahead to what the future has in store. So we'll reminisce and share some memories in a little bit, but first I owe you some more gig recaps from this past while. We'll start off with my trip to Cape Town, and continue through to my homecoming at Space in Miami earlier this month.
As the final day of the year begins here in beautiful Los Angeles, where I find myself in the exact same spot writing the blog as I did 12 months ago, let's get down to work, with the necessary Starbucks in hand.
Smirnoff Nightlife Exchange Project, Cape Town – Saturday November 27th
I arrived in Cape Town on Wednesday after an overnight flight from Kuala Lumpur. This was going to be a very exciting few days for me, being in the Rainbow Nation for the very first time.
First call of duty was to unpack my reserve laptop and get it up and running, and mix Global DJ Broadcast for that week. It would take me quite a bit longer than usual, because all of my music was spread across multiple hard drives as a result of Lindsay misbehaving. When I got the show done, I had a few ideas going through my head for a new Dakota track, so I started layering down some melodies. After getting back into the studio and cleaning it up, I'm getting a great feeling that it's going to be something that will shine in the sets next year.
Thursday was Thanksgiving Day but no turkey for Markus to enjoy. Instead I spent the day doing some sightseeing around Cape Town. First stop was Table Mountain, one of the city's most recognisable landmarks. We drove through Hout Bay and went for a drink in Camps Bay. Amazing scenery!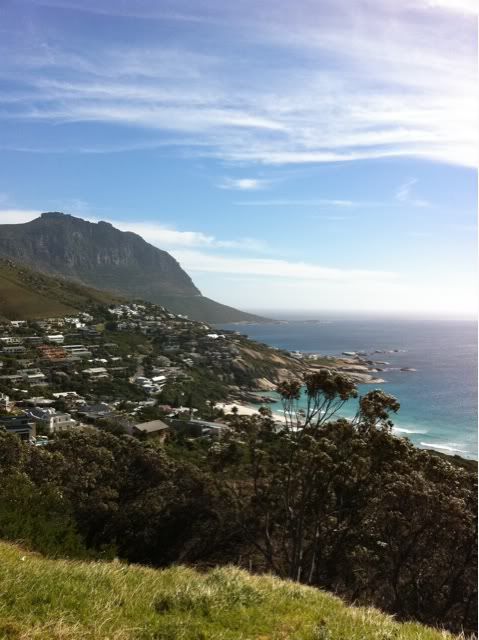 Unforunately I never really have the time to explore a city that I visit very often. Normally it's the routine of airport, hotel, club, hotel, sleep, airport and on to the next destination. But I loved having the opportunity to see some of the sights of this beautiful city.
On Friday, I arranged a special meet and greet for the fans with the event promoters. There were no tickets on general sale for the event at the Belville Velodrome on Saturday night, so I wanted to do something to reach out to the fans and try to get them tickets in order to be part of the night. We had a great turnout and had fun meeting some nice people. A lovely dinner followed then it was back to the hotel to spend the night and the following morning preparing the set for Saturday, and making some special reconstructions since it was a World Tour recording.
Soundcheck followed and it was time for my traditional disco nap, which involved having a weird dream. Even though it was happening a few hours later, I had dreamt that I took the wrong CD case with me to the gig, and all it contained was my collection of chillout and Hed Kandi discs! If you keep reading on, you'll discover that these weird dream happenings aren't just a one-off.
Thankfully I woke up and came to my senses, and showtime was fast approaching.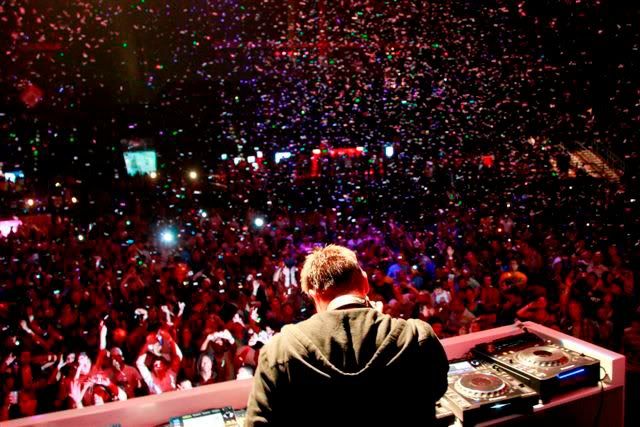 The event was part of Smirnoff's huge Nightlife Exchange Project, where they had grouped DJs from a particular origin and booked them all to play in a city far away. Very cool concept. So you had three DJs from Berlin (ATB, Monika Kruse and myself) playing in Cape Town as part of the exchange.
I took over from ATB at 1am to close out the night, and kicked it off with the Transmission Intro Mix of Future Cities. I couldn't hide my excitement at playing in South Africa for the very first time. One of the big moments of the night was unveiling a new piece of work a crowd for the first time – the infamous ID track number 2. That's something you can look forward to on Prague '11, but I'll say no more for now!
Gig photos courtesy of Smirnoff SA
But the highlight had to be another infamous ID, the one formerly known as track number 11 from the Budapest World Tour, and now known as Markus Schulz presents Dakota – "Sinners". It has been one of my secret weapons this year, and along with Future Cities, it was something I was originally going to keep exclusive to my livesets and didn't have intentions of releasing. But such has been the sheer amount of emails and requests asking about it (which has been absolutely crazy), I thought that it would be a perfect start point to restart the Dakota story in 2011.
The night came to a finish and I made it safely back to the hotel, thrilled with my first Cape Town gig experience. A huge thanks to everyone who came out to support, and especially to the guys who so kindly put this flag together and added their signatures.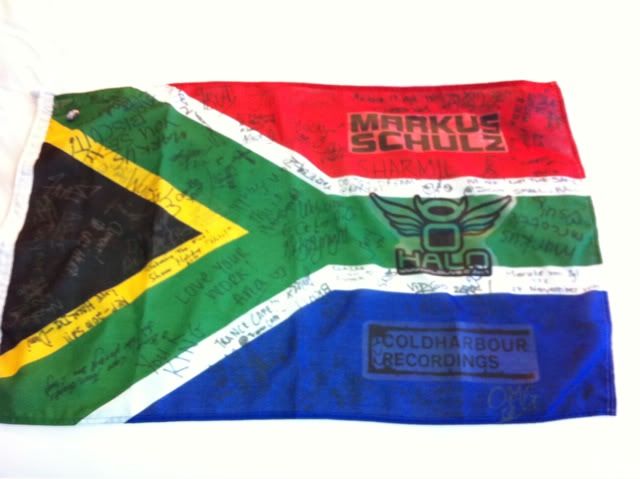 But like all good things, they had to come to an end. I had to leave South Africa on Sunday and head towards Berlin. But I really hope that I can come back to the country soon.
After checking in for the flight at the airport, look at what surprise was waiting for me. I felt like George Clooney. Quite scary being up in planes for that long for someone who is afraid of heights!
Digital Society at the O2 Academy, Leeds – Friday December 3rd
Back to Berlin and the cold snap was in full effect – so cold that I barely ventured outside the front door of the apartment during the week. I have a New Year's Resolution idea for Starbucks – please start up a home delivery service, especially for circumstances like these!
The week itself was very much focused on A&Ring tracks for the Prague '11 compilation – getting tracks in, taking notes on things that worked really well and things that needed tweaked, and figuring out where certain tracks best fit the flow and describe the story I want to tell with the mix. A little bit more about the compilation later.
I also had to keep an eye out on the weather reports for England, because they were hit with a serious deluge of snow, forcing a lot of their airports to close. So I was a bit worried about being able to make it to Leeds on the Friday, and not only that, would the snow mean that the turnout at the O2 Academy not be as strong as we hoped.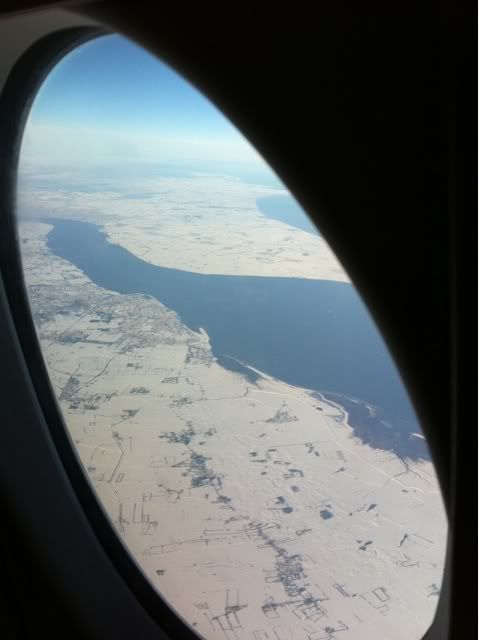 Thankfully, I headed off to Leeds via Amsterdam and made it there with little hassle, despite England looking like a scene from Superman's Fortress of Solitude. The pilot could have announced that we were landing in Siberia and I would have believed him!
The gig for Digital Society also meant that I got to catch up with my buddy Max Graham over some coffee. He's had an incredible comeback year and I'm so proud of what he's achieved. He gave us a great start to Coldharbour in 2010 with Sun in the Winter; and I was grateful to him for the collaboration with Jessica Riddle for Goodbye on the Do You Dream album. He even managed to squeeze Rex Mundi's Valley of Dreams out of me for his recent Cycles compilation! So it was going to be really fun to play alongside him on the night, even though I had to deal with the disappointment that he didn't bring his CD of Owner of a Lonely Heart.
Back to the hotel and into bed to rest up, and I had another one of those weird dreams. The big news from the previous day was that Russia had been awarded the World Cup by FIFA for 2018, and there was quite a bit of fallout and disappointment over England not winning the bid on the news there. So of course my dream involved me being chased by all these crazy and angry English people because of the decision, wearing helmets with Mau5head ears and chanting the theme from Zombie Nation. What on earth are they putting in my coffee????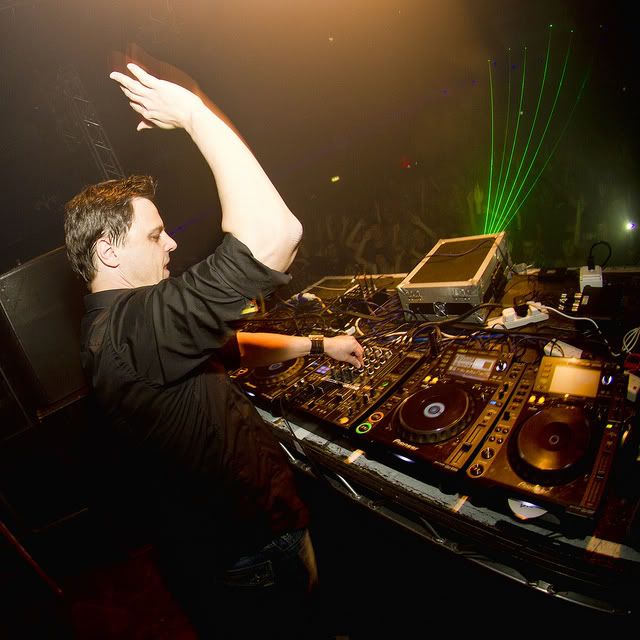 But it was back to business, and showtime at the O2 Academy. Max was throwing down a huge set, and had the place bouncing by the time I took to the decks.
This was my first time playing in Leeds, and I definitely hope that it won't be the last. I was so impressed with the job that the guys at Digital Society are doing there. You can tell that they have invested a lot of time and effort in building up excitement for the events that they plan. The man of the night undoubtedly had to be Pobsky. I think the crowd knew that he is one of their own and they nearly took the roof off with Final Cloud. So after that I thought to myself, you know what, let's give them a double shot and hit them with Dark Cloud as well. And boy did it do wonders.
At that point I think Pobsky decided to make me aware that he was in the middle of the bedlam and got up on top of one of his friend's shoulders. And he got a big thumbs up from me for his efforts. I'm in complete admiration of his sound right now. The best way to describe it is as if The Doors reunited to produce something for Coldharbour. If any of you guys don't like Dark Cloud, then we can't be friends anymore.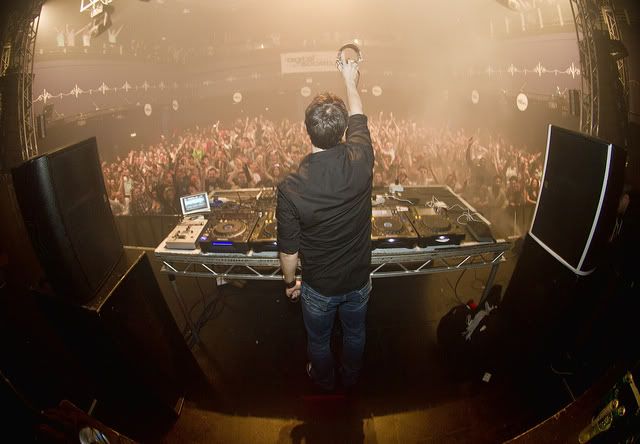 Digital Society Photos courtesy of Keith Galloway
All in all it was a very fun night to be part of, and everyone who came out to brave the cold and difficult conditions deserves a lot of credit. Let's do it again guys, but make sure it's a little bit warmer next time!
The Hall, Istanbul – Saturday December 4th
Saturday took me to Istanbul for my first gig in Turkey since Global Gathering in 2008. The event was at a small and intimate club that had been sold out, which provided the perfect platform to test out some Dakota and Prague '11 material in among the big tunes.
Now, remember in the last blog I told you guys that I moved over from CDs and started using USB sticks to plug in to the CDJ-2000s? This would result in an almost heart-in-mouth experience for me at the end of the set.
The atmosphere of the club itself was amazing, and the vibe of the people was something that I couldn't have wished any better. But unfortunately at the end of the night, the USB stick got ejected out of the CDJ. Oh dear lord. The USB stick that had all the Dakota and Prague '11 tracks. My secret stash you could say.
When I told you guys about it on Twitter, everyone was saying "oh what a terrible guy to do such a thing", and not one of you thought that it was a girl. But it was! I had to jump over the booth and grab her before she disappeared to get it back. I felt really bad about doing it to be honest, especially since it was a girl after all. Then I started wondering why on earth Pioneer installed the USB ports right on top where anyone would yank the stick out and make a swift getaway. I'm going to have to guard them with my life from now on.
But with the craziness settling down, I made it back to the hotel to pack my things and head off to London. Thanks to everyone who came out in Istanbul, and I hope that it won't be as long before I come back to see you again.
So off to London, and then, after five weeks on the road, finally back home to Miami. And for the weekend after, I really would be coming back home.
Returning Home… Home to Club Space in Miami – Saturday December 11th
My residency period at Space was arguably the most important chapter of my career. I had done my two years of personal rediscovery in the London suburbs, and it was time to set up home back in the US, and take generate an end product to what had inspired me.
I guess the best way to describe it is that London was the birth of Coldharbour in my head, but Space in Miami was there my thoughts were put into action. It was an amazing time back when the residency started. Tranceaddict was booming and so many groups of people were coming out together to events, Winter Music Conference was getting bigger and bigger, and I was in the thick of all of it. Around the time that the residency started, a little radio show called Global DJ Broadcast also started. I used to play at Space on Saturday night or early Sunday morning, go home, sleep, eat, head into the Party 93.1 studios and broadcast the show live through the night. Very fun times.
It was thanks to GDJB taking off and Party 93.1 carrying live shows from Space that people started recognising me outside of the US. People were relaying Party 93.1 over the internet and the momentum began to build. The Florida Tranceaddicts came out and followed me absolutely everywhere, and Space was their meeting point for years. I'll always be thankful to them, and to Space for giving the opportunity to showcase what I was able to do.
The international bookings started to flow in and it meant that I had to give up the residency; and outside of WMC, I never really had the opportunity to play at the club on a regular basis. As each year passed I kept longing for the chance to play, and I kept telling myself to be patient and wait for the opportunity. And after the past year I had experienced, there would not be a better time to finally "come home". I wanted a night where it felt like an old school reunion, and at the club where Coldharbour took off.
Everything that week was geared towards Saturday night. What happened on Sunday or any day after then didn't matter. I had to prepare a set to fit the vibe of the Terrace – dark, techy and loud. I wanted to dust off some of the signature tunes that I never had the chance to play at Space before – things like The Perspective Space mashup for example. And of course, we had some Dakota bombs to debut as well.
I saw so many familiar faces when I arrived to Space with my crew. That put me in great spirits right away. We had the recording gear set up for Global DJ Broadcast, and the set began a little bit later than scheduled, but with the crowd chanting every beat. If you listened to the broadcast, you would have heard highlights from different sections of the set. It got pretty full on between the first and second hour, then I deliberately brought the energy level down a notch in the third hour so that everyone could catch their breath, before heading towards the big finish in the final hour.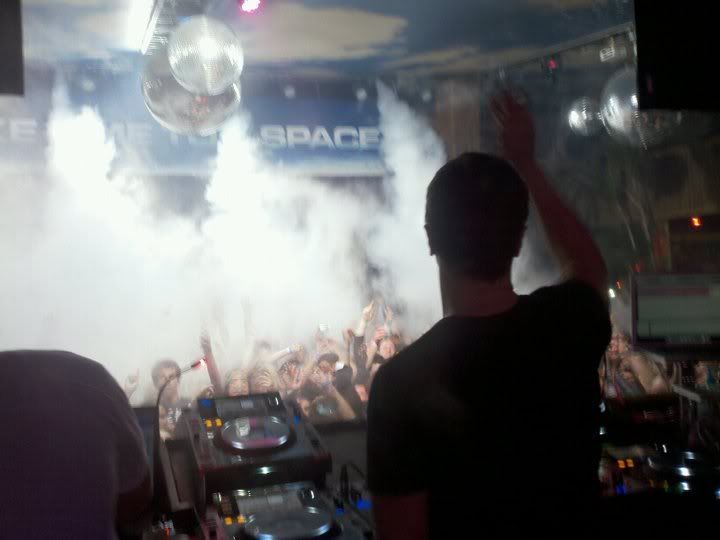 At the Space Terrace. Photo by Amber McSpadden
The night was one I dedicated to all the Tranceaddicts in attendance, but as you will know, there was one in particular who couldn't be there in body, but was definitely there in spirit. I deliberately held back the Coldharbour remix of Rank 1's Breathing until the end, and when the break hit and the sea of hands filled the air, I pointed up to the sky to signify who this was for. I hope you heard us celebrate your song up there DarkAngel. It was coming up to a year since his passing, so it was the only possible way to round off a special night.
For me personally, it was a very self-vilified night. And a huge thanks to everyone who contributed and made it possible. Word has passed through the grapevine that the return to Space isn't just a one-off, so I guess it's time for you to pack your things and come down for the mainroom experience during WMC week in March! If you come, we'll arrange a giant poker game, hehe. But in all seriousness, it feels like we are building something special all over again. It's right to feel excited about the future.
2010 Through My Eyes
I've probably said the same thing to myself and to everyone every year for the past few years, but this one was the most hectic yet. Which will most likely mean that next year will be even busier!
2010 started with the focus on the Las Vegas compilation, and all of the exclusive tracks at the time spawned the Coldharbour release schedule for the first half of the year. Tracks like Opera of Northern Ocean became anthems, both for the original and the huge remix by Phynn. Then my little Coldharbour baby passed the milestone of 100 releases in the summer, and I gave myself the challenge of delivering 10 high-profile remixes for 10 of our greatest label moments. Admittedly, it was demanding. Normally for one release you just have to A&R one or two remixes and you can test them out in your livesets on the quiet, but with 100 you had to cater for 10, and everyone had a fair idea what the tracks were already after only one play and capture on YouTube!
Although I have to say that I'm quite proud of the Coldharbour 100 project, and it's something I'm definitely going to do again in the future when we hit another milestone. The celebrations were complimented with our annual Coldharbour Day event, which drew record listening numbers for our friends at Afterhours.fm, and the Coldharbour roster produced some great sets that I still listen to on my iPod today. The day itself keeps getting bigger each year, so I hope that more and more people decide to be part of it in 2011.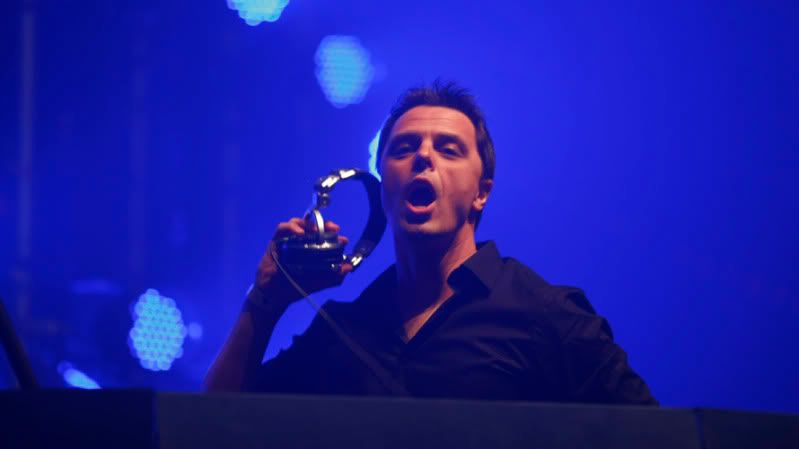 Performing at Trance Energy, April 2010
I could list off so many gigs where there have been personal highlights this year. Two in particular which stood out happened in April, performing the mainstage at (perhaps the final) Trance Energy, which was a thrilling experience. The Radio 538 guys who were there decided to invite me to be part of their Queensday celebrations at the Museumplein in Amsterdam, and even though it was only a short 20 minute set, it generated some wonderful memories and photos for the scrapbook.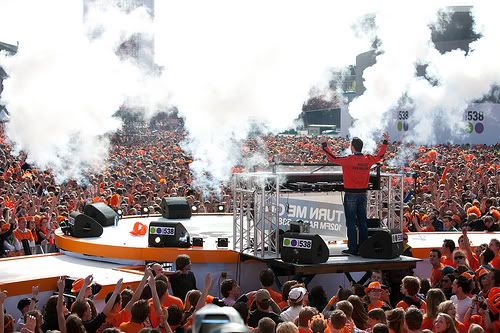 Performing at Queensday in Amsterdam, April 2010
The year had its fair share of tough and heavy moments too. The touring was absolutely brutal both physically and mentally at times. The idea of being in three different cities spanning thousands of miles within 24 hours is cool at the outset, but when you actually go to do it and throw plane delays in there, it is gruelling. And even though the number of gigs increase during the summer, you still have the same responsibilities all year around – you still have to scout new music and deliver a new episode of Global DJ Broadcast every week; to the standard that your fans expect. You still have to run your label and unearth that next Coldharbour staple in your livesets. And between all that, you have to bring your A-game to every club and festival that you're booked for.
You guys will have known the news about my father for a little while now, and that has been something which has been very difficult for me to deal with, especially when the tour schedule is so busy. What a lot of you don't know is that I didn't know who he was when I was growing up. He had split up with my mother when I was only 1 year old, and obviously with me moving to the US years later, we never had the chance to connect. It remained that way up until a few years ago, and that was something very heavy to deal with at the time too. I never wrote about it in the blogs, but I went through quite a lot of stomach problems when I was on the road due to having to deal with everything.
But over the years I've gotten to know him better and to be honest, a lot of the things that I questioned myself about my childhood and growing up finally make sense now. I learned from him that I'm a second generation DJ! How cool is that?
Sadly however we received the news at the beginning of the summer that he is sick and may not be around for much longer, which again has been tough to take. I keep asking myself why has he come into my life at a late stage, only to leave my life so soon again. I guess it's something that will be answered in due time.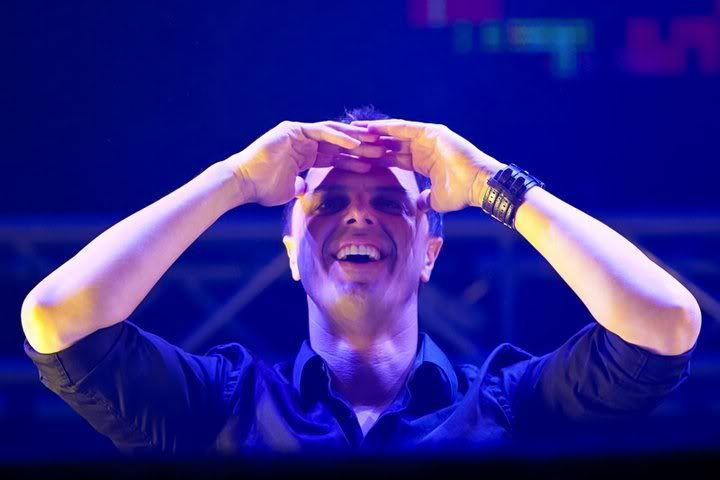 Performing at Transmission Future Cities. Photo courtesy of United Music
The night at Transmission and my experience with him being there is something that I'll always remember. When he saw me play at Mayday in Dortmund he said to me that I was living a life that he could only dream of, and after Transmission he said he was going to keep fighting as hard as possible to come see me at another gig again. I'm sure we all hope he sticks around for a while yet, and I'll be enjoying every moment I still have with him.
The Year of Do You Dream
But through all of that, 2010 will be remembered as the year of Do You Dream – a 2 year project with many late nights involved. And within the album, I got to realise a dream of my own by paying tribute to Perception. What I've really appreciated about the album is that I've had so many people come up to me in the clubs or send messages online saying which of the tracks on the album is their favorite, and there isn't really a unanimous winner. I hoped that from the outset that it would be an album where everyone would at least find something on there that appealed to them in a special way – whether it was the emotions of Surreal, the melodies of Not the Same, or the driving force of 65.4Hz.
The release of the album has opened a lot of doors for me too, particularly on tour. One of the nights I'll look back on with immense pride was my solo set from open to close for my Gallery residency at London's Ministry of Sound back in June. When I first stepped inside the club to play nearly three years ago, a new dream was created for me – to have the opportunity to play the first beat until last in that main room.
I'll never forget the rush of the people running in to the main room as I was starting. I'll never forget the emotions that were sparked with Surreal in the first hour (the first vocal of the night), with everyone singing their hearts out, and I'll never forget how many people lasted the distance until 7am as Goodbye and Breathing filled through the speakers. It was an incredibly special experience – to play at one of the most famous clubs in the world, in a city where you found your inner self all those years ago, and to do something as challenging as an all-night set is an achievement I'll look back on and be very proud of. Here's hoping that we get to do it again in 2011.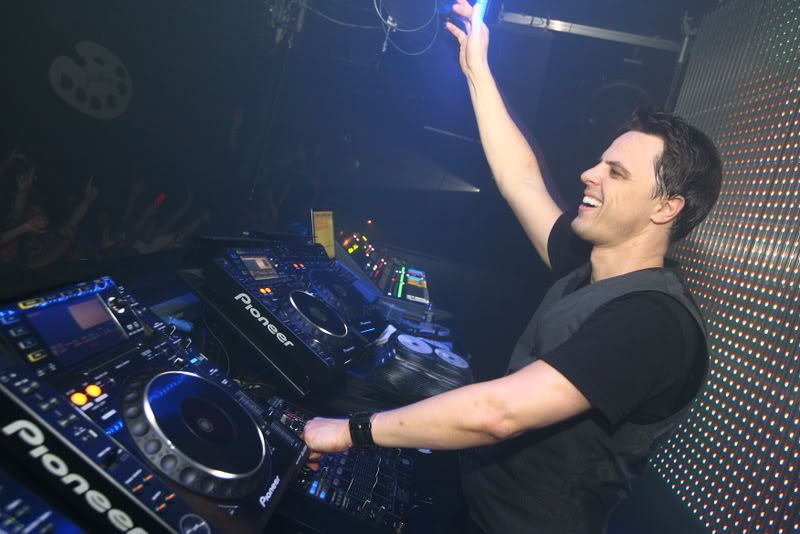 Ministry of Sound in June. Photo courtesy of The Gallery
And of course, we can't forget about doing the exact same thing at the world famous Amnesia in Ibiza, which you guys got to hear in full on the radio at the end of the summer too. I think the extended and solo set concept is something that I get a lot of personal satisfaction out of doing. It probably explains why I'm always so keen to play a longer set that appears on my itinerary list whenever possible. I'm able to express myself the way I want to, taking the audience on a journey that has a start and a finish, rather than just a bunch of random tunes thrown together without any care.
In saying that though, I do enjoy playing at the festivals, particularly because it unites fans of all the DJs and all the genres in one setting. I'm really pleased to see the likes of the Electric Zoo festival in New York doing so well, because the city needs and deserves to hold an event like that every year. The guys at Global Gathering celebrated their 10 year anniversary during the summer, which is an incredible achievement. And the fact that they have been able to replicate the original UK version to so many other locations across Europe is even more impressive. Playing at Nature One in my home country of Germany for the first time in nearly five years was another special night, and the Riofest in Budapest and the Sunrise Festival in Poland are highlights of the year too. I hope that I can be part of them all next year.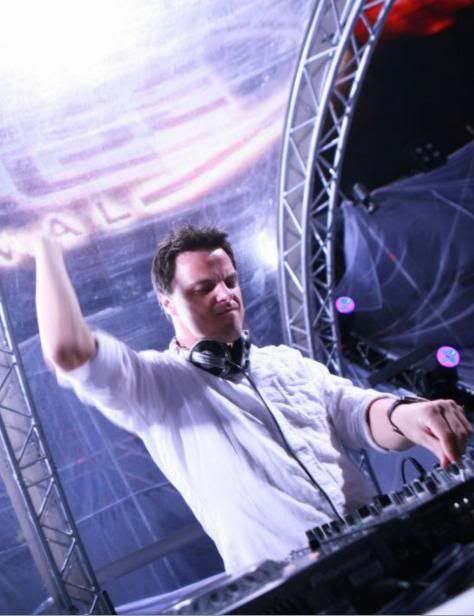 Sunrise Festival in Poland, July 2010
Looking Ahead to 2011
My ultimate goal in 2011 is to concentrate on a series of club residencies. In this day and age, it's really difficult to start developing your own story in a city if you only pass through there once a year. So I want to pick spots that are accessible for many people to travel to and play longer club sets at nights people will be captivated by and want to be part of.
One of the things I've noticed about the residencies at Ministry of Sound and Amnesia, and even going back to the days of Space, is that you have to earn the trust of the crowd to drop brand new and unheard material in your sets. I probably roadtest over half of the new Coldharbour material at MOS before anywhere else in the world, because the crowd are patient with me and give me the freedom to find out what works and what doesn't. So I want to build more nights in cities like I have with Ministry.
2010 was another year where we consolidated the number 8 position in DJ Mag, and much to my bemusement, someone decided to spread a viral video on YouTube, citing the reasons "where trance went wrong". And apparently I was cast as one of the lead characters! I guess we'll have to see what Mr. Dakota has to say in response in 2011. I'll admit that I'm angry at the trance scene right now, and a lot of the emotions I'm feeling are going to be expressed through the Dakota project. The album isn't finished yet but I'm about halfway there. You guys will get a blend of deeper tunes along with some bangers like Sinners, which will be the first single from the album in a few months' time.
What is finished however is the Prague '11 compilation. Many hours have been put into the project over the past few months, with so many new tracks coming in to Coldharbour, along with some exclusives that I was able to license from elsewhere. I mixed both CDs last week and have been listening to them every day when I'm going to the gym or when I'm on the road. Hopefully it's something that you will all enjoy again. I'll go into more details about the tracks and the artists involved next month, and I can give you a heads up that the tracklist will be revealed in a couple of weeks.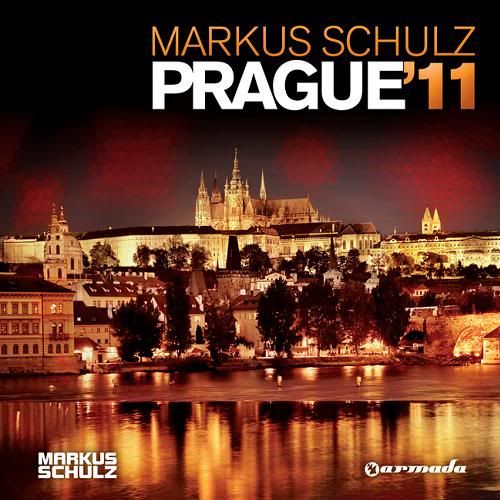 The Do You Dream project will come to a conclusion with another one or two single releases; and will culminate with the remixed album, which is shaping up quite nicely right now. I'm kinda teasing you guys with some of them in my livesets, but there are still even more hidden gems yet to come! And of course, the Transmission theme Future Cities will be one of our January releases on the Coldharbour label.
So it's shaping up to be another very busy year, and that's only the stuff I'm allowed to tell you for now. We've got a few surprises hidden up our sleeve, so it's going to be another exciting journey for all of us to take.
The Golden State Becomes the Coldharbour State
I have a feeling that this New Year's Eve will be my biggest and most memorable to date. And for tonight, Coldharbour takes over both north and south California.
This time last year, I found myself in the exact same spot as I am right now – in the city of angels. I guess it's somewhat appropriate that I play my first and last sets of 2010 at the same event, in a city that has been so good to me throughout the years. I've met some very special people in Los Angeles who I now consider among my best friends.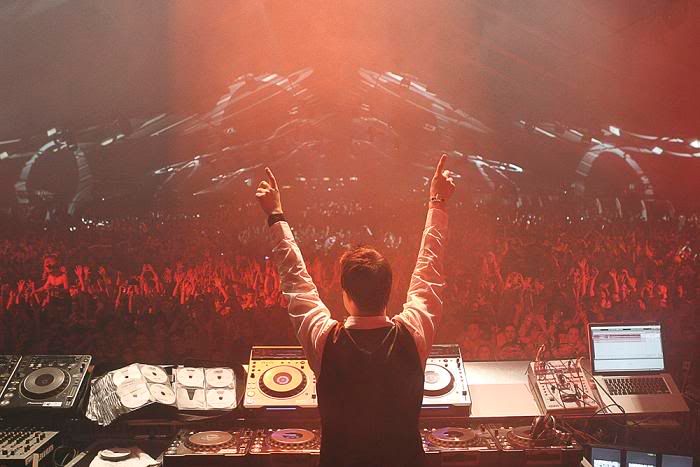 Performing at Together As One 2010. Photo courtesy of Alex Kapustin
My night won't end at Together As One however, as I'll be swiftly heading up north to San Francisco, to ring in the New Year at the awesome Ruby Skye and playing an extended club set. Really looking forward to meeting up with Guiv and the Spundae crew later on.
So I get the best of both worlds this New Year's Eve – I get the privilege of playing the big massive in Los Angeles, and I get to play the longer club set in San Francisco, and both will be equally as satisfying for me. It's also a night that will involve GDJB World Tour recording duty, with the Ruby Skye set getting an airing on the broadcast next week.
I can't wait to see everyone out tonight, it's going to be massive in every sense of the word! Then for those of you still up for partying in Vancouver, I'll see you all for a fresh start in 2011 at Gossip on Saturday night.
Thank You
So this is it, time to sign off for the final time in 2010. We've had quite a journey to take this year again. You're probably tired of hearing me say this, but I want to thank you all so much for your continued support. I know that every time I take a step back and assess things, I am incredibly blessed and privileged to be able to do what I do for a living. You guys are always here for me, voting in DJ Mag or Tranceaddict or the IDMAs, sending me words of encouragement when some days are a drag.
I'd like to take this opportunity to wish each and every one of you a very happy, safe and peaceful New Year. I hope that you find yourself surrounded by your family, friends or loved ones tonight. Let's make 2011 one to remember.
Hopefully you've enjoyed reading my adventures through the blogs this year. I set myself a resolution last year to be better and keep you guys updated more often, so hopefully I've managed to do that and will be able to keep it going next year as well. Any suggestions on how you would like the blog experienced improved, let me know. And many thanks to all of you who leave your feedback on the blogs through Facebook and Twitter.
I'll leave you with a final thought, and it comes from why my last album was called Do You Dream:
Ask yourself this – when you reach your goals in life and achieve everything that you dream about, do you still dream… think about it.
May our dreams continue together in 2011.
Love you guys,
Markus