Hey guys, I hope that this finds you all well.
A Merry Christmas and Happy Holidays to each and every one of you. I hope that you have all been good this year and that Santa will bring you everything that you've asked for.
It's Christmas Eve, and I'm feeling a little guilty. I know it has been quite a few weeks since I was last able to check in with you all and submit a new blog, and there's a chance that Santa might know it. So in order to convince him that I have been a really good boy all year round, I'm going to get you caught up on all my activities between this week and next, which will also feature our traditional New Year's Eve review.
So let's wind the clock all the way back to the middle of October, where I found myself getting off the plane in Doha, after being in Brazil only 24 hours earlier. Enjoy the journey.
October – Doha, Beirut, Amsterdam, London, Kiev and Denver
We pick up where I last left off with the tale of a green bag. Yes, this ugly ass green bag. Keep the image in mind throughout this section of the blog.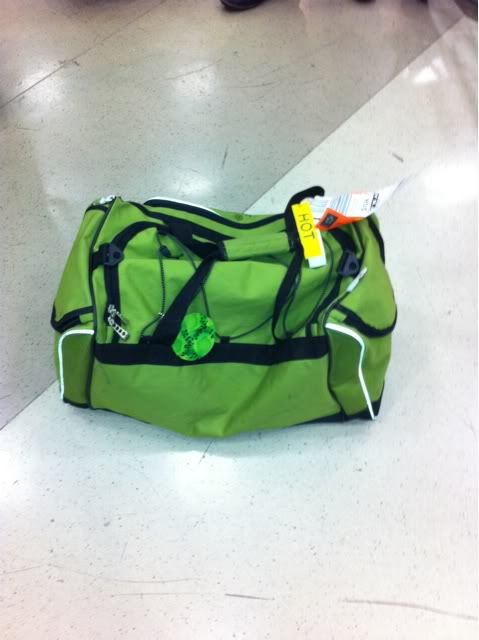 The story started off well. I thought it had decided to part ways from me during the flight from Sao Paulo to Frankfurt and then on to Doha. But after second thoughts, it decided it missed me enough to show up on time. That saved me any trouble because the gig at the Intercontinental Hotel was a white party, and all the white clothes were in this bag.
I had a really fun time playing along with Armin and Glenn Morrison; so much fun that they convinced me to travel to Dubai with them for a gig the two of them were booked for, and I wasn't! I tried blaming Armin because of the bad influence he's had on me over the years, but then again, it was difficult to turn down the chance to visit a city as beautiful as Dubai. So I partied on the Friday night as a clubber, and tried remaining sensible because of the gig in Beirut on Saturday.
Playing the Forum club there is one of my favorite spots anywhere in the world, and definitely one of those places I need to be thinking about in terms of new World Tour cities. It was a Do You Dream tour spot so the set mainly concentrated on the tunes from the album, with some of the traditional Coldharbour favorites thrown in for good measure.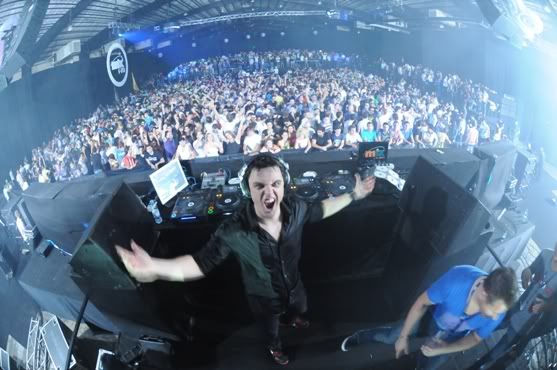 Photo courtesy of Mix FM Beirut
Then it was back for a few days in Berlin, freezing Berlin. I wish I could have transported the weather from the beach in Doha to there. But I had to keep focused and start playing with a new toy.
Over the past couple of months, you may have noticed that I'm no longer playing with CDs at the clubs. I'm now working with the new RekordBox technology developed by Pioneer, designed to work with their new CDJ-2000 range. It's amazing, having all of your music condensed onto a USB disk or flash card. And for me, it's a wonderful solution to be able to perform without going the "laptop route". I'm still one of those believers that the clubber pays and expects to see the DJ at work, and I still get to perform the way I want to now.
Wednesday was the opening night of Amsterdam Dance Event – the European equivalent of Winter Music Conference. Armada had the privilege of kicking off proceedings this year, and a combination of fans and industry members packed inside the Escape venue to watch a whole host of DJs perform. I took on the baton after Armin, and gave them a quick shot of what I was about in the space of an hour. It was a fun event to be part of, particularly because of so many familiar faces I spotted from all around the world, all finding themselves within the one room!
A day of meetings at Armada HQ followed, mainly focusing on the plan for another Dakota year in 2011. And Friday took me back to my Ministry of Sound residency in London for a short visit, and sadly, more headphone drama.
Somebody was a bit silly and left his headphones at the Escape Venue in Amsterdam on the Wednesday. Oopsie. Cue a panicking Markus finding a DJ shop in London to find a replacement pair. Thankfully, the guys at Westend DJ came through for me. Time to concentrate on the gig, and another nice opportunity to road test some unfinished Dakota material. The club was packed, and I had a really fun time playing alongside Ashley Wallbridge and my good friend Judge Jules. I'm looking forward to coming back to MOS again in February, because it'll be full steam ahead with finished Dakota work and the Prague '11 weapons.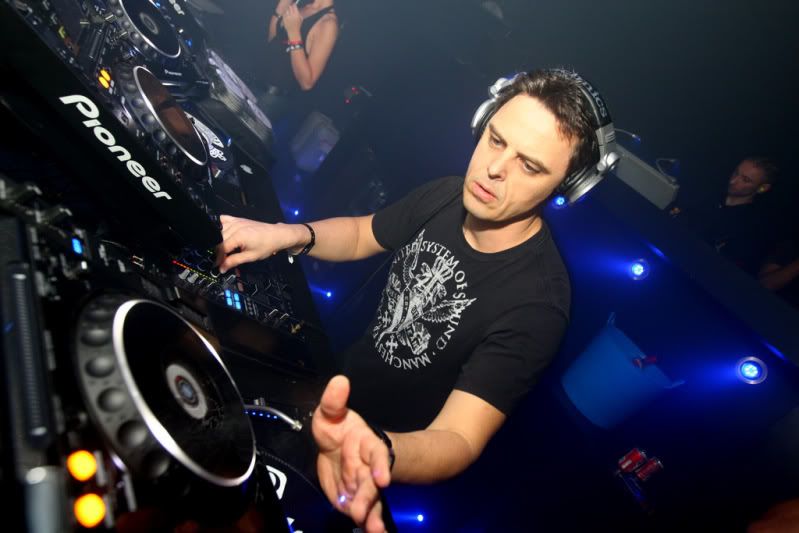 Photo courtesy of The Gallery
Saturday was the trip to Kiev, and it was a big one, with their city being represented on the World Tour for the first time. But sadly, my green bag decided to fall out with me again, and the timing was terrible…
Terrible because it didn't show up when I landed, and terrible because the recording equipment was in that very bag. Eeek! So I had to make arrangements to find alternative equipment to record my set for the broadcast.
Thankfully we got sorted, and it turned out to be an amazing occasion. A real high-octane set with lots of energy. The crowd loved hearing the vocal moments in the set, which is one of the things I think works best if you apply a less is more policy. The big room reconstruction of Susana's Frozen did wonders early on, and they erupted at the very end with No One on Earth. I think the party people of Kiev did their city very proud that night.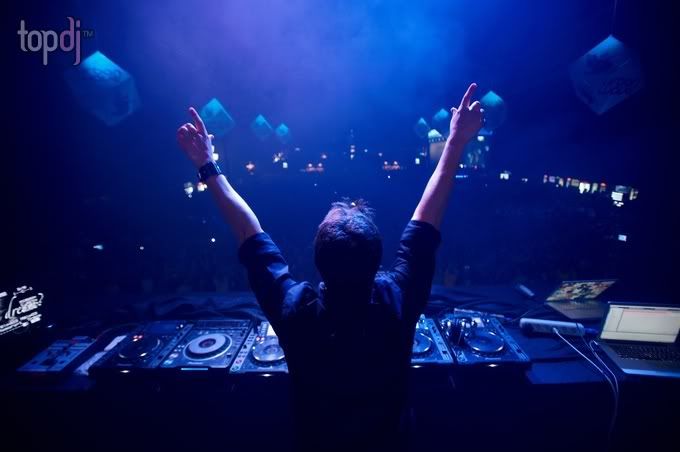 Photo courtesy of topdj.ua
So I headed back to Miami via Frankfurt, with no green bag. It showed up in Tampa, yes, Tampa, in the middle of the week. Some poor guy from British Airways had to drive all the way from Tampa to Miami to deliver it to me. But I was reunited with my green bag once again.
The month was rounded off with a trip out west to Denver. I didn't quite make it there for Thanksgiving Eve this year, but we partied like it was Thanksgiving anyway. Then it was back home to concentrate on one of the biggest events of the year…
Transmission 2010: Future Cities in Prague
Hello Transmission, hello O2 Arena in Prague… had it really been 12 months since the last time? One of my absolute favorite events anywhere in the world had arrived again. The previous editions held so many cherished memories for me, especially in 2008 when they asked me to create an event theme for the first time, which of course turned out to be The New World.
I'll take you back to early June and when I had landed in Perth, Australia, and sitting in my inbox was an email from the promoters asking if I'd be interested in creating a theme for the 2010 event. This put me in a bit of a dilemma – the Do You Dream album was just coming out, and I didn't want to christen one of the tracks from that as the event theme, because November was still months away.
I had a prototype of a track done shortly after finishing the album – something that was originally designed just to be exclusive for my livesets. I played a very basic version of it at Avalon in Los Angeles back in May, and in between the trips to Australia and London I started layering down the extra melodies, giving the work in progress a test run during the solo set at Ministry of Sound. But it was only until I got back into the studio in early July that it really came to life. So my goal was to have it completely finished in the run up to the busy festival period – starting at the Rio Summer Festival in Budapest.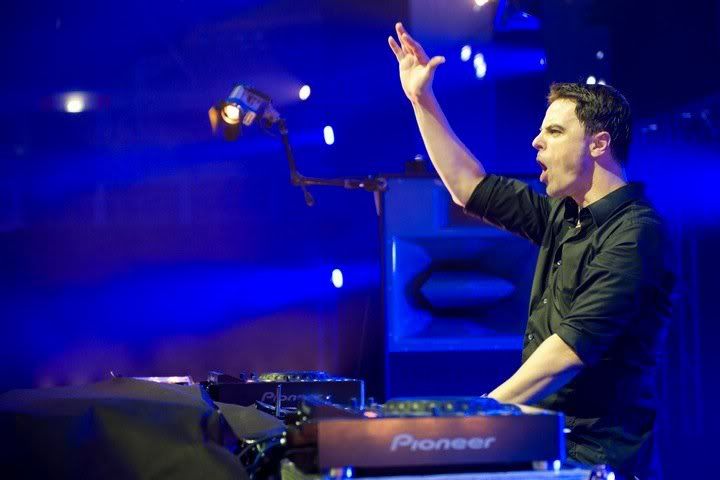 The name of course comes from the theme of Transmission 2010 – Future Cities, and in truth, the track was quite a secret weapon in many of my livesets throughout the summer period. The momentum was growing with every play, almost like a dress rehearsal before the main performance. And it was one of the reasons which contributed towards me feeling nervous on the night.
Now normally I don't get nervous, and when I do I'm usually able to keep it under wraps until I get the performance out of the way, but this night was different. I think a large reason for it was because my dad and two brothers had travelled to Prague for the big event. I felt like I really wanted to put on a show to make them feel proud of me. And the third reason was probably the most significant to you guys – the announcement that would be made on the night itself.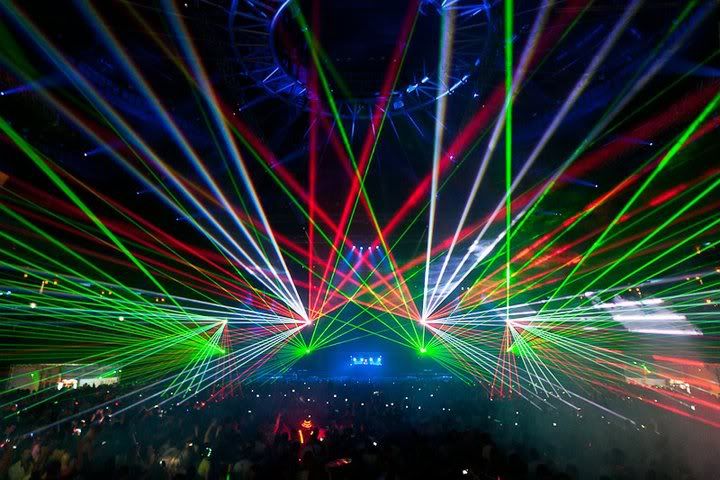 It was funny reading some of the predictions in the week leading up to Transmission, with quite a few speculating that I was actually going to announce my retirement! Although I doubt it was as interestingly drawn out as Brett Favre. But no, the main announcement was to pay tribute to one of the cities which has inspired me the most in recent years; dedicating the 2011 city compilation to Prague.
Many of you will have listened to the set live on the night or when it was broadcasted on Sirius XM a few weeks later, but to be honest with you guys, nothing could describe the feeling inside me at the beginning of my set and the end of my set. The beginning for Future Cities, and the end for holding up a poster with the Prague '11 artwork on it with a live camera feed pumping through every screen in the building. What a way for the people of Prague to find out the news.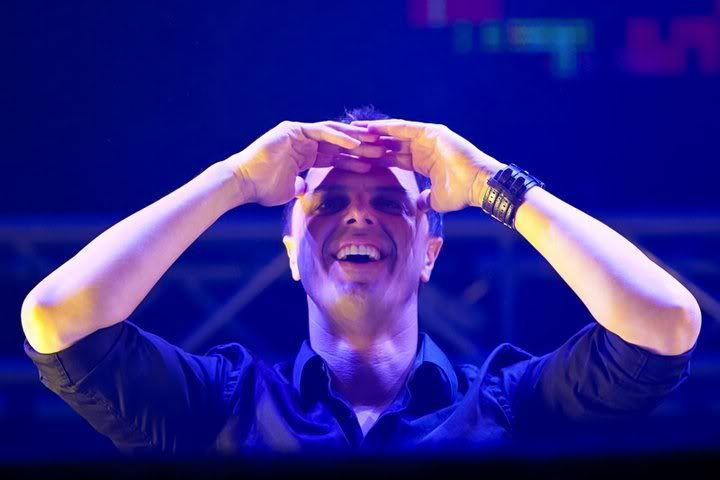 All Transmission Photos courtesy of United Music
I'll be talking quite a bit more about Future Cities and Prague '11 in the coming weeks, but both of these attributes contributed hugely to such a memorable night, and having my family there to experience it made it even more special. I guess I was right to be nervous after all!
Needless to say, I have to thank the promoters for making me part of Transmission yet again, and here's hoping we get to do it all over in 2011.
November Part 1 – Mayday, Asian Tour, and the Busted Laptop
After the events of the night before, I decided to take the train back to Berlin with my father, in order to spend as much time with him as possible. As you guys know, he is sick and we don't know how much longer he's going to be around, and it hasn't been easy dealing with that fact all year long. One of the most humbling moments I've ever had was when he said to me that after Transmission, he was going to keep fighting as hard as possible so he could go see me at another event somewhere. You couldn't ask for any more motivation to be the absolute best at what you do than that.
I didn't have too long to recover, as I headed to Amsterdam on Tuesday for some duty at Dancefoundation. You'll find out the reasons why in the New Year, but I can promise you that it's something very cool. Another early morning start on Wednesday took me to the Polish city of Katowice – home to the annual Mayday event in the country.
This would be an exciting gig for me, partly because with my previous experience at playing Mayday in Dortmund earlier in the year, it felt like a unique event. It was an open air festival, but with an underground vibe. And Katowice that night felt the exact same. The guys from German station Sunshine Live were there which meant another live broadcast on radio, and I think many of you enjoyed the deeper and groovier liveset experience judging by your comments.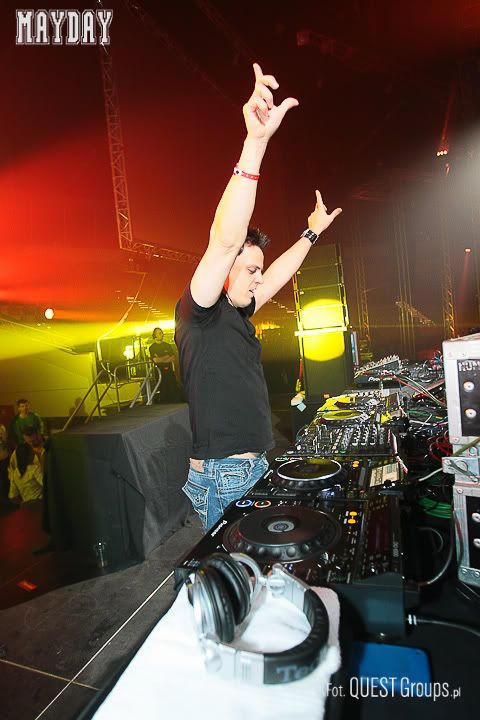 Photo courtesy of Mayday
Afterwards I had my usual fun interview with Tillmann Uhrmacher. Every time he sees me, he keeps reminding me about wanting to do a special show on SSL live from my apartment in Berlin! That's something we're going to have to get arranged one of these days. We hung out and listened to techno legend Jeff Mills blasting it, and it actually gave me quite a few ideas for creating elements in certain tracks.
A long trip to China awaited; which meant a 12 hour flight from Frankfurt to Shanghai. Thankfully I had some good company with me in the form of good friends Cosmic Gate.
Performing in Shanghai
I was very impressed with the new M2 Club in Shanghai, playing there for the first time on the Friday night. The soundsystem there is amazing! It was a lot colder however in Beijing on Saturday, so I was glad I had packed a coat with me for the gig in Poland only a few days earlier. The gig at Star Live went well, with Future Cities especially going down a treat, so it allowed me to enjoy my day off satisfied that it was a good few days in China already. I did the tourist thing and went to visit the Forbidden City, which was an incredible sight.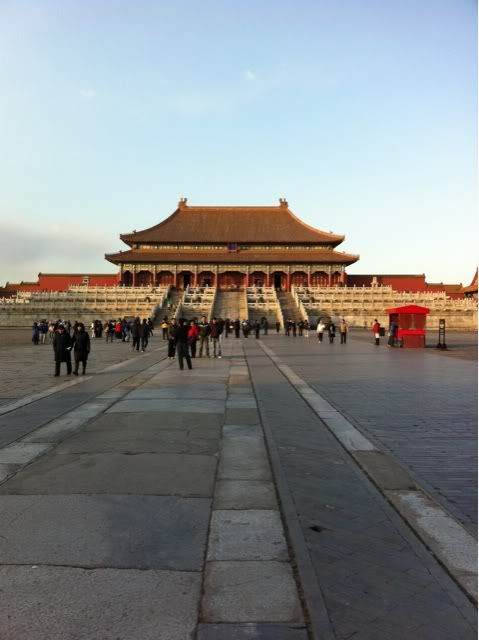 Imagine putting a party on there and performing with that as your backdrop!
So everything was going well on the trip, until the flight to Hong Kong on Tuesday night when my Mac started misbehaving.
Unsurprisingly, I started to panic. My week's work was on the laptop. New Dakota tracks started, you name it. I reached out to the Twitter community and thankfully one of the Apple tech guys was able to guide me through the recovery procedure, for which I was extremely grateful. So first mission when the Mac powered up was to back up all the projects in progress and any new big room reconstructions. I thought I had dodged a bullet…
Everything seemed fine on Wednesday. I was going to travel from Hong Kong to Jakarta, go to bed early, and have the majority of Thursday to work on Global DJ Broadcast that week, thanks to the time difference. And then disaster struck again.
I was only around three quarters of the way done with the show, and the Mac started misbehaving again. The hard drive was beginning to fail, and I had to hurry in an attempt to render what I had done so far. Time was ticking, and I was starting to feel like Jack Bauer. I don't know how he coped without having a strong drink!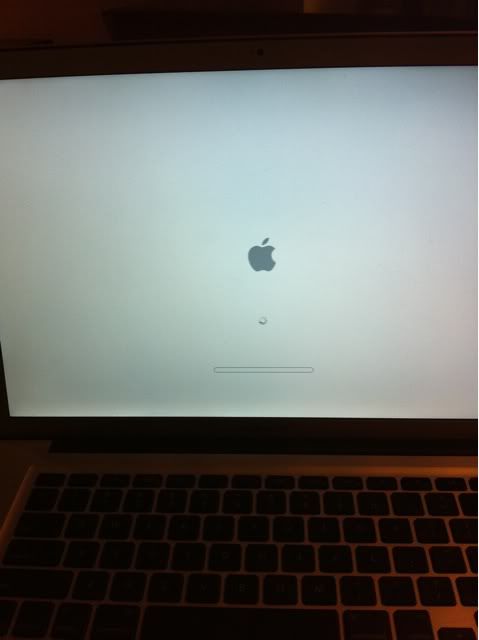 The next task was to find another laptop with Ableton on it, mix the final half hour, and then merge both parts together to make it appear that there was no craziness involved. The important detail I left out however was that the final half hour was mixed in the back seat of a car going at dangerous speeds when driving from Jakarta to Bandung!
So the final task was to get the set uploaded. I think we made it with five minutes to spare. After all of that, going out to play a gig felt like a breeze in comparison!
The weekend in Indonesia was a bit of a blur. All three gigs went well, with Jakarta in particular being pretty boisterous. But I always enjoy coming to places where we are developing our down story with each visit. There is a nice and passionate vibe continually growing in Indonesia, and it's one I can see blossoming in the next couple of years. Shoutout to the guys from Norin & Rad, had a blast hanging around with them and their tour manager.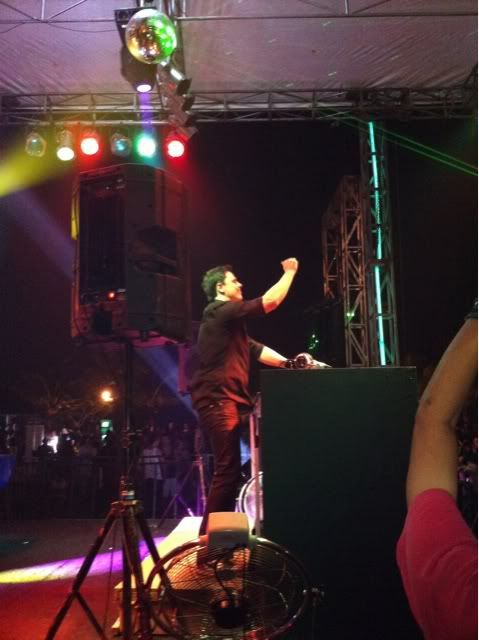 Performing in Jakarta
I was going into my fourth day without a laptop, and it was rough to say the least. I decided to christen the laptop with the name of Lindsay, since she was misbehaving, not doing what she was told, and had issues which needed sorting out. So Lindsay (the Mac) got shipped from Indonesia to rehab (the Apple store) in Miami, and my backup laptop in Miami was shipped to Cape Town, waiting for me when I landed.
And thankfully, it was there, and time to get back to business!
The Global DJ Broadcast Classics Showcase
Every year in traditional Global DJ Broadcast fashion, we round up our annual radio output by reflecting and presenting a special 2 hour mix, showcasing the best progressive and trance tunes of our era. It's always the one episode of the year where I have the most fun in making it.
Back when I was young and growing up, I used to be fascinated by the radio. It was one of my great passions that ran side-by-side along with sports, breakdancing and listening to mixtapes. And one of the fondest memories of my childhood was that when it came to New Year's Day, all of the radio stations would play the big classic tracks, which really made it feel like we were reflecting on some of the greatest moments of the past, before getting ready to set out on the year ahead.
My philosophy for the Classics Showcase was born out of that. I've never really been one of those guys who wanted to do a Top 20 or best of the current year on Global DJ Broadcast, because there are lots of other shows out there who cater for that particularly well. And as you guys know, I like to do some things a little different from the rest.
So for the final episode of 2010, I'll present my Christmas gift to you all in the form of the Classics Showcase, and hopefully it will be something you'll enjoy and want to keep on your iPods for a while. Make sure you get your last-minute requests in over at the forums before the beginning of next week.
Signing Off
And with that, it's time to get off the grid and enjoy the festivities for a little bit. In the blog next week, we'll pick things up from the trip to Cape Town, then the weekend in Leeds and Istanbul, and an emotional return home to one of my former stomping grounds, Space in Miami. We'll wrap up with the trip to Buffalo and DC last weekend, and then look back on what the last twelve months has presented us.
I'll be spending Christmas Day at home; and then back out on the road on Sunday for several gigs in Canada – Edmonton on Sunday night, Winnipeg on Monday and Calgary on Wednesday. I'm looking forward to catching up with my good friends Cosmic Gate during a couple of the events.
After Calgary I'll be heading to the City of Angels to prepare for my biggest and busiest ever New Year's Eve, taking in Together As One in Los Angeles, and following that with an extended set at Ruby Skye in San Francisco, which will also be the venue for the next World Tour recording. It should be a lot of fun!
But that's all for after Saturday. I'd like to sincerely wish you all a very Merry Christmas, and hope that you have a wonderful time with your family and friends if you can. Thank you all so much for everything you guys do for me, I would never be the person I am if it wasn't for you. And if you're going out clubbing in the week afterwards, please make sure you do it safely. I'll see all you guys up in Canada over the next few days.
From all of us Coldharbour Citizens worldwide; a very Happy Holidays to you and yours.
With love,
Markus