What's up guys,
Hope that you are all keeping well. Checking in with you with the second extended blog of the month, in an effort to get you all up to speed on my travels and endeavours throughout the summer.
I'm currently in the UK preparing for 3 gigs here this weekend, the highlight being the SouthWestFour festival in London on Saturday, as part of my residency with The Gallery.
But for now, it is time to reflect on my travels over the past month.
Friday July 24th – The Filming of the Do You Dream Video, Amsterdam
I got into Amsterdam on Thursday and had a very early night, because of a very early start on Friday morning. I woke up feeling excited, but nervous at the same time, because it would be the first time I found myself involved in a music video. Markus the actor; doesn't sound too bad!
But it's a lot more difficult than you might think. When I'm doing my real job in the clubs, you don't have to act or be told to smile, because your own emotions feed off the emotions and energy of the audience. So this was a new challenge for me, but one I was looking forward to.
The first duty of the day was ironing and making sure my wardrobe for the shoot was looking good, followed by a session in makeup. The first location was a room designated as my "apartment". The story behind the video is that my muse has vanished. All the pictures of the muse on my wall have been smashed open and removed. So my task is to run around the streets and various locations of Amsterdam, to try to find out where she has disappeared.
I think you were all surprised by the girl who played the role of my muse. She goes by the name of Rubberdoll, and she is a famous fetish model residing in Miami. Just after Winter Music Conference had finished, I spent some time thinking about how I could enhance the Markus Schulz live experience by adding specialist performers. And when I thought about her, she fit the role perfectly.
It's something different – a fetish model performing live at a trance gig. I can't tell you guys how delighted I was when she agreed to take part in the video for Do You Dream. She definitely fits my anti-rainbows and unicorn vibe (not that I dislike rainbows or unicorns).
It was a cold day in Amsterdam, even though it was July and the middle of summer. We spent most of the day outside filming, including the subway, where we got kicked out by security twice. I can't remember the amount of times traffic stopped in the middle of the road to see what we were doing. We decided to take the filming to outside the famous Amsterdam Arena, the stadium where the Ajax soccer team play, and also the traditional home of Sensation White every July. On that Friday, there was the annual pre-season Amsterdam Tournament, so all the Ajax fans were staring at us filming while they were walking past and going into the stadium.
Overall, it was a really fun experience. Tiring, and a lot of time spent standing around in the cold, but definitely worth it. The video has been finalised, and you can see the results below:
http://www.youtube.com/watch?v=3Ry3rX6kBCQ
If you are in Las Vegas for Labor Day Weekend in September, you will be able to catch Rubberdoll performing with me at the Fabulous Fest, taking place at Rain. Again, something I'm really looking forward to.
Thank you Rubberdoll for being my muse!
Saturday July 25th – Pleasure Island, Amsterdam and Global Gathering UK
After the strenuous activities of Friday, I woke up on Saturday feeling very groggy, and could feel a cold coming on. Not an ideal feeling for pulling double duty once again. The first gig took place at the annual Pleasure Island festival in Spaarnwoude. This festival gathers together the craziest bunch of people you could imagine. Whips, chains, you name it. But they are all together to have a great time. I felt a bit icky when performing, but the wildness of the crowd kept me going.
Once I was done, it was time to get back to the hotel to pack everything away, then head to Rotterdam, where a private plane was waiting for Menno de Jong and I to board to Birmingham. Menno was pulling double duty by playing both gigs also.
The Global Gathering UK festival remains one of my favorites to play. I think I have played there 4 times in the past 5 years. The crowd are always amazing and very supportive. After checking in and some rest, I got my CDs rearranged in my case before heading to the Long Marston Airfield. I got there a little early to check out Armin's set; and to try my best to make sure that any tracks I had planned on playing hadn't already been played by him! Unfortunately that is one of the difficult aspects of festivals, because the lineup is dominated by headline acts, and they always put on their A game and play the best tunes. You can get away with it if you are performing early in the day, but I am always very wary of playing a festival set at 3am and playing a tune that the crowd could have heard 5 or 6 times already.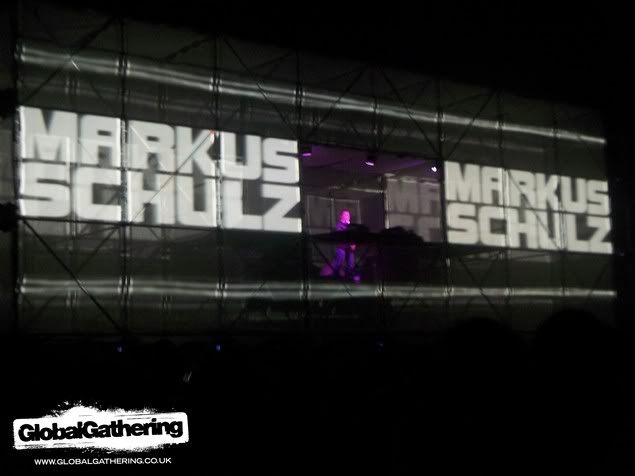 I had an absolute blast playing there as always. Between Godskitchen and The Gallery at Ministry of Sound nights, the UK fans really show their appreciation and support for me. I'm really looking forward to playing for Godskitchen's birthday at Air in Birmingham at the end of September. I was really tired but Sander van Doorn wanted to keep the party going into the morning!
Thursday July 30th – Rio Summer Festival, Budapest, Hungary
After resting and recovering in Berlin, I spent my Monday working on the 4 hour set for the Coldharbour Day celebrations that aired on Afterhours FM. Tuesday was spent working on music and Wednesday was spent making Global DJ Broadcast, and preparing for my return to Budapest.
The city of Budapest holds some very special memories for me. The last time I was there, it was for the TranceCentralEight celebrations at White Angel, which of course was the night of the Global DJ Broadcast World Tour recording in October. Many of you around the world clearly enjoyed that night, because you voted it as your favorite World Tour broadcast of 2008. However, this Budapest experience would be a little different. Outdoors, a festival, and playing a sunrise set.
The setting was absolutely beautiful. Playing under the stars next to the Danube and waiting for the sunrise. When I played Perception and Nothing at All as the sky started to become brighter and shades of blue began to appear, I had goosebumps. An incredible moment, and another wonderful Budapest experience in the books. I returned home to Berlin for a couple of hours on the Friday, before leaving for St. Petersburg.
Saturday August 1st – Global Gathering, St. Petersburg, Russia
(GDJB World Tour Recording)
World Tour recording day had arrived. I had really wanted to represent Russia on the World Tour series for a long time, but logistically, it never seemed to work out in the past. Let me explain