What's up guys,
Hello to you from somewhere across the Atlantic! I hope that this finds you doing well. Right now I'm starting off this blog during the red eye from Miami to London, and I'll finish when I land.
It has been a crazy few weeks for me since I last checked in with you, and I know it has been a little while since I did the usual gig recapping. I know however that with so many gigs that have passed, doing them all here at once will lead to a marathon-length blog, so what I'm going to do is split everything in half. In this blog, I'll recap everything from Nature One at the end of July to the Amnesia solo set, and then in a special blog next week, I'll pick things up and take in the Colombian tour, my debut in Croatia, and the gigs taking place in the UK this weekend.
So it's time to concentrate and take you back to Germany, where we had just wrapped up Coldharbour Day, and I was preparing for a huge night in my birth country.
Nature One, Kastellaun – Friday July 30th
My day started with saying goodbye to Berlin and making the trip to Mannheim, with a little visit to the studios of Sunshine Live radio. The station is one of the leading outlets for dance music across all of Europe through FM, satellite and cable, and many of you around the world will be familiar with the name thanks to their annual broadcasts of the Mayday and Nature One events in Germany.
So the first part of business was to appear live on Charly the Diggerman's show, doing some promotion for the release of Do You Dream in Germany and doing a live 30 minute mix in the studio. Then I was off to the hotel near Kastellaun to check in and prepare for a very important night for yours truly.
Growing up in Germany means that I always keep a close eye regularly on how the scene is developing there. One of the things I would wish for is for the country to stage trance events more regularly in the clubs, because other than the big one-off events, the German people who choose trance as their first love usually have to travel to the Netherlands or beyond to get their fix. However, as a result of that, it makes the Mayday and Nature One event in particular even more special and significant, and I know you guys love listening to it live around the world online thanks to Sunshine Live's involvement.
For me personally though, this felt like a night of redemption. I had only ever played at Nature One once before, and that was at 6am on a Sunday morning in 2006. It was one of those sets where I had let myself down a bit, and felt that I could have done better. But Nature One 2010 would be a very different experience.
Friday night, 2:15am, peak moment of the night, following fellow German Paul van Dyk, and all of the forum peeps tuned in live. Time for Markus to deliver.
From the very moment I got on stage, everything just hit me right away. It really felt like a homecoming. From the first minute of Oyster in the Michael Woods remix, the responses of the crowd were by far the biggest I had ever received in Germany. Another massive moment in the set was one of the tracks from our Coldharbour 100 package that we've been working on all summer, and I guess kinda appropriate that the original was made by two Germans!
I think it's fair to say that Dutchman Finne Jager has been one of the heroes of Coldharbour over the past 12 months. He took us through the winter with his remix of Deadly Nightshade, kicked it up a notch by remixing the incredible Opera of Northern Ocean, and how he has worked his magic on one of the greatest tracks that ever came out on the Coldharbour label, Hammer & Bennett's Language.
I'll be honest with you guys – the original plan for this was to deliberately hold it back for the World Tour in Budapest, but the moment just felt right to drop it in the middle of the Nature One set. I read the forums a couple of days after the broadcast, and coupled with the Facebook messages and tweets I received, it turned out to be a good decision. Phynn was responsible for me breaking a set of headphones last year due to too much fist pumping and using them as a prop last year… he might well have the same effect this summer!
The big festival finish consisted of Perception & Do You Dream and after 90 minutes, the fun had come to an end. But what a vilifying experience for me personally. I felt like that 11 year old kid listening to mixtapes and dreaming of performing at a big event in my home country. If you stayed on the broadcast after I had finished, you would have heard me doing an interview with Tillmann Uhrmacher backstage in German, and even if you couldn't understand the language, you could have probably told how happy I was with the experience.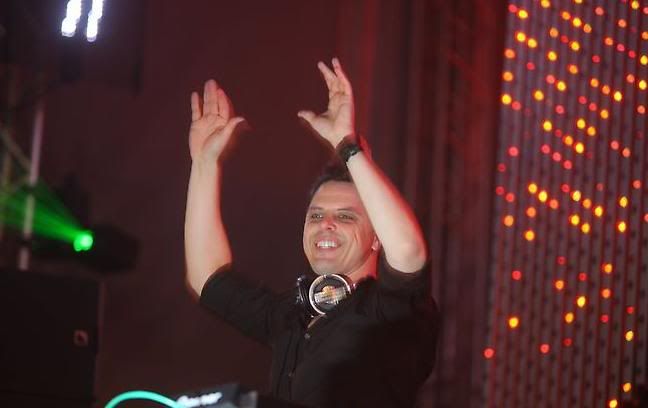 Nature One photos courtesy of Guido Karp. Full gallery available at http://www.natureone.de
Thank you so much to everyone who made that night and performance special. I really hope that I can come back to Nature One next year. Let's build a legacy there!
Global Gathering UK, Stratford-Upon-Avon – Saturday July 31st
Onto part 2 of this massive weekend doubleheader, and the tenth anniversary of Global Gathering. I had some good DJ company on the flight with me, with the techno dons Carl Cox and Dubfire. The trance guy was outnumbered here!
I've been very lucky to have played around half of the Global Gatherings that have taken place in the UK. They have always treated me very well, and that was extended even further last year by becoming resident for many of their festival spots around Europe. And also since last year, they have invested heavily in the incredible Boombox, which in itself is an incredible experience to be inside, despite my personal battles with the high stages.
Got checked in and rested up, and then went out to dinner with Dubfire at a place called "The Dirty Duck". Showtime was at 2am and I would be following on from Above & Beyond.
It's always very reassuring for me when you first appear on stage and you find some familiar faces supporting you in the front row at the festivals, and I have to say that the crew who come to the MOS and Godskitchen nights regularly never let me down and make that extra effort for Global Gathering every year. With the festival in full flow for 12 hours by the time I was going on, I knew that the best recipe would be to bang it out from start to finish.
The arena just exploded when one of those mystery IDs that has recently been revealed came in. I would be hard pressed to find a track that has done the business in my livesets this year than Mr. Pit's Sky Traffic. Adrian has been a talent we have developed very well through Coldharbour over the past couple of years. He had his big breakthrough with Shana two years ago.
Back in April, when I was preparing for another residency night at Ministry of Sound in London, followed by A State Of Trance 450 in Poland, he sent me Sky Traffic to consider for the label. I didn't know how big it would become at the time. So I thought to myself, ok, I've got a residency gig, and the MOS crowd trusts me enough to experiment and test out new tracks before most other clubs and cities around the world. When I played it on that Friday night, the club went crazy, and after arriving in Poland on the Saturday afternoon, I started figuring out how to fit it into the 1 hour set for ASOT that night. And since then, it has just taken off with wings of its own. Even the house guys like Steve Angello have loved hearing it live.
I know that I must have teased you guys with the track to the point of near insanity, but we finally revealed it during the Budapest World Tour broadcast. It'll be out soon along with another banging track he did called Low Altitude. Funnily enough, I haven't played it on the show yet, but have played it a ton of times in the livesets. If you've been to one over the past few months, then you'll know exactly what it is when it is revealed.
Photo courtesy of Global Gathering. Full galleries available at http://www.globalgathering.com
Another short 90 minute burst and Global Gathering was over for another year. The talented Simon Patterson kept the energy levels going after me with his typical slamming style, and I did my thing backstage doing some media work. It's always a pleasure to play at a Global Gathering anywhere in the world, but even more special when you're playing at the original one. And the UK people always come out to party irrespective of the weather conditions.
So a very satisfying weekend's work was in the books and it was time to make my way back to Berlin for a couple of days of downtime. Although I have since learned that I really need to get my DVD collection upgraded for my stays at the apartment during the summer. There was one evening where I had to resort looking for clearance bin movies in the store, and found some that I had absolutely no clue even existed!
Survival of the Fittest Part 1 – Tunisia and Barcelona
The following weekend started early with the long trip from Germany to Tunisia, for my annual visit to the Calypso Club. Now these guys really know how to put on a party, verging on complete chaos at times, and I had a fair idea that it would be more of the same on the Thursday night.
Preparing for what lay in store for the weekend, I knew that this was going to be very physically and mentally demanding. So I wanted to take in a little bit of relaxation before things got gridlocked on Saturday in particular. The gig at Calypso itself though was off the hook again. Lots of signs and people with Markus and Coldharbour t-shirts in the crowd. I feel that I'm learning how to read the crowd there better with every visit.
I had some time off in the afternoon before flying to Barcelona on Friday so I took in a nice lunch by the pool. Although there was a distraction with an endless array of hairy guys in speedos wrestling each other into the pool. Was I really in the right place? Somehow I don't think Vince McMahon will be recruiting them anytime soon! But I said goodbye to Tunisia and made my way to the aiport for the long grind.
And that is where things started to go wrong…
First off, the flight was delayed for two hours. I thought to myself, ok, don't panic. Your set time isn't until 3:45am anyway, so a little delay won't do any harm. I took the laptop out and make some edits to pass the time. But then, after the two hour delay had elapsed, they started bringing food out for everyone. Uh oh… then to add to that, the venue for the gig had changed only hours before I was due to perform. Just wasn't one of those days where anything was going my way!
So I made it to Barcelona three hours later than expected, and just had enough time to shower and do some preparation for the set that night. I was closing after Armin, so I got there a little early to hang out and sample the vibe of the night.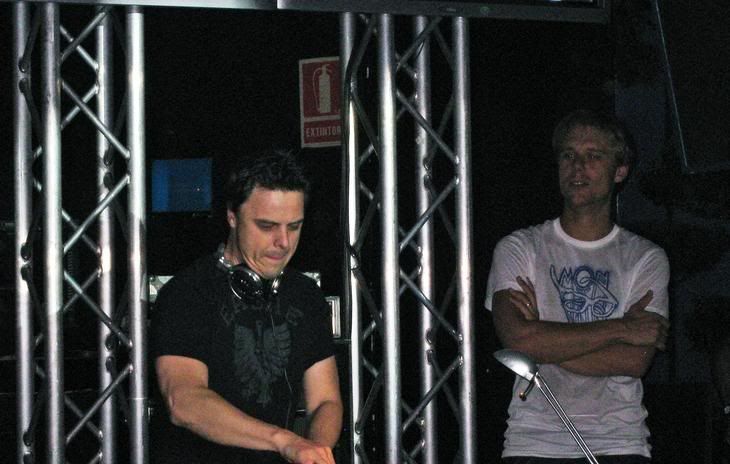 Photo courtesy of Flickr user luigix, source photo is available here
Barcelona is one of those cities that really intrigues me. I think there is a real opportunity for trance to blossom there. I go back to my gig at the Che club in March last year, where I thought that these people deserve something more regularly than having to trek down to Ibiza for the summer. So I was very pleased to learn that they are trying to put on a "conference" type of event during the summer.
Despite the late venue change, I had a blast playing the final set, picking up the baton from Armin who had rocked it out for a couple of hours prior to me taking the decks. After meeting the fans for a bit afterwards, it was time to retire to bed for only a couple of hours sleep. And as I drifted off that night it hit me – three gigs in three countries within the span of 24 hours. Brutal!
Survival of the Fittest Part 2 – Dance Valley, The Netherlands
Ugh, this morning really did come a step too soon. A quick shower to refresh myself, and I was off to the airport to head to Amsterdam for one of the undoubted highlights of any summer – Dance Valley.
Now you guys know I always say that the most important aspect of the festival season is the weather. We got unlucky with Tomorrowland a few weeks earlier, and when I landed in Amsterdam, I was not feeling very optimistic since it was absolutely pouring down. Dance Valley could very well turn out to be Mud Valley.
I got to the venue at Spaarnwoude an hour before I was due to go on, and tried my best to rest up backstage. Menno de Jong was doing his thing and keeping the crowd eager. For me though, the first gig of the day hadn't even started and I was already beat. But you just have to suck it up in these situations. This is why you have to train well in the gym and eat healthily, especially when you're on the road. And the Dutchies are among the best people in the world to play for, and you owe it to them to give your best.
So I sucked it up and came out with a smile. The rain kept coming down but the crowd were incredible. They didn't care if they were getting soaked to the skin; they were there for a party. They loved hearing Pobsky's track Final Cloud, which has been one of the real gems I've discovered for the livesets this summer. I didn't play too many vocals until near the end of the set, where I hit them with Perception, Do You Dream and the real winner of the day for me – Not the Same.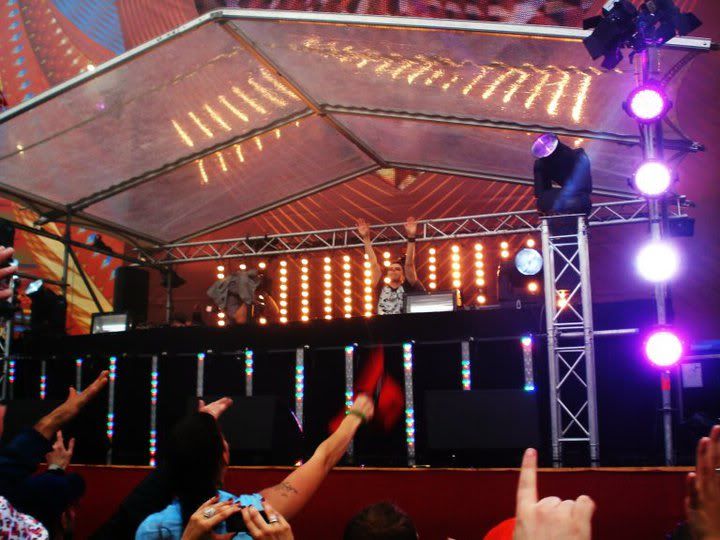 Photo courtesy of Kelly Brewer
I suppose it was appropriate to play Not the Same for them at Dance Valley because I first played the demo version of the track at last year's Amsterdam Dance Event. Then it got recorded that night, put onto YouTube and the rest they say is history.
5:30pm and I was done. I was so grateful to the fans who kept cheering me on and not hiding away from the rain. You guys who were there definitely kept me going. It's always a pleasure to play for the Dutch people. Looks like the next time I'll get to see you all will be Amsterdam Dance Event in October. But until then, I'll be enjoying the memories of another Dance Valley – the saturated edition!
Survival of the Fittest Part 3 – The Arches, Glasgow
Straight back to the airport and on to Glasgow. At this stage I was completely beat and just wanted some time in bed. And then another nightmare began getting off the plane.
When I got into the airport, I discovered that there was a mixup with the work permit to legally get me into the UK. So security had to detain me for two hours – handcuffs and all! Not even me promising them that I was a good boy worked this time. And as you can imagine with me being so beat already, not ideal preparation for the second gig of the day. All I cared about now was making sure I made it to the club in time for the set to begin.
With a huge sigh of relief, they let me go, and it was time to rock it out in Scotland. This would be my first gig at The Arches in just over two years. It's a very cool venue located right in the heart of Glasgow, and it's built from the remains of an old church (hence the arches name). I had been checking the Facebook page all week leading up to the gig, and it was dominated by people posting requests or saying that they were coming out to party. Time to get that second wind, or more like the third or fourth in my case!
The venue was rammed and Jerome Isma-Ae had laid down a very chunky and groovy set beforehand. And for me, after the day I had been through, I thought to myself that I might as well just become immersed in the passion of the crowd there that night, and give them a night to remember. The atmosphere was among the best I had played all year – so much chanting and rowdiness