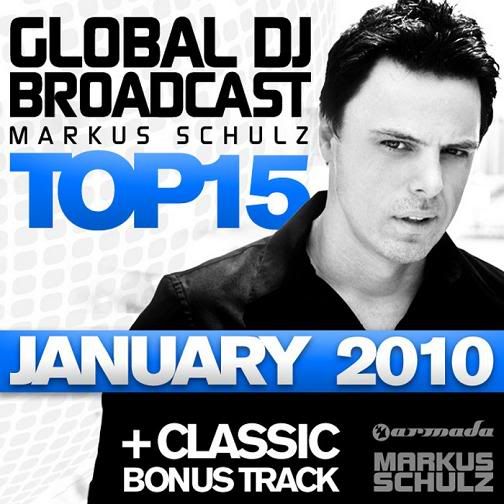 Release Label: Armada Music
Release Code: ARDI1350
Release Date: December 7th 2009
A new year has arrived, and it looks set to be the biggest yet for Markus Schulz's Global DJ Broadcast. To kick off the year and to brush away those cold winter blues, he selects 15 tracks which have generated the greatest reactions on the show and in his livesets, with some huge hits on offer.
Taking top spot is Slovakia's Robert Burian. His track "You" with Zdenka Predna has been a huge anthem on the broadcast since August, and featured in Markus' World Tour sets from Birmingham and Medellin. Following closely behind is Matt Darey's monster smash vocal hit "See the Sun", a multple Global Selection winner on the show.
Coldharbour Recordings as always is well represented, featuring tracks and remixes from some of the breakout stars of 2009 – Lentos, Gai Barone and Beat Service. With additional efforts from the likes of Armin van Buuren, W&W and Kyau & Albert, this Top 15 selection is indicative of the quality tracks heard week in and week out on Global DJ Broadcast.
Rounding off the Top 15 is our Bonus Classic Track. This month, we go back to one of the breakout releases on Coldharbour Recordings, which featured a remix which put Elevation on the map as a solo artist. His wonderfully melodic interpretation of Hammer & Bennett – Language remains as one of the top Coldharbour tracks of today.
In summary, the Top 15 for January is:
01. Robert Burian feat. Zdenka Predna – You (Club Mix)
02. Matt Darey pres. Urban Astronauts – See the Sun (Aurosonic Remix)
03. Dakota – Mr. Cappuccino (Gai Barone Remix)
04. Kyau & Albert – I Love You (Original Mix)
05. Lentos – Forget About Us (Original Mix)
06. W&W – Mainstage
07. Rocking J – Sequence (Alex M.O.R.P.H. Remix)
08. Beat Service – Vision of the Lost
09. Cerf, Mitiska & Jaren – Beggin' You (Armin van Buuren Remix)
10. Lost Witness – Happiness Happening 2009 (Ali Wilson Tekelec Remix)
11. Julian Vincent feat. Cathy Burton – Here For Me (Mark Otten Re-Dub)
12. Xspective Sense & Beat Service – Feel Our Heaven (Beat Service Mix)
13. M6 – Silverback
14. Zachary Zamarripa feat. Calluna – Tempting Faith (Noah Neiman Remix)
15. Anhken & Adrian – Intuition (Original Mix)
Bonus Classic Track: Hammer & Bennett – Language (Elevation Remix)
You can purchase this Top 15 from iTunes by Clicking Here
Alternatively, simply open the iTunes Store and search for "Global DJ Broadcast"
The Top 15 is also available at digital download portals Beatport, Trackitdown, Juno Download, and Audiojelly, and is also available through all Amazon digital download services.
Useful Links:
http://www.markusschulz.com
http://iphoneapp.markusschulz.com
http://www.armadamusic.com