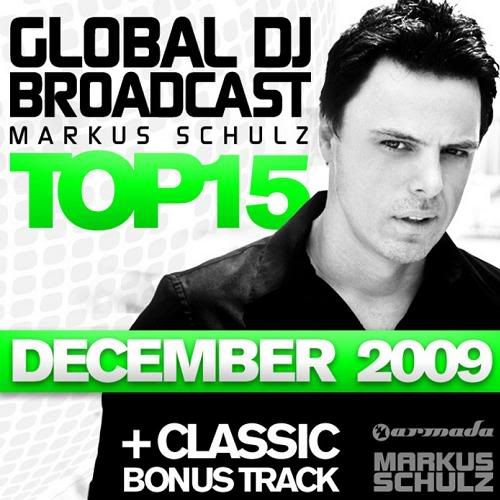 Release Label: Armada Music
Release Code: ARDI1350
Release Date: December 7th 2009
Another year is almost in the books, and it has been another wonderful year of tunes featured on Markus Schulz's Global DJ Broadcast. As we move into the busy Holiday season, Markus Schulz presents his final Top 15 of the year, selecting the best in trance and progressive over the past couple of months on the show.
Topping the bill is one of Markus' most significant moments of 2009. Back in April, he was honored to play at the Bal en Blanc extravaganza, and was asked to remix the event theme, Dressed in White. A multiple Global Selection winner as well as a staple of his sets, this remix has been anticipated for quite some time, and featured prominently in Markus' recent World Tour: Best of 2009 CD compilation.
Also featured in that compilation was Elevation's wonderful effort on Moonbeam & Blackfeel Wite's collaboration, First Night. A highlight of many sets, including the World Tour broadcasts in Melbourne and Ibiza, this has become a real Global DJ Broadcast anthem.
One of the undoubted successes of 2009 has been Austrian duo Barnes & Heatcliff, not just for their work under their own name, but also under their Lentos moniker. However, it has been the remix which has been causing quite a stir in the clubs, since being debuted to the world at the Global Gathering events in Kiev and St. Petersburg during the summer. It's one of Coldharbour's biggest tracks of the year, and deservedly earns a spot here.
With additional tracks and remixes from the likes of Wippenberg, Sied van Riel, Marcus Schossow, Mr. Pit and Markus himself under his Dakota persona, this Top 15 is sure to keep many entertained as we approach the Christmas period.
Rounding off the Top 15 is our Bonus Classic Track. This month, we go back to late 2004, where producers Adam White and Andy Moor teamed up to form Whiteroom. Their track Someday has always been a favorite of Markus' – and it won't be a surprise if you hear it played in his livesets towards the end of the month.
In summary, the Top 15 for December is:
01. Steve Aries feat. Lavoie – Dressed in White (Markus Schulz Coldharbour Remix)
02. Moonbeam & Blackfeel Wite – First Night (Elevation Remix)
03. Lentos – Forget About Us (Barnes & Heatcliff Remix)
04. Dakota – Koolhaus (Original Mix)
05. Wippenberg – Pong (Radio Edit)
06. John O'Callaghan feat. Audrey Gallagher – Take it All Away (Marcus Sch