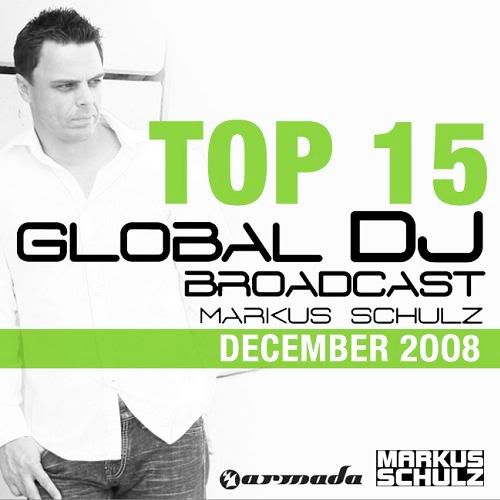 Release Label: Armada Music
Release Code: ARDI931
Release Date: December 8th 2008
The last monthly Global DJ Broadcast Top 15 compilation for 2008 has arrived. Showcasing the best tracks championed by Markus Schulz on Global DJ Broadcast and his live sets, listeners are guaranteed to find a few crackers in time for Christmas.
Taking pole position this month will not come as a surprise to many. Throughout the summer months, and particularly on the Global DJ Broadcast World Tour, the Dyor Big Room Remix of Hammer & Herbick feat. Boytronic – You quickly became a championed anthem, and was one of the most anticipated tracks on Coldharbour Recordings in recent memory.
Just behind was Global DJ Broadcast favourites Lemon & Einar K. Back in July, their remix of C-Systems – Close My Eyes was exclusively premiered on Global DJ Broadcast, and since then it has gone on to become a contender for track of 2008. Immediately picking up the accolade of Global Selection one week after the world premiere, it more than deserves its place here.
A hot talent from Miami, Element One, features in the compilation with his track entitled A World Away. Highlighted as Markus Schulz's Tried and Tested tune when recently appearing on Judge Jules' BBC Radio 1 show, A World Away has become one of Markus' most requested tracks in his live sets.
Toronto native Arnej features twice on the compilation, firstly with his beautifully melodic interpretation of Blake Jarrell – Punta Del Este. Following the huge reaction of his own track They Always Come Back in Markus' live sets from Toronto and Amsterdam, it is nice to reflect on one of the biggest tracks of 2008.
Blake himself also features on remix duties, remixing the Police-sampled She Wants Him, which has received plays by Markus on his Evolution radio show and in his special Hypnotic tour launch for Armani Exchange, live from his home town of Miami.
GDJB regulars Tritonal, Wippenberg and Kyau & Albert also feature, each of which gaining regular play on the show and always well received.
Memories of the summer are prevalent in this Top 15, with tracks by Andrelli & Blue, Santiago Nino & Alaa, Heatbeat, Eddie Williams and The Flash Brothers guaranteed to put you in a groove and leave a smile on your face.
In summary, the Top 15 for December is:
01. Hammer & Herbick feat. Boytronic – You (Dyor Big Room Remix)
02. C-Systems – Close My Eyes (Lemon & Einar K Remix)
03. Andrelli & Blue feat. Hila – Transparent (Original Mix)
04. Element One – A World Away
05. Tritonal feat. Cristina Soto – Walk With Me (Air Up There Mix)
06. Wippenberg – Chakalaka
07. Blake Jarrell – Punta Del Este (Arnej Minimal Drum Dub)
08. Santiago Nino & Alaa – Summer Days
09. Kyau & Albert – Hide & Seek (Lange Remix)
10. Arnej – They Always Come Back (Intro Mix)
11. Heatbeat – Push Over
12. Duderstadt vs. Store N Forward – Broken (Duderstadt Progressive Mix)
13. Eddie Williams – Gestation (Part 1)
14. Moussa Clarke & Terrafunka – She Wants Him (Blake Jarrell's Party Dropper Remix)
15. Flash Brothers – Destiny
You can purchase this Top 15 from iTunes at one of the following links below:
United States and Canada: Click Here
Rest of the World: Click Here
Alternatively, simply open the iTunes Store and search for "Global DJ Broadcast"